Worst-Case Scenario for the Cincinnati Bengals: Youth Movement Brings Regression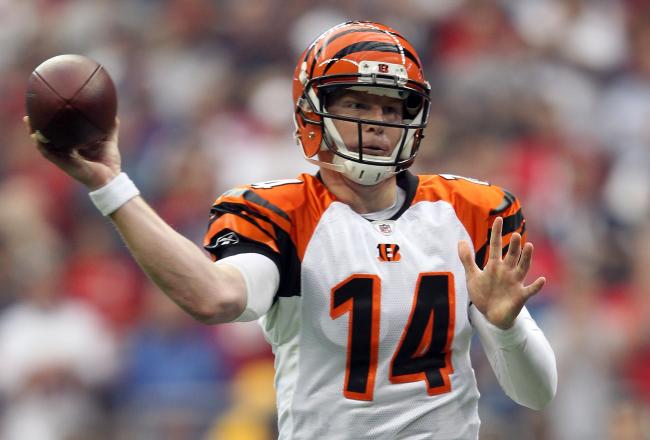 The Bengals' youth movement will pay off in the long run, but could prove a liability in 2012 in this worst-case scenario
Jamie Squire/Getty Images
The Cincinnati Bengals fielded one of the most effective young receiver-quarterback tandems in the NFL last season, and this year, the team as a whole has gotten considerably younger.
This commitment to youth is a way the Bengals can ensure they field a competitive team for seasons to come, but it also carries with it significant risk, especially in this crucial second year with Andy Dalton under center.
The worst thing that could befall the Bengals this season is that the number of first- and second-year players—especially on offense—becomes so much of a liability that they suffer significant regression from their 9-7 finish in 2011.
While last year, the Bengals offense revolved around then-rookie Dalton, only one of his main receiving targets was a fellow rookie, A.J. Green. Green proved to be invaluable both to Dalton and the Bengals' offense—1,057 of Dalton's nearly 4,000 passing yards were on completions to Green.
Part of the pair's success was a result of their inherent talent and ability to build chemistry even in a lockout-shortened offseason. But part of it also came from the element of surprise opposing defenses were met with when they took on the rookie passer.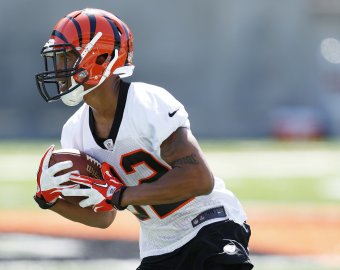 For ever "Pro" about the Bengals relying on such a young receiving corps, there's also a corresponding "con"
Joe Robbins/Getty Images
You can see in Dalton's stats last season that as the year wore on, opponents were able to gather more tape on him and thus have greater success in stopping him. In the Bengals' first eight games, Dalton had a completion percentage below 60 percent just three times; in their final eight games, he broke 60 percent only once.
Hiccups and inconsistencies are to be expected from rookie quarterbacks, however, and it's no cause for alarm in itself. But this year, Dalton's receiving corps has gotten significantly younger—gone are Jerome Simpson and Andre Caldwell and in are draft picks Mohamed Sanu and Marvin Jones.
Jones and Sanu will join Green and the untested Armon Binns and Ryan Whalen in the main receiving corps. Now, Dalton's most senior targets are tight end Jerome Gresham and slot receiver Jordan Shipley, who missed nearly all of last season with a torn ACL. They're joined by rookie tight end Orson Charles.
How do you think the Bengals' pass game will fare this year with so many young players?
With the Bengals so apparently committed to being a pass-heavy offense, their success or failure in 2012 will rely primarily on Dalton's arm and the preparation of his receivers. Without dedicated veteran targets for Dalton and opposing defenses better able to stop him, there's distinct potential that the Bengals offense could backslide this year.
It's just as presumptuous to think, at this early stage in the game, that lightning will strike twice for the Bengals or that they're destined for an offensive downturn because of so many inexperienced players populating their passing game.
However, that downturn is easily the worst overall scenario the Bengals could find themselves in this season, and it's one worth considering—and hopefully, now that OTAs, minicamps and training camps loom, one the team can work on preventing, as much as possible.
This article is
What is the duplicate article?
Why is this article offensive?
Where is this article plagiarized from?
Why is this article poorly edited?