Chicago Bulls Must Use Amnesty Clause on Carlos Boozer to Free Up Cap Space
May 22, 2012

Jonathan Daniel/Getty Images
Carlos Boozer just hasn't panned out, and the longer the Chicago Bulls take to realize it, the deeper trouble they could be in come next season and perhaps beyond.
Boozer was a promising addition when the team acquired him during arguably the greatest free-agent class of all time, but the former All-Star just hasn't panned out for Chicago as they had planned.
The Bulls gave Boozer a five-year, $75 million contract, which has three years and $47.1 million still coming his way.
The team must use their amnesty clause on Boozer. The new CBA signed in 2011 would let any one team get rid of a single bad contract not signed under following the new deal, which wouldn't count against the team's salary cap or luxury tax. More can be found out here in this ESPN.com piece by Larry Coon.
Before joining the Bulls, Boozer averaged 19.5 points and 11.2 rebounds per game for the Utah Jazz, but his talents haven't exactly made the smooth transition to the Eastern Conference.
Last season, he averaged 17.9 PPG, but failed to grab double digit rebounds in 59 games. He came back with even worse numbers this past season, scoring just 15 a night with a mere 8.5 rebounds.
While those numbers are not terrible, they just are not worth over $15 million a year, especially given the Bulls' other needs.
The thing is, besides for LeBron James, Chris Bosh and Dwyane Wade, look at the players who get this type of money. According to Hoopshype.com, Elton Brand, Baron Davis and Rashard Lewis all make more money than Boozer.
The Bulls need to use that money on other players, as the team could be in serious trouble next season, health-wise and financially.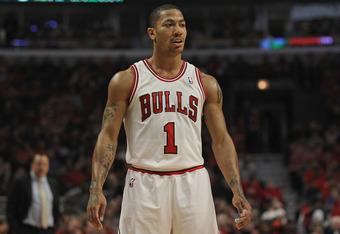 Jonathan Daniel/Getty Images
For one, they will likely be without 2010-11 MVP Derrick Rose for most of next season, as Dr. Brian Cole states Rose, "will be out approximately eight to 12 months after undergoing surgery to repair his left ACL," according to ESPNChicago.com.
That doesn't even include the time it will take for Rose to get back into game shape.
One can't forget that the Bulls extended Rose's contract this past season, which according to the Chicago Tribune's K.C Johnson will pay him $16.3 million next season.
Between Rose and Boozer, that is over $30 million locked up in one guy who won't be able to play, and another who isn't able to perform to his contract.
According to Hoopsworld.com, the Bulls' salary cap is at nearly $76 million for next season, with just over $12.5 million in non guaranteed contracts to three of their players.
The thing is, Bulls GM Gar Forman doesn't seem to be giving up on his big offseason acquisition just yet, telling the Mully and Hanley Show that Boozer has done fine.
"I think Carlos had a very productive year," Forman said. "You look back, he's the only guy on our team that played every game and practiced every day on a team that won more games than anybody in the NBA. He was our second leading scorer and our second leading rebounder. We're looking forward to Carlos continuing to make progress."
It will remain to be seen how he will feel once more news on Rose's future develops, but the Bulls need to start focusing on acquiring a guard to take over in the mean time, as well as worrying about the contracts of players like Omer Asik, who will be a restricted free agent this offseason.
While neither Asik or Boozer have been consistent threats, the price of a player like Asik will come much lower than Boozer.

And this has nothing to do with Boozer's poor performance in the Bulls' Game 6 loss to the Philadelphia 76ers where he only scored three points. He had 13 rebounds that game, so he wasn't flat-out terrible. This has to do with money, and where the Bulls will find themselves this offseason in their current predicament. 
It won't be easy to replace the potential that Boozer carries, but players like Taj Gibson and Asik have done a fine job in their roles. Not to mention, Joakim Noah has been a solid contributor when healthy.
This team clearly isn't the same without Rose, which arguably means the team could be in need of a few pieces to make up for the loss.
There are plenty of options out there, including players like Phoenix Suns guard Steve Nash, O.J. Mayo of the Memphis Grizzlies and even a guy like Brook Lopez, who will be a restricted free agent this offseason.
The only way to attain those needs are by moving on from a guy like Boozer, who just simply isn't putting up the numbers that he is being paid for.