The Pros and Cons of Every Potential Miami Dolphins Starting QB in 2012
May 21, 2012

Joel Auerbach/Getty Images
The Miami Dolphins decided the long-term future of the quarterback position by drafting Ryan Tannehill at No. 8 in April's draft. The short-term future, however, remains very much in doubt.
While the Dolphins have multiple options, all are muddled in mystery and uncertainty through their own sets of circumstances. Three realistic options line the roster, but what should the Dolphins be thinking about as they weigh out their options for 2012?
Let's take a look at the pros and cons of each potential starting quarterback for the Dolphins.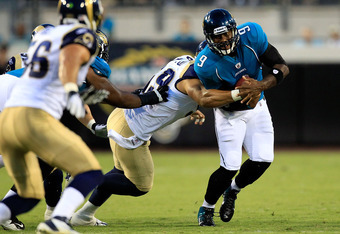 Sam Greenwood/Getty Images
David Garrard
Pros: With nine years of NFL experience, Garrard is by far the most seasoned vet of the group. He has played 86 games and started all but 10 of them. He led the 2007 Jaguars to the playoffs and even to a road win against the Pittsburgh Steelers.
What's more, his experience without a true No. 1 receiver should serve him very well in Miami, where they lack top-end receiving talent. He had a solid running game with the Jaguars, as the Dolphins do, but his receivers were mainly JAGs (Just Another Guy), as they are in Miami. 
Garrard could throw to JAGs so that Tannehill doesn't have to.
Cons: Garrard was out of action for the entire 2011 season after surprisingly being cut from the Jaguars roster just days before the season opener. He underwent surgery during the season to repair a herniated disc in his back, and despite receiving several calls for a quarterback, he wasn't ready to play.
He should be 100 percent at this point, and thus, should be able to compete for the starting job. Even if he's not, the non-guaranteed money in his contract makes him expendable, but while he may look fine on the practice field, how will he hold up when the proverbial bullets are real?
Conclusion: Garrard has the most question marks of the two veterans, coming off surgery and a full year away from football, but with the most experience of any quarterback on the Dolphins roster, it wouldn't surprise me if he started Week 1.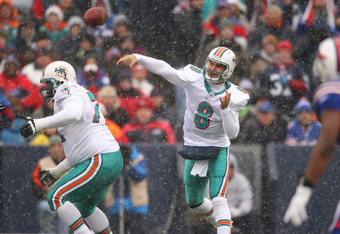 Tom Szczerbowski/Getty Images
Matt Moore
Pros: Moore is coming off a 6-3 finish to the 2011 season in which he completed 61.2 percent of his passes for 7.72 yards per attempt, throwing 15 touchdowns and five interceptions while earning a passer rating of 97.8. Most teams would kill for that kind of efficiency at quarterback.
Unlike Garrard, Moore was fully healthy and fully active in 2011. He rode the bench at the beginning of the season because Chad Henne was the starter.
As with Garrard, starting Moore would also give the Dolphins a good reason to keep Tannehill on the bench and allow him to learn that way. 
Cons: Not only has Moore failed to put two solid seasons together in sequence, but he has also failed to win the starting job at quarterback in any year except 2009, when he beat out Jimmy Clausen for the Panthers starting job. These should both be red flags on him as a starter in 2012.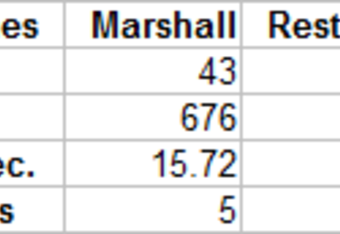 And as well as Moore performed in 2011, he did it with an offense that featured Brandon Marshall. Say what you will about Marshall's character, but he is still considered one of the most dominant players at his position. The Dolphins have nothing close to that presence in their offense this coming season.
Conclusion: While Moore may be the popular pick among Dolphins fans after the way the 2011 season ended, there are plenty of reasons to have reservations about his prospects going forward.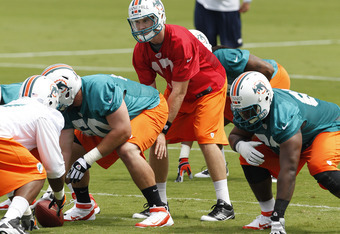 Joel Auerbach/Getty Images
Ryan Tannehill
Pros: The Dolphins offense is practically constructed for Tannehill, who has said that a large percentage of the playbook is similar or the same as what it was at Texas A&M. While that shouldn't come as much of a surprise, with Miami's new offensive coordinator Mike Sherman hailing from Tannehill's alma mater, it will definitely help Tannehill in his transition, whenever that may occur.
While some people might subscribe to the "handle with care" philosophy on young quarterbacks, there have been situations where allowing a quarterback to learn from his struggles has proven beneficial. Look no further than Peyton Manning.
Cons: The offense isn't built for a young quarterback to come in and take the reins. The Dolphins took some measures to address positions of need, specifically on the offensive line, but they are short on top-end receiving talent. If Tannehill were to come in and make something out of the Dolphins' offense, it would have to be considered a small miracle.
If he's unable to do so, and the Dolphins struggle, it could hurt his confidence. There's a lot riding on Tannehill as the first quarterback taken by the Dolphins in the first round since Dan Marino, and their first legitimate franchise quarterback since Marino retired. We've seen Blaine Gabbert take a great deal of criticism for his year of struggles in 2011, and there's perhaps even more riding on Tannehill's success with Miami.
Conclusion: While Tannehill could start from Week 1, and Philbin will not close the door on it, the wise decision might be to let him ride the bench at the beginning of the season; if the team is struggling, he can see some live snaps, but if not, there's no reason to rush him onto the field.