Minnesota Vikings 2012: Why Christian Ponder Will Improve
May 21, 2012

Hannah Foslien/Getty Images
Christian Ponder had an average rookie season.
He was not absolutely horrific, but he also did not set the heather alight.
But, he did show enough promise to give me hope that he can be a legitimate NFL starting quarterback.
It is unlikely he will be the next Aaron Rodgers, but I believe he has the potential to be an above average starter: much like Jay Cutler or Matt Hasselbeck.
These guys are not superstars, but they can get the job done.
I'm not going to get into his failings of last season; I'd like to explain why I think he will make big strides.
The offensive line will be much improved. Matt Kalil is Ponder's new best friend and will use his above-average protection skills to ward off Clay Matthews, Julius Peppers and others who wreak havoc off the edge.
Drafting Kalil also means that Charlie Johnson should be able to kick inside to the guard position. Johnson struggled at left tackle, but I think that he can become a really good guard.
Geoff Schwartz was also added after he left the Carolina Panthers. Although he can play right tackle, I think that he will be the other starting guard. Schwartz showed a lot of promise in the 2010 season, but he was injured throughout last season.
Greg Childs and Jarius Wright also will allow Ponder to go deep once in a while. Percy Harvin is a great talent but is too small to consistently produce as the teams only viable passing threat.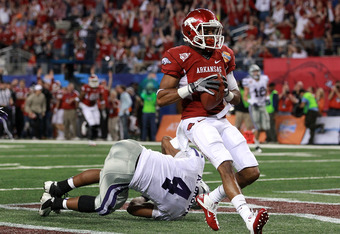 Ronald Martinez/Getty Images
Wright has great hands, and he should be a reliable target for Ponder. I expect him to make a killing in the slot, and I'm sure that Ponder will feel much more secure in the knowledge that he has a receiver who can work the middle of the field.
Childs also brings a vertical threat to the passing attack. He is not the quickest, but he attacks the ball in the air and will fend off defenders in 50/50 situations.
Jerome Simpson brings another element to the passing attack, and although there is no superstar receiver on the roster, Ponder has more than enough options now.
Then there is Kyle Rudolph.
A tight end is a security blanket for a quarterback, and I think that they will develop a really good understanding between one another.
Ponder will also have a better understanding of how to read defenses. His inability to do so was a concern when he declared for the draft, and the concerns have not gone away after his rookie season.
He was not able to look for his second and third options last year, but I think that he will be more calm in the pocket now that he has some weapons around him.
One of his talents is finding receivers who can run the underneath routes, and I think that will make Wright is capable of having an immediate impact.
Ponder's athletic skills and arm strength surprised me last year. He was able to throw deep passes with pretty good accuracy and could escape the pocket and make some positive runs.
Much like Jake Locker, Ponder actually looks more comfortable throwing when he is on the move, and I think the Vikings coaching staff will take advantage of this. Ponder is athletic enough to even have running plays specially designed for him.
But it is the way that Ponder carries himself that gives me hope.
Forgetting the last few games of the season, I think that he looked like a leader on the field.
Ponder did not look lost in the huddle like Blaine Gabbert, and I think that he has the proper leadership qualities required to be a good starting NFL quarterback.
Adrian Peterson returning and the emergence of Toby Gerhart will also take some pressure off.
The secondary is also vastly improved, and this means the team might be able to hold a lead.
Ponder was very unlucky in that he had to try and outscore some very good quarterbacks last year. He may have gotten some more wins if the secondary looked at all capable of stopping any offense.
Ponder now has an improved offensive line, more weapons around him and a better defense to support him.
Ponder will not be benched again.