While the Detroit Pistons sit idle, the NBA's elite teams are busy vying for an NBA championship. The usual suspects are all there: LeBron James, Kevin Durant, Kobe Bryant, Tim Duncan and Paul Pierce. They all are trying to carry their respective teams to the promised land.
One player who used to be mentioned with these stars is Pau Gasol. Much like his game, Gasol's star has quickly faded. As this article from ESPN.com reports, the criticism of his play has intensified during the playoffs.
It's nothing new. We've heard the same criticism for years now: he lacks a killer instinct and is too unselfish. What usually follows is an influx of Gasol trade rumors, but this time around those trade rumors could be valid. The Lakers already shopped him around last offseason.
Given the Pistons' woes and their need for a legitimate center, it's only a matter of time before their name is bandied about as a potential landing spot.
Despite their current membership in the NBA Bottom Feeder Club, trading for Gasol would be extremely ill-advised. Not for the reasons you might think, though.
While the criticism of Gasol's game does have some merit, it's also been overblown.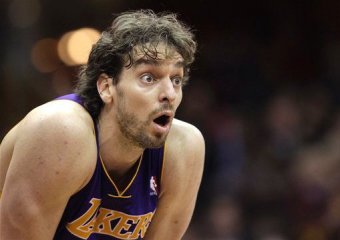 He's never had a killer instinct like Kobe Bryant. True, he led the Memphis Grizzlies to three straight playoff appearances, but he also bowed out in the first round each time. If that doesn't speak to his killer instinct, I don't know what does.
Expecting him to develop one now isn't realistic.
Consideration should also be given to where he's playing. If he were still with the Grizzlies, would he be continually torched for his passivity? Probably not. Expectations in Los Angeles are much higher.
His role in the Lakers' offense has also changed dramatically since Phil Jackson was coaching the team. He's more of a distributor now under coach Mike Brown, and Andrew Bynum is the alpha dog down low. He's not expected to assert himself offensively.
That doesn't excuse him from passing up open jump shots or throwing the ball away in the closing seconds of Game 4, though.
Whichever side of the Gasol fence you sit on, one thing is certain: he can still be a productive player. On paper, Pistons fans might argue that adding him might push the franchise to playoff relevance once again.
If given the chance, should the Detroit Pistons trade for Pau Gasol?
But dig a little deeper and you'll find more red flags than at a Yao Ming pep rally.
Gasol will be 32 years old and he'll enter his 12th year in the NBA next season. His legs have logged a lot of extra mileage during that time. He's played in 100 playoff games and started each one of them logging over 33 minutes per.
In other words, he's entering the tail end of his career. With all the wear and tear he's experienced, his performance should begin its downward trend at any moment. His numbers already tell the tale.
His 17.4 points per game was the lowest of his career and his .501 shooting percentage was the lowest it's been in five years. Taken alone, those numbers aren't bad at all. Chances are they'll only get worse, though.
What makes the deal a potential albatross to Detroit is Gasol's price tag. He's owed an obscene amount of money over the next two years—approximately $38 million—and the Pistons would be foolish to take that on. Particularly when they are trying to build a winning team the old fashioned way: through the draft.
The Pistons are still suffering buyer's remorse concerning Ben Gordon and Charlie Villanueva. These veterans were signed to invigorate the franchise and lead them into a new era of winning, but they've been a bigger bust in Detroit than the Edsel. The last thing the Pistons want is to overpay for another player.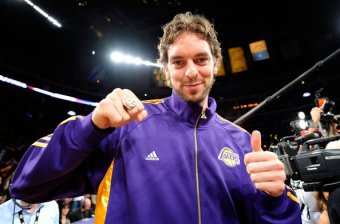 With this in mind, I hope Pistons GM Joe Dumars avoids Gasol just like Gasol avoids haircuts.
No, I am not an NBA insider, and I don't have the scoop on any actual Gasol-Detroit trade rumors. I'm just trying to head off this story at the pass. He's got name recognition and he's been a great player for a long time. Fans love to hear that their team is going after big-name players.
That doesn't mean that he fits into Detroit's plans, though. They don't need to gamble on an aging veteran and they don't need to make an already tenuous salary situation worse. Stick with building through the draft and signing useful role players who fit the team's current dynamics.
At this point in his career, Gasol just isn't a very good investment, particularly for the Pistons.