NBA Free Agency 2012: Free Agents Whose Stock Is Soaring in the Playoffs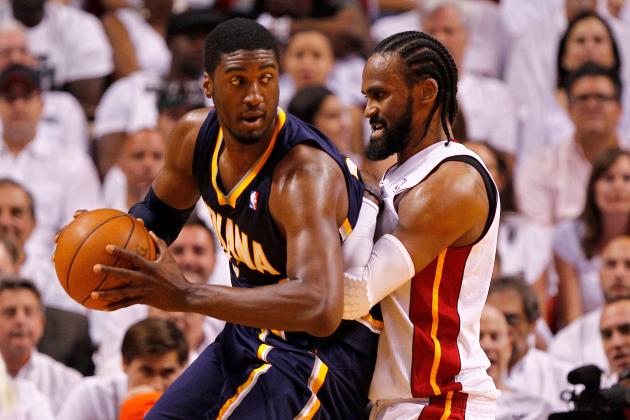 Mike Ehrmann/Getty Images

Roy Hibbert of the Indiana Pacers is among dozens of players in this year's playoffs with much to play for. Not only is Hibbert working to help the Pacers advance towards their first NBA title in franchise history, but he's also hoping to impress suitors who will offer him his next contract.
Hibbert had done an impressive job this postseason on both ends of the floor. He's one of several players whose free-agent stock has seen a boost this postseason. A couple of those players, including Hibbert, are looking for their second NBA contract. Others, such as Mike Bibby, are just trying to keep their careers going after this season.
Following is a list of players who have posted strong performances that should get teams to take long looks at them during free agency.
Begin Slideshow

»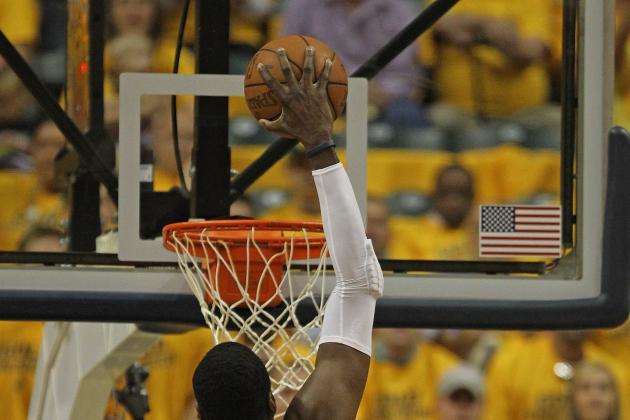 Jonathan Daniel/Getty Images

Indiana Pacers fans have to scratch their heads at why the Pacers didn't lock Hibbert up with a long-term extension in January. He's breaking out in the playoffs, averaging 12.1 points, 11.4 rebounds and 3.4 blocks per game. Also, he's shooting 51.2 percent from the field.
His defensive metrics are outstanding. Hibbert has a playoff-best defensive rating of 89 points per 100 possessions. Also, he swats 9.4 percent of available shots.
He's had a few big games this postseason. In Game 3 against the Miami Heat, Hibbert had 19 points, 18 rebounds and five blocks. In Game 1 of the first-round series against the Orlando Magic, Hibbert blocked nine shots. In Game 3 against Orlando, Hibbert had 18 points and 10 rebounds.
After just two years, Hibbert could be attracting a big deal to be the centerpiece of a team's frontcourt. Don't be surprised if he commands more than $10 million.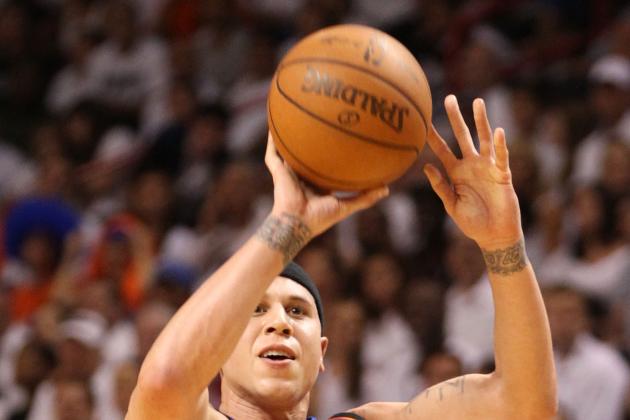 Marc Serota/Getty Images

Mike Bibby played fairly well in the brief amount of time he saw on the floor this postseason. Bibby shot 41.2 percent from three-point range for the New York Knicks in the first-round series against the Miami Heat.
Bibby helped the Knicks hang around in the last two games. He hit three-point shots late in the third and fourth quarters to help the Knicks win Game 4. In Game 5, Bibby scored 10 points, including eight in the first quarter, which helped the Knicks to an early 20-14 advantage.
Bibby probably won't be receiving more than the veteran's minimum for next season. However, he will get interest from a couple more teams looking for a veteran shooting presence off the bench. He showed in the playoffs that he can still be relevant offensively.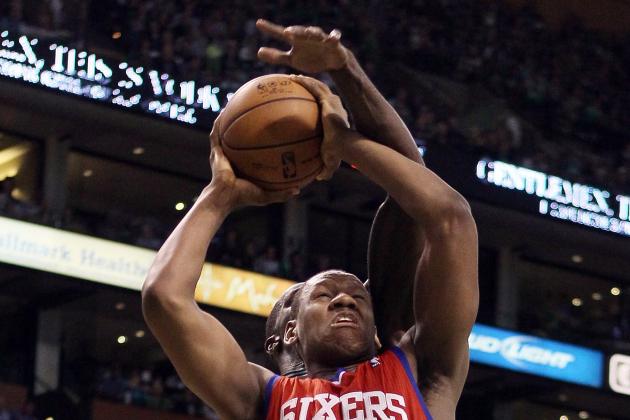 Elsa/Getty Images

Lavoy Allen was anything but a household name coming into the playoffs. Allen, a second-round pick in the 2011 draft, averaged 4.1 points and 4.2 rebounds in 15.2 minutes per game in the regular season.
With those numbers, one would hardly have expected him to do damage in the playoffs.
However, Allen has been a strong contributor despite playing a relatively small number of minutes. He's averaging 6.4 points and 5.3 rebounds in 20.2 minutes per game in the playoffs.
He's had a couple of outstanding games. In Game 2 of the first-round series against the Chicago Bulls, Allen had 11 points, nine rebounds and two blocks while shooting 5-of-7 from the field. In the Philadelphia 76ers' Game 2 win against the Boston Celtics in the conference semifinals, he had 10 points and eight boards.
Allen has been a frequent presence on the boards for the 76ers, grabbing six or more rebounds in seven of nine games this postseason.
Any team looking for a good backup center with reliable rebounding ability should take a close look at the former Temple Owl. He may be acquired for less than $2 million per year.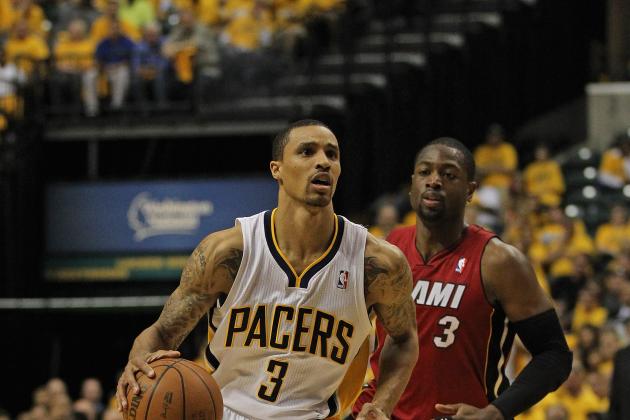 Jonathan Daniel/Getty Images

The Pacers might not have been inclined to give George Hill a contract extension in January, and for good reason. He averaged 9.6 points per game on 44.2 percent shooting while playing mostly as a backup.
Now, the Pacers could face long odds to retain Hill after his solid playoff effort. Hill is averaging 12.6 points per game on 44.6 percent from the field and 46.7 percent from three-point range in the playoffs. After scoring in double figures in 25 of 50 regular-season games, Hill has been in double figures in eight of his nine postseason games.
He helped the Pacers win Game 2 of the first-round series against the Orlando Magic with 18 points.
In Game 3 against the Heat, Hill aided the victory with 20 points on 6-of-8 from the field, including 3-of-4 from three-point range, along with five assists.
Hill could be a nice addition for a team looking for shooting off the bench. As long as he keeps it up, he could garner about $5 million per year.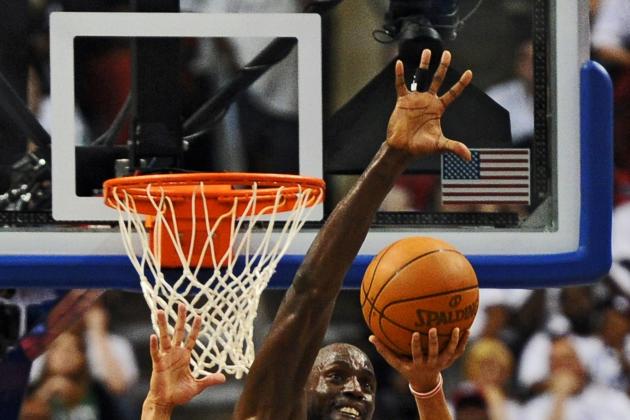 Drew Hallowell/Getty Images

Kevin Garnett has shown in these playoffs that he's not just any old man playing basketball. He's driving to remain a star in the NBA.
Garnett is well on his way to commanding that type of deal. He's averaging 19.2 points, 11 rebounds and 1.8 blocks per game while shooting 52.7 percent from the field. In Game 3 against the Philadelphia 76ers, he scored 27 points on 12-of-17 shooting while pulling down 13 boards.
In Game 6 of the first-round series against the Atlanta Hawks, Garnett had 28 points, 14 rebounds and five blocks to help clinch the series for the Boston Celtics.
The end of the season might mark the end of the Big Three in Boston, but it won't be the end of the line for Garnett. He could still garner a contract of upwards of $10 million, considering how he's played in these playoffs.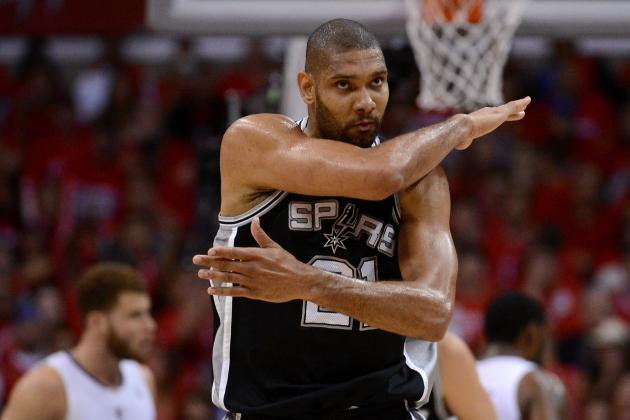 Harry How/Getty Images

Like Kevin Garnett, Tim Duncan might be an aging star, but he's not losing relevance in these playoffs. Duncan has played tremendously in this postseason. He's averaging 17.6 points, nine rebounds, 1.9 blocks and 2.9 assists per game while shooting 54 percent from the field to key the San Antonio Spurs' first trip to the Western Conference finals in five years.
In the series-clinching Game 4 win against the Los Angeles Clippers, Duncan had 21 points and nine rebounds.
In Game 1, Duncan posted 26 points and 10 rebounds.
Duncan's 21 points and 9.3 rebounds per game in the semifinals series were huge.
After the dust settles in the aftermath of the Spurs' playoff run, Duncan will have to decide whether to stay with the Spurs or go elsewhere. Wherever he goes, he can still command at least $13 million.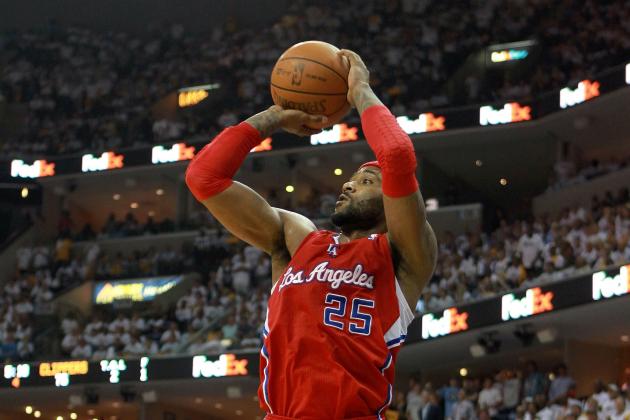 Andy Lyons/Getty Images

Mo Williams has done a good job putting up points quickly off the bench this postseason. He's averaging 9.6 points per game on 43.6 percent from the field. Williams is also averaging 17.1 points per 36 minutes.
He's had a couple of very nice outings for the Clippers. In Game 5 against the Memphis Grizzlies, he brought the Clippers close to a win with 20 points in 33 minutes. He had 19 points in only 23 minutes in Game 3 against the Spurs to keep the Clippers hanging around in that game.
Teams could look to sign Williams to be a spark plug off the bench if the point guard decides to walk away from his $8.5 million player option for next season.