Dwyane Wade: Heat Star Reportedly Had Ailing Knee Drained Before Game 3
May 21, 2012

Jeff Zelevansky/Getty Images
As if Dwyane Wade's performance in the Miami Heat's 101-93 Game 4 victory over the Indiana Pacers wasn't impressive enough, it turns out the star shooting guard had fluid drained from his banged-up left knee just last week. Via ESPN's Michael Wallace:
Miami Heat guard Dwyane Wade has consistently downplayed how sore his left knee had been in recent weeks and continued after Sunday's game to say he wouldn't use any injuries as an excuse for his performance. But multiple sources close to Wade and the team told ESPN.com Sunday night that he required the minor draining procedure on Wednesday before the team's loss in Game 3.
The procedure's timing may help to explain the stark contrast between Wade's abysmal Game 3 and his Game 4 masterpiece that included 30 points, nine rebounds and six assists.
Just a day after the knee treatment, though, Wade shot just 2-of-13 from the field in a game all of South Beach would like to forget. His five turnovers matched his point total—a sure sign that everything that could have gone wrong absolutely did go wrong.
With Chris Bosh out indefinitely on account of a lower abdominal strain, Wade has become even more indispensable than usual.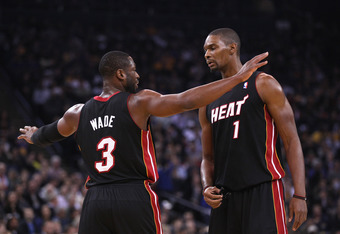 Ezra Shaw/Getty Images
Head coach Erik Spoelstra's thin roster can ill afford to suffer through both Bosh's absence and Wade's ineffectiveness.
Game 4's heroic return to form may indicate that it won't have to.
Wade made 13 of his 23 field-goal attempts, including both of his three-point attempts. He combined with LeBron James to score 70 of the team's 101 points, a trend the Heat may need to see a lot more of to remain legitimate title contenders.
Beyond the numbers, Wade and James looked to have rediscovered the chemistry that made Miami so dominant throughout the regular season (and its swift, five-game defeat of the New York Knicks in the first round).
Wade also appeared far less frustrated than he has previously in the Heat's surprisingly tough first-round series. He got into a heated argument with Spoelstra in Game 3 and appeared to be on the verge of mentally unraveling.
For now, though, Miami's second-best player looks to be both mentally and physically on the right track—and so do the rest of the Heat.