Arsenal Season Review 2011-12: Everything You Need to Know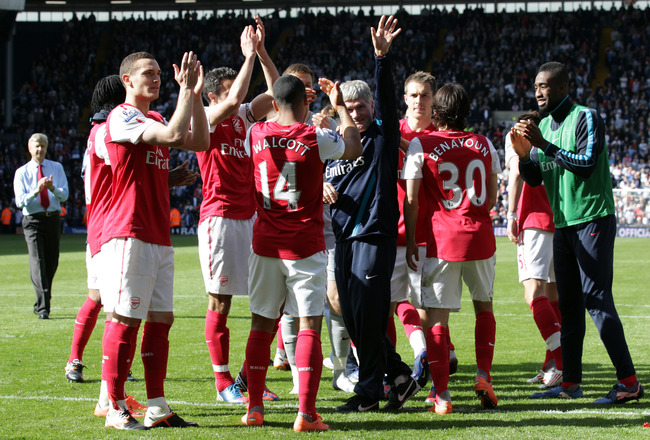 Ross Kinnaird/Getty Images
If you have been a fan of Arsenal for any length of time, you'll know that this has been a season to remember.
From every high to every low, this has been truly a remarkable season for the Gunners, both on the field and in the stands.
From the madness of the mid-August losses and chaos of the final days of the transfer window, to the eight-goal thriller at Stamford Bridge, to the nightmare and comeback against Milan, to even the five-goal trumping of Spurs, it was a season to remember.
For those of you who were not in on the mayhem of the 2011-2012 English Premier League, here's a concise review for you.
They Stumbled at the Starting Line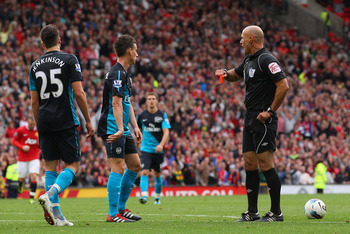 Alex Livesey/Getty Images
Arsenal lost five out of their first 12 games, in all competitions, between the start of the season on August 13th through their league tie with Tottenham on October 2nd.
Now, that doesn't sound too bad. Just a little slip up at the beginning of the season.
A failure to start on their feet, if you will.
But these losses were crucial to their season.
Being run over by a Liverpool side that didn't look all that sharp to begin with, the demolishing at Old Trafford, a 4-3 loss to a Blackburn side that was destined for relegation from early on in the season, and then a 2-1 loss in a hard fought match against Spurs.
A terrible run of league luck.
It wouldn't have been so bad if those losses hadn't been combined with a 2-1 slip up against Udinese and a draw against a strong Borussia Dortmund side in the Champions League group stage, as well as a draw against Newcastle at the very beginning of the season.
To add to this string of results, when Arsenal did win, it was not in dramatic fashion. Never by more than one goal.
These results could easily be pinned to key losses in the midfield of Cesc Fabregas, Samir Nasri, and the injured Jack Wilshere, as well as injuries to the defensive line at key times, most notably Thomas Vermaelen.
This run had left Arsenal all the way down in 17th position in the league table, at one point; a significant low for the managerial wizard, Arsene Wenger.
The Match at Stamford Bridge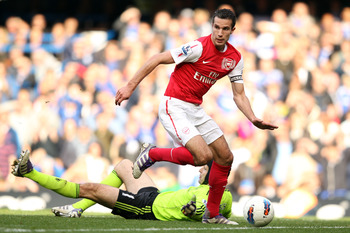 Ian Walton/Getty Images
After the loss at White Hart Lane, the Gunners woke up and finally started playing some football.
Managing their way through a tricky string of league ties against Sunderland, the Stoke rugby squad and Bolton with wins, as well as a Aaron Ramsey-led win against Marseille, Arsenal were well on their way to getting their feet underneath them.
Then came the dramatically tough fixture against Chelsea at Stamford Bridge.
As per usual, there were a lot of glamorous, slow motion commercials of post goals celebrations from both sides, which turned out to be one of the most representative ads for this fixture, after an eight-goal marathon.
Arsenal put in five against one of the strongest, most defensive-minded teams in the league, their first real dominant performance of the season.
A hat-trick by Captain Robin van Persie looked to be a beginning of his greatest season to date, after suffering long injury-hampered droughts in play in his previous years.
A statement had been made and Arsenal were clawing their way back up the table with well-worked results and a movement back to their more traditional style of fluid pass-strung play.
The Return of a Great
Michael Regan/Getty Images
One of the marquee stories of not just Arsenal's season, but of the Premier League, was the return of Gunners' legend, Thierry Henry.
The all-time leading goalscorer in Arsenal history returned for two months, before the start of his season with the New York Red Bulls.
It was the spark Arsenal needed to really get their season going.
After struggling through yet another January with poor results against Fulham, Swansea, and Manchester United, Arsenal really did need a morale boost.
Who better to give them that than the mercurial striker himself?
Though he only scored two goals in the seven matches he was at Arsenal, Henry provided that bit of experience and leadership ability up front that the Gunners have so desperately missed since his departure for Barcelona back in 2007.
Captain Vantastic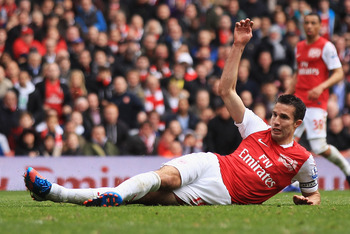 Bryn Lennon/Getty Images
Robin van Persie was absolutely magnificent in front of goal.
36 goals in 47 matches is an unheard of number for the Dutchman, who has suffered injury after injury with his stay at Arsenal. This season proved to be a breakout year for him.
Having to take over the role of captaincy upon the exit of Cesc Fabregas, it was a role many questioned he could undertake. From an observer's perspective, there were quite a few games where he disappeared into the flanks of the game, not quite attacking the other team's back line nor really effecting play, but these games were few and far between as the season progressed.
In his first year as captain, one would have to say he did an excellent job in guiding Arsenal back into Champions League contention with a third place finish in the league.
Now, the question is if he will stay with the Gunners over the summer.
Arsene Wenger Still Has Some Magic Left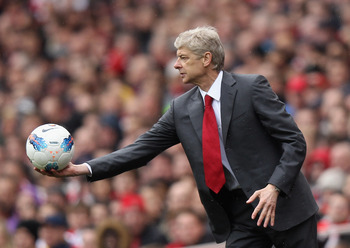 Bryn Lennon/Getty Images
Arsene Wenger started this season out by having everyone calling for his head like a bad French Revolution joke.
The devastating loss to Manchester United has easily been the lowest point of his career as manager in North London. Many, including myself, were saying he had overstayed his welcome and that the mysterious magic he had weaved in previous seasons had faded into a program bare of experience and quality players.
Oh, how wrong we were.
Managing through injuries and a side mixed with unproven talent and talent yet to be seen by Gunner fans, he managed to right the Arsenal ship and bring in a third place finish to Ashburton Grove, a feat to be applauded.
One of the points I would have to give him is the loaning out of Andrei Arshavin to Zenit St. Petersburg. The little Russian was obviously uncomfortable on the pitch whenever he came on, and allowing him to go back home, where he has begun to get his confidence back was a move of genius. Especially when most Arsenal fans, myself included, groaned over his appearances whenever he was subbed in for an attacking presence over Alex Oxlade-Chamberlain, among others.
With his early signing of Lukas Podolski, a well-renowned striker by his own, and lots of press highlighting his urges to clear out the locker room of dead weight, as well as signing quite a few more players, the 2012-2013 season could see a trophy or two fill up the trophy case in the Emirates.
Alex Oxlade-Chamberlain Is a Technical Genius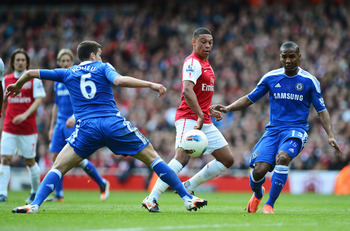 Mike Hewitt/Getty Images
With his precision of play, blinding speed, technical footwork and on-the-ball wizardry, Alex Oxlade-Chamberlain has all the makings of one of the best footballers to have played at Arsenal.
Now, I will admit, it might be a bit early to be singing the praises of the young English international, but there is no doubt that his presence on the field was game changing.
Fans would cheer voraciously as he stepped onto the pitch, calling his name to be subbed in beforehand.
There is little doubt that he has a bright future ahead of him, withholding injuries or anything career-threatening.
Here's a montage of his brilliance.
Weak Ending to the Season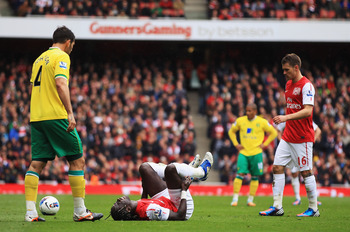 Bryn Lennon/Getty Images
While there were many flashes of brilliance from the Arsenal 11, the inconsistency still reared its ugly head too often.
With weak performances in the draws against Chelsea, Stoke, and Norwich City, as well as a come-from-behind victory against West Bromwich Albion, the Gunners looked particularly weak in the deep midfield and defense, yet again, with runs flying in from the flanks and not closing down the man on the ball.
These close matches threw away valuable points the Gunners could have used to make the final day of the season a bit less nervy for the fans in the stands and around the world, but the final day wouldn't have been the same without the drama from both Arsenal and Tottenham's games.
It would've been nice to not have to yell at the television when they fell behind against West Brom, because they would have had third place already locked up, but hey, that's why the Premier League is the most exciting league on the planet.
In Conclusion...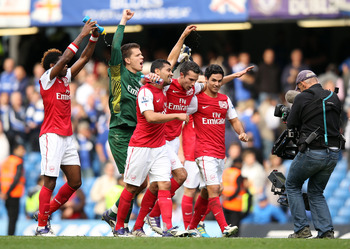 Ian Walton/Getty Images
Arsenal's season was one of the most dramatic, to-date. With some of the lowest of lows in recent memories, but superb performances to counter, it was a brilliant season to witness.
With the mayhem of the summer transfer session upon us, already, it will be interesting to see what changes Arsenal will make as the kickoff in August edges ever closer, day-by-day.
One can only hope that the mercurial captain will make his stay, as well as the team, as a whole, becomes more robust and less riddled with injuries.
There is also the return of Jack Wilshere and Emmanuel Frimpong to look forward to!
It shall be interesting to say the least.
Follow me on Twitter to stay updated on all the happenings in the world of football, as well as various other sports.
Keep Reading

Arsenal: Like this team?