New England Patriots' 4 Best, Worst Moves of 2012 Offseason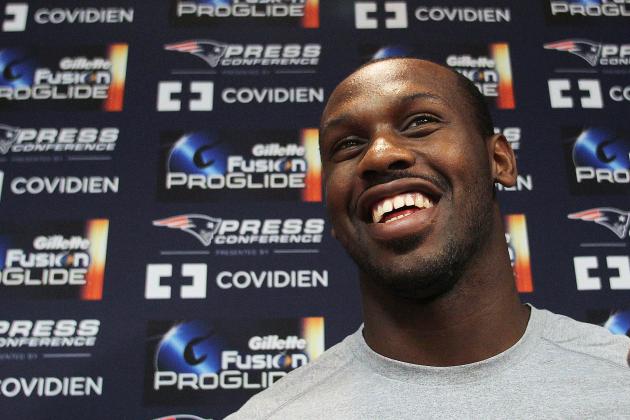 Jim Rogash/Getty Images

The 2012 New England Patriots are a much-improved unit compared to that of 2011. No snaps have been taken, but that much is certain following the offseason Bill Belichick and company have had.
With dozens of free-agent signings and multiple high-profile draft selections, this years squad looks mighty promising already. However, not all of the moves this year have been perfect.
Here's my take on the four best and the four worst moves of the New England Patriots' offseason.
Begin Slideshow

»
It's not the fact that Wes Welker is being retained that makes this move one of the worst. Anytime you return the NFL's receptions leader, you've investing wisely.
And that's why not signing Welker long term was a mistake. Negotiations could still progress, but it's tough to maintain confidence considering the most recent developments.
Welker reportedly upset the Patriots front office with comments made on televised appearances on ESPN a couple weeks ago, per The Boston Globe. It's getting pretty tough to gauge how this will all play out. Had the team made a re-signing more of a priority prior to this stage, the entire situation could have been avoided.
If it's age New England is worried about, Welker's position in the slot should help calm those concerns. He doesn't rely on straight-line speed, which should allow him to maintain an elite level of performance and execution well into his 30's.
Welker deserves a new deal—is three years really too much to ask for?
I put together a little project earlier this month detailing the career statistical output of the Patriots' 2012 receiving corps. I did it in part to determine who could be expected to contribute because there's no way all of them will.
What that number crunching told me was that Brandon Lloyd projects out to be a real weapon in this offense. His ability to threaten the field vertically along with his circus-catch ability should be a real treat to see in tandem.
With an average of 16 yards per catch since 2007, Lloyd represents something this offense hasn't had for a couple seasons now.
On logic alone it's tough to defend the Patriots' use of a second-round pick on a player they likely didn't have much competition for. That's not to discredit Tavon Wilson's potential—I happen to think he'll be quite serviceable once developed.
It's possible New England identified its intended selections ahead of time and was that comfortable with Wilson and Jake Bequette later in the third. While that's a possibility, it still defies common sense.
Maybe a trade down could have been worked out allowing an extra late-round pick to be used, but that didn't happen. It's not the end of the world, but it's not what we've come to expect from this franchise.
I'll admit this pick has grown on me greatly since my original reaction of tempered expectations. Alfonzo Dennard is a scrappy, press-man cover corner who can probably be a real contributor in 2012 if he can move past all of his legal troubles.
That is a big "if" right now, but the only investment so far is a seventh-round pick and a $57,848 signing bonus. The risk was worth the reward of developing this talented defensive back and seeing how much of a force he can become.
New England's defense needs a physical presence in the defensive backfield, and Dennard could go along way toward providing that.
Again, like Welker, Brian Hoyer is a solid piece to retain heading into 2012. He's exceeded all expectations since the second he stepped through the front doors at Gillette Stadium in 2009.
Not only did he make the squad as an undrafted free agent, but Hoyer beat out his competition at quarterback so handily, he was named the sole backup to Tom Brady as a rookie. He's been joined at times since then by the likes of Ryan Mallett and others but has yet to relinquish the top backup slot.
With all that said, after investing a third-round pick, nearly $3 million and a year in the playbook in Mallett, is it really necessary to pay Hoyer another $2 million?
Tom Brady is set to pull in about $13 million in 2012 and the Patriots have another $5 million invested in insurance plans on the 34-year-old. I'm picking bones here, but it's certainly a questionable move among many more economical decisions this offseason.
Patriots fans got their cake and are eating it, too, this offseason, as New England not only used both of its first-rounders, it traded up both times to do it.
In doing so, the lackluster 2011 defense is being replaced with a youth-stocked and high-potential front seven in 2012. The Patriots have a habit of releasing their first-round rookies on the league as soon as they prove capable.
Both Chandler Jones and Dont'a Hightower have the pedigree, intelligence and open opportunities for play time necessary to step in and impact this team very quickly. Hightower may be in line for more snaps early on, but these two will anchor the same defense at many points this year.
New England could still recover from this mistake by coming to terms with Andre Carter once he's deemed healthy. He was reportedly still limping in March and the Patriots were said to be in no rush to re-sign the veteran in April, per the Boston Herald.
SI's Peter King offers up our most recent update to work with, stating Carter would "be ready to practice full-speed in training camp" after rehabbing his surgically repaired quad.
Chandler Jones is a full inch taller and 10 pounds heavier, but in the grand scheme of things these two are quite similar in size and shape. Jones is likely to fill a role similar to that of Carter last season.
I believe having Carter around in camp, during practices and in a decreased role if necessary, can only help this team along with Jones' development.
Lost among the hype of the first-round selections of Hightower and Jones was the potential in third-round selection Jake Bequette.
Imagine what the Patriots defense could have done with a 6'5", 270-pounder last year. Bequette is quite athletic for his size, possessing 4.78 40-yard speed, and has even lost a few pounds since the NFL combine.
The Boston Globe reported that head coach Bill Belichick thinks Bequette can line up as an OLB and DE for the Patriots moving forward. It's looking more and more like New England has itself a brand-new Mike Vrabel on steroids.
Read more articles like this:
Pats Among Teams With Best Offseason of 2012