NBA Playoffs 2012: What the LA Clippers Must Do to Defeat the San Antonio Spurs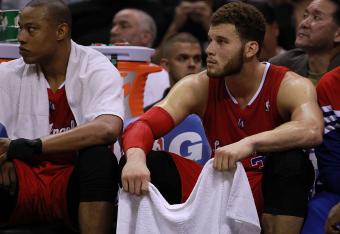 Ronald Martinez/Getty Images
The Los Angeles Clippers entered the series confidently against the San Antonio Spurs. After beating the Memphis Grizzlies in first round action, the Clippers have found themselves quickly down 0-3 against Tony Parker and the experienced Spurs.
There is not much of a bright-side for L.A. outside of Blake Griffin, as the Spurs have dominated the Clippers in almost every aspect of the game. San Antonio has out-scored Los Angeles by 43 points and has also out-rebounded them.
It would be the first time in NBA history that a team would overcome a 3-0 deficit in a series if the Clippers were to win. As we all know, nothing is impossible. In order for the Clippers to get back into this series, it starts with winning Game 4. Here are the keys to success if they wish to defeat San Antonio.
Controlling the boards
Griffin has been great throughout the series, averaging 21 points per game. The issue with Griffin however, is his disappearance from the boards. In Game 2, Griffin managed just one rebound. As a high-leaping power forward, one rebound is just unacceptable in a playoff game.
If the Clippers wish to win, offensive rebounding and creating second chance points are pivotal. The Clippers averaged 12.1 offensive rebounds per game in the regular season, and have only managed six against the Spurs.
If the Clippers wish to stave off elimination, they will need a performance by Griffin similar to that of Game 3—in which Griffin scored 28 points with 16 rebounds, four of them coming off the offensive glass.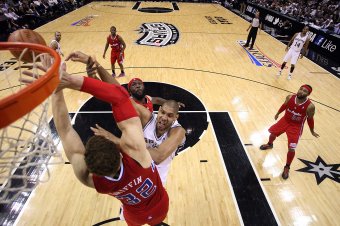 Ronald Martinez/Getty Images
Chris Paul has been nothing short of a disappointment in the second round of the playoffs.
After a 5-for-17 performance in Game 3, Paul has now shot just over 30% on the series, making 12-of-39 from the field. The problem is not the shots CP3 has taken but the fact that he is just simply missing them. To make matters worse, he has come up short on most of his misses, which hints that his legs are not under him—possibly due to the nagging hip-flexor.
It is no wonder that Paul is one of the most important players for the Clippers, and in order for them to take a game away from San Antonio he must play like the All-Star point guard he normally is. Averaging just over nine points per game for Paul is seriously under-par, and he must contribute more offense.
Defense
There has been no doubt that the Clippers have played uncharacteristically awful defense.
In the regular season, L.A. allowed 95 points per game. Against the Spurs, they have allowed almost 103 per game. While there has only been a sampling of three games played, it is clear that the Clippers have laid down for the San Antonio offense and allowed them to score at will.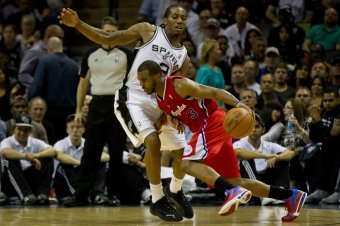 Justin Edmonds/Getty Images
Two players that the Clippers will have to focus on, obviously, are Parker and Tim Duncan. Duncan has recorded two double-doubles in three games while averaging 21 points, and Parker has also had two double-doubles scoring just over 17 points per game.
The combination of Blake Griffin and DeAndre Jordan must handle Duncan much for effectively if the Clippers want any hope of extending this series to five games.
The task is ever-so important as San Antonio coach Gregg Popovich almost always rests his big man during back-to-back games. Griffin and Jordan need to take advantage of this unusual playing time for Duncan and wear him down in the paint, making him work for every shot while also posting him up on the defensive side of the ball.
Paul must step up into the role as a leader, and Griffin must reproduce a performance like Game 3 on the boards while players such as Jordan need to just do their jobs and play disciplined basketball. Without all three of these keys in play, the Clippers stand little chance against the NBA's best team thus far through the playoffs—never mind become the first team to erase a 3-0 deficit and take the series.
This article is
What is the duplicate article?
Why is this article offensive?
Where is this article plagiarized from?
Why is this article poorly edited?

Los Angeles Clippers: Like this team?