Clippers vs. Spurs: Likely Sweep Sets Up San Antonio as NBA Title Frontrunner
May 20, 2012

Steve Dykes/Getty Images
Moan and groan all you want, but there's no stopping these San Antonio Spurs, maybe not until they've wrapped up another NBA title.
They've ripped off 17 wins in a row since losing to the Kobe Bryant-less Los Angeles Lakers on April 11th, with 14 of those wins coming by double-digit margins.
Their most recent—a 96-86 win over the Los Angeles Clippers in the Western Conference semifinals—may have also been their most impressive. A 22-point deficit at the end of the first quarter was no match for the poise and execution of the Spurs, who chipped away at LA's lead in the second before ripping off a 24-0 run of their own to take command of the game for good.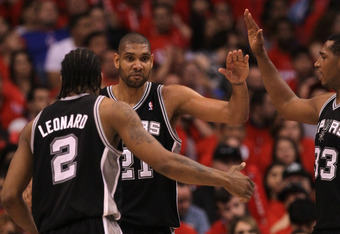 Stephen Dunn/Getty Images
It was the sort of performance of which champions are made—ruthlessly efficient, calmly effective.
You know, Spurs-like.
Unlike last year, when the Spurs were ousted from the playoffs by the Memphis Grizzlies in the first round, San Antonio's Big Three of Tony Parker (yes, Tony gets the marquee now), Tim Duncan and Manu Ginobili is healthy and firing on all cylinders. Those three combined for 54 points, 20 rebounds and 20 assists against the Clips on Saturday.
More importantly, they've won three titles together, though these aren't exactly your older sibling's Spurs. Sure, they still defend like crazy and can execute in the half court with the best of 'em, thanks to Duncan in the pivot and Coach of the Year Gregg Popovich masterminding from the sideline.
But this is Parker's team now, and a much faster, more entertaining one because of it. Gone are the days of San Antonio grinding its opponents into oblivion.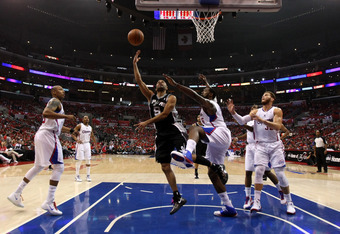 Stephen Dunn/Getty Images
Nowadays, the Spurs run other teams out of the building. They score more points than anyone, with 103.5 points per game during the regular season and 102.6 during the playoffs. They score more efficiently than anyone, at 1.076 points per possession. They shoot better than anyone, at 47.8 percent from the field during the regular season and 49.1 percent during the postseason.
And they've won each of their seven playoff games by an average margin of 15.3 points per game.
Not just with fogies, either. Kawhi Leonard, the 20-year-old rookie out of San Diego State, registered 14 points, nine rebounds, an assist and two steals against against the Clips on Saturday. Danny Green (24), Tiago Splitter (27) and Gary Neal (27) all play crucial roles in San Antonio's success story.
Granted, the Spurs aren't the Oklahoma City Thunder, whose three best players (Kevin Durant, Russell Westbrook and James Harden) are all 23 or younger. San Antonio is still, by and large, a veteran team.
Which, frankly, gives the Spurs even more of an advantage as they seek out the fifth title of the Pop-Duncan Era in the River City. They have the versatility to play just about any style of basketball and the experience to do so successfully.
They've been there, done that and look ready to do it again. The Clips certainly won't serve as much of an impediment to the Spurs. Chris Paul, Blake Griffin and company gave it their all on Saturday and still couldn't come up with a favorable result. Chances are, they'll be spent, physically and emotionally, by the time they tip off on Sunday night, with just enough wherewithal to play out this swan song to a season on the rise for LA's other team.
And hand the Spurs their second sweep of these playoffs.
They've been at the top this whole time. They had the best record in the Western Conference last season, but were done in by the red-hot Grizz and a banged-up Big Three.
This time around, the Spurs tied for the top mark in The Association and have only nicks and cuts about which to complain.
People are finally starting to pay attention to the Spurs, and if they haven't yet, they certainly will (or at least should) once Pop's squad gets its hands another Larry O'Brien Trophy.