2012 NBA Playoffs: Top to Bottom, the Best-Run NBA Teams Today
May 20, 2012

Ronald Martinez/Getty Images
The San Antonio Spurs are just…well...to put it simply, awesome.
You mix a crazed fan base that has only one professional sports franchise in their city, add a heavy helping of a front office that is calculated in every single decision it makes (always) and a sprinkle of a coach that you could plug into virtually any era of professional basketball and he would succeed (in Gregg Popovich), and what do you get? Four NBA championships in 11 years.
Oh, yeah, I forgot…Tim Duncan's pretty good, too.
The Spurs are on the cusp of reaching another Western Conference Finals matchup (most likely with the Oklahoma City Thunder, who currently hold a 3-1 series lead over the Los Angeles Lakers), and they are showing no signs of slowing down. Duncan says he feels healthier now than he has in years—amazing considering this shortened season, in which teams were forced to play 66 games over 120 days—and Popovich may be coaching his best basketball since the early 2000s. Point guard Tony Parker, playing in his 11th season in the NBA at only 30 years old, has played at an MVP level all season long, taking on more of a role in the offense.
San Antonio looks ready for another run at a title, the franchise's fifth since the 1999, and it got me to thinking about which NBA franchises run their team, well…best. From top to bottom, the Spurs are not just an example on how to run an organization. They are the model.
Here are today's best-run NBA franchises: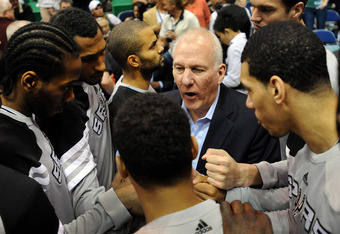 Steve Dykes/Getty Images
San Antonio Spurs
I won't delve much further, considering I already spent enough time praising the Spurs—but their commitment to excellence, longevity and above all, discipline, transcends the notion that small-market teams can't compete with the big boys.
However, sometimes it's better to be lucky that good, and winning the lottery to get Duncan back in the late 90s helped to create something special in San Antonio. Still, you have to be good at acquiring pieces to build around him, and that's just what general manager R.C. Buford (who took over the job in 2002) did. Along with Popovich, Buford found the slashing-guard Parker and the versatile 6'6" Manu Ginobili. Those two, along with Duncan as the premier asset and low-post player, were able to bust out championships in '03, '05 and '07.
The winning formula has been in place for 15 years for the Spurs, which tout the model of consistency needed to sustain success in a sport predominately fueled by major markets. They're rewriting the instructions to the recipe for winning.
Oklahoma City Thunder
In any sport, the best advice any long-time (and successful) general manager will tell you that your cap space is your baby—your short- and long-term success predicates on how you use it. The Thunder, after moving to Oklahoma City following the 2007-08 season, are trying to replicate the formula San Antonio has developed over the last 20 years.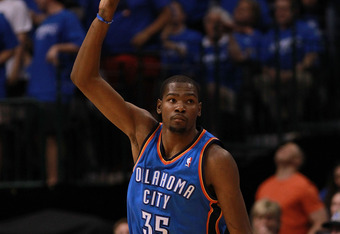 Ronald Martinez/Getty Images
So far, it's working.
OKC has completely hollowed out their cap space over the last few seasons, anticipating the fact that they would have to pay superstars Kevin Durant and Russell Westbrook. The Thunder are currently working on restructuring a bit of the cap to re-sign 22-year-old James Harden, who won the Sixth Man of the Year award for his crucial play off the bench. Also, they re-signed center (and enforcer in the post) Kendrick Perkins over the offseason after acquiring him from the Celtics at the trade deadline last year.
The fan base in Seattle was devastated when the Sonics left and the franchise was renamed, so if this core of players failed to live up to the expectations, heads would have undoubtedly rolled. However, the Thunder didn't just live up to their expectations—they exceeded them.
OKC may go to the Finals this year, and if they win it all, it will be one hell of a documentary one day: how a team flourished in a few short seasons after moving away from a city where it had so much history, but not much success. One thing's for sure: I'll be setting my DVR for that.
Okay, this is a homer pick, but the Celtics, under team president Danny Ainge, have been able to pump out a title (2007-08), as well as five straight division crowns.
After captain Paul Pierce requested a trade following the 2006-07 season (team finished 24-58), Ainge pulled off two of the biggest moves in the league's history, acquiring Kevin Garnett and Ray Allen, who helped propel Boston to a title that season.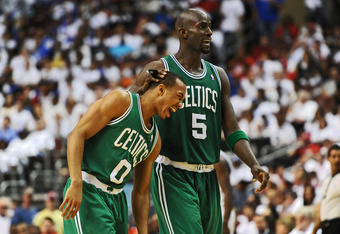 Drew Hallowell/Getty Images
Since then, the Celtics have been an example to follow for most major-market teams that deal with scrutiny from media members and tabloids. They were one Garnett injury away from another run in 2008-09 and lost in the 2009-10 Finals to the Lakers in seven games.
If you want to look at how the front office, coaching staff and players alike have dealt with adversity, you don't have to look very far. Entering this season, guard Rajon Rondo was rumored to be in trade talks involving many teams, and when Boston slipped and slid their way to a .500 record after the first two months, Garnett, Allen and Pierce were all considered trade bait. They all dealt with the rumors and busted out after the All-Star weekend. They won the division, beat their first-round foes in the Hawks and are 2-2 in their current Eastern Conference semifinals series against the Sixers.
The Celtics are well on their way to something special if they can get out of this round, and it took a entire franchise to make that happen.
The Jazz is an extremely efficient organization that has competed for decades now.
Despite dealing Deron Williams at the trading deadline last season—Utah's "superstar" for seven years—the Jazz still managed to collect pieces to help them in the future. They drafted scorer Gordon Hayward as well as acquired center Al Jefferson, Derrick Favors and Devin Harris—all key pieces to the team's 36-30 record, good for the final spot in the Western Conference standings.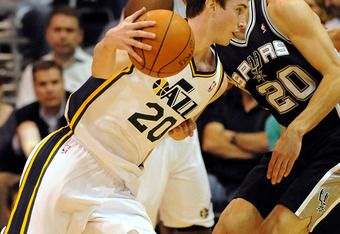 Steve Dykes/Getty Images
Historically, the front office and coaching staff hasn't fluctuated much, something pivotal for most organizations to achieve success. Utah is not just building for now, but for the future, as most of their roster sits under the age of 27. Only time will tell though if those pieces are enough for the Jazz to be considered a dangerous opponent, capable to making a deep run in the playoffs for years to come.
It's surprising to think that, after the "Malice at the Palace" brawl in 2004, that the Pacers have been able to reshape their image.
They have.
Indiana is one step away from being back in the Eastern Conference Finals, leading the Miami Heat 2-1 in their series. They have an extremely deep team, maybe the most deep roster in the entire league.
After moving on from Ron Artest, Jermaine O'Neal and Reggie Miller, Hall of Famer and now Pacers' team president Larry Bird has completely turned over the roster in the last few seasons. He signed David West to a two-year contract during the offseason to add offense; he drafted and helped rebuild Roy Hibbert and his post-game; he kept Danny Granger, traded for George Hill and obtained Tyler Hansbrough and Devin George, finding success with all of those guys.
What the Pacers have done is bring basketball back to life in Indiana, slowly bringing back fans who left following the despicable altercation in '03 in Detroit.
Sometimes, the teams that find the best success are the teams that grow up together. For Indiana, they have done a lot of growing up together the last few years. Let's see if that translates into a title.