Bayern Munich vs. Chelsea: A Fan's Reaction to History
May 20, 2012

Mike Hewitt/Getty Images
It was one moment, a single solitary instant, too fast for the HD cameras recording at a high frames-per-second rate to catch, too fast for any time-measuring device to record, that Chelsea fans around the world felt something they never felt before from watching the club they love—true happiness.
It did not come to everyone at the same time. Some felt it the moment the ball left Didier Drogba's foot. Others when they noticed Bayern Munich keeper Manuel Neuer had dove the wrong way. But some, like myself, did not feel it until much later and still may not be feeling it fully.
Let me provide a little back story for you. I was raised in San Diego, California and am a lifelong fan of the San Diego Chargers and San Diego Padres, two teams that have never won a championship in their respective sports. I first discovered Chelsea in 2006, following the World Cup when I grew a man crush on a certain Ivorian. From then on I have been as passionate a Blues fan as there is.
But yet again, my pension for being attracted to the under-performers had reared its ugly head. Yes Chelsea had won titles before I followed them and since I started, but never had they won the big one, that one that says they are unquestionably the best.
Winning the FA Cup and Premier League are feats of note, but I liken them to winning a conference or division in American sports. Only the Champions League can bring the kind of satisfaction that we all crave but have never felt.
On May 19th, 2012 the entire Chelsea fanbase, whether they be old enough to have seen Roy Bentley lift the English title half a century ago, or a relative newbie to the game like myself, were all joined together in seeing and feeling something for the first time.
The scream I let out as Drogba scored the final penalty to clinch the first-ever Champions League title for the Blues was more a reaction to a moment than an actual emotion.
I was excited because the incredible roller coaster that was the previous 120 minutes and nine penalty kicks was finally over. I was exhausted, and it took all of my energy to summon up the strength to have an audible reaction, which consequently gave me the hoarse voice I have today.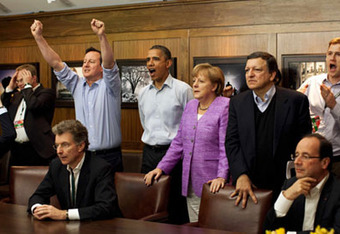 I ran around my apartment, hugging the few friends I had over, none of whom had a real horse in the race and were pushing for Bayern for no more reason than they did not want to see this side of me.
But I didn't care. It was the first time I had ever had the felt this kind of joy from sports, and dammit I was going to make the most of it!
I immediately tapered down my enthusiasm to adequately fulfill my duties for this site in postgame commentary. In what I think is perhaps the worst thing I have ever written on here, I produced this: "5 Things the Triumph Means for the Blues". It was utter junk, written with shaky hands and sweaty palms, still traumatized from the most exciting cup final I had ever seen.
I apologize to all the readers for not living up to my own standards of quality and the commenters who gave their time to react when I did not give full attention to mine.
So I figured the night of was not the right time to construct something of meaning. I would sleep on the victory and see how I felt in the morning to try to let the rabidness I detest so much to leave my body. I would return a levelheaded sports fan to comment accurately.
So here we are, nearly 24 hours removed from the most unique feeling I had ever had, and still my mind is as sporadic and confounded as it was the moment the boys in blue lifted the trophy.
At some point, this feeling will leave me. The game will move on into the summer, and as the back page stories become gossipy rumors of transfers and who will land the megadeal this offseason, the victory in Munich will fade more and more into the past for the footballing world and into mythology for Chelsea fans.
Let's not rush it, though. Let's bask in this moment for a little bit. Use it to be arrogant and a pain in your friends' butts, gloating about how the team you support are kings.
Take pride that the first-ever parade for European glory through the narrow and windy streets of London will be done in a blue bus. Bask in the warm spring sun with a smile knowing that for a full season, Chelsea will be champions.
Alex Livesey/Getty Images
One of the things I like most about following this club is that the fans take the "we ain't got no history" brand in stride.
There is little pompousness I have found in my days of following, from arrogant morons that call themselves better fans simply because they devote more time and energy to the following. You know the type, the guy who will say I am just some stupid bandwagoning American who enjoys the sport just to be unique in my country.
That is not what this club is about.
This club is about what we saw Saturday night. Eighteen players ignoring everything that had been said about them and all the factors against. All of them holding together hope on a lost season to make it the most memorable in club history.
Legends such as Didier Drogba and Frank Lampard continuing to add to their mythology, and youngsters such as Juan Mata and Gary Cahill starting to build their own. An owner who—no matter how much we may question his motives—can come out of his cocoon of secrecy to hold the trophy proudly, arm in arm with the players who proudly acknowledge that this is his trophy as much as theirs and that it was more for the fans than anyone else.
This is Chelsea Football Club. And now that it is higher than ever, let's really Keep the Blue Flag Flying High!
For all my articles, follow me on Twitter: @thecriterionman