Bayern Munich vs. Chelsea: 6 Things We Learned in Blues' Champions League Win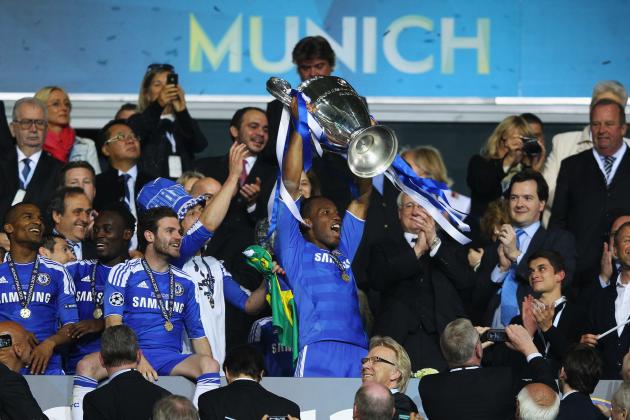 Alex Livesey/Getty Images

One of the most exciting seasons in European football came to a climactic end on Saturday night when Chelsea beat Bayern Munich 4-3 on penalties after the Champions League final ended 1-1 in normal time.
A simple look at the statistics shows that this was a surprising outcome, to say the least: Bayern had 56 percent possession, 20 corner kicks and 43 shots on goal.
But Chelsea held on despite Bayern's onslaughts on Petr Cech's goal, and the last-gasp equalizer, as well as the winning penalty kick, was provided by none other than the Blues' resident big-time striker, Didier Drogba.
As the European season comes to a close, Chelsea sealed a return to the biggest stage next season by winning the Champions League outright, despite finishing sixth in the English Premier League.
Here are six things we learned in the Champions League final in Munich's Allianz Arena—and, as usual, feel free to have your say in the comments below.
Begin Slideshow

»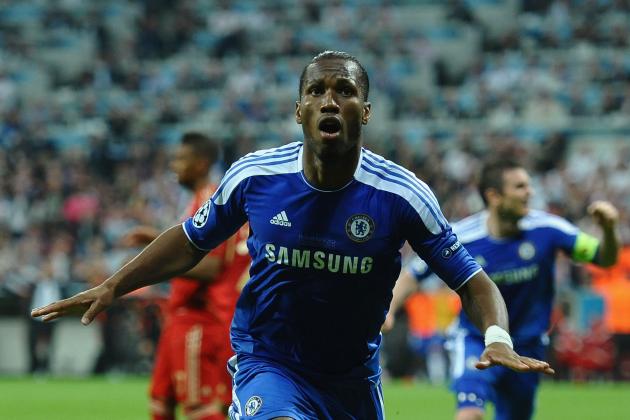 Laurence Griffiths/Getty Images

Why not start with the most obvious post-game observation?
Didier Drogba proved once again that he is irreplaceable for Chelsea.
Never mind the talk of him leaving Stamford Bridge—he has provided Chelsea with the most efficient battering rams for the best part of eight seasons.
He was there when Chelsea returned to the summit of English football under Jose Mourinho. He was there when Chelsea came so close to winning their first Champions League against Manchester United four years ago. He was there, as he has always been, in the FA Cup final just a few weeks ago, scoring the winner against Liverpool.
He's 34 now, and still the scariest target-man in the European game.
How will Fernando Torres step into the Drogba-sized hole that will eventually appear in this Chelsea team?
We'll have to see whether Drogba's successor comes in the form of Romelu Lukaku. He's 18.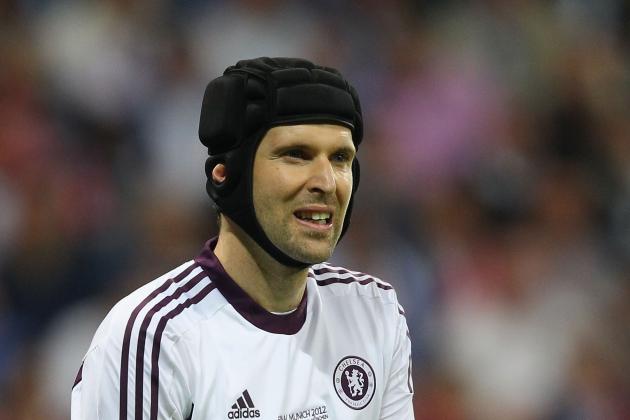 Alex Livesey/Getty Images

Before we extol the virtues of Petr Cech, let's first consider the appalling shooting from Bayern Munich last night.
From 43 shots, they only managed to get seven on target, which resulted in a single goal. Twenty corner kicks came to nothing, while Chelsea's solitary corner yielded Drogba's dramatic equalizer.
All right. Now it's time to wax lyrical about Chelsea's goalkeeper.
To be fair, Cech has never been far away from the exclusive list of top five keepers in the world. Yet, after his head injury, it has seemed that he's stepped away from the limelight a bit. The return of Manchester United to domestic dominance, the rise of Manchester City and even the rapid ascent of Tottenham Hotspur will have played their roles in reducing Chelsea's time in the headlines.
And all throughout the Champions League final last night up until Cech's shootout save from Ivica Olic (yes, despite Cech's extra-time penalty stop from Arjen Robben), this observer was waiting for the final whistle to confirm Manuel Neuer, he who scored Bayern's third penalty so calmly, as one of the best goalkeepers in the world.
But we'll let Cech himself analyze his own performance: "I faced six penalties and six times I went the right way. Four times I touched the ball."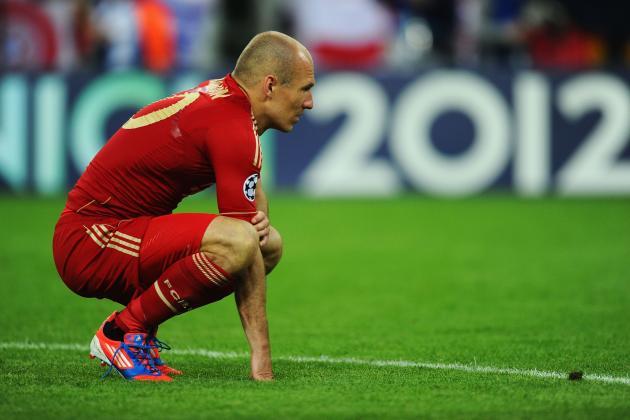 Mike Hewitt/Getty Images

Opposite Drogba and Cech, one of Chelsea's former players turned in a wasteful performance that confirmed his exclusion from the world's elite players.
Because, after a tame penalty miss and an evening of wayward shooting and selfish attacking play, Arjen Robben flopped on the biggest stage of them all.
He's not alone in this predicament: Such stars as Cristiano Ronaldo and Zlatan Ibrahimovic have had this accusation leveled at them before. But unlike Robben, the men from Real Madrid and AC Milan have gone some ways to disprove this theory.
Robben's ineffectiveness all evening should be credited to an outstanding performance from Chelsea's Ashley Cole, who, along with the rest of his defensive colleagues, showed that Robben's game is actually one-dimensional and predictable enough to contain as a collective.
Too bad Robben's ego seemed to have gotten the better of him.
Instead of coming up with ways to help his team triumph, he hogged almost every single set piece for Bayern, failing to deliver on any of them, and seemed to have a personal mission in trying to one-up Franck Ribery.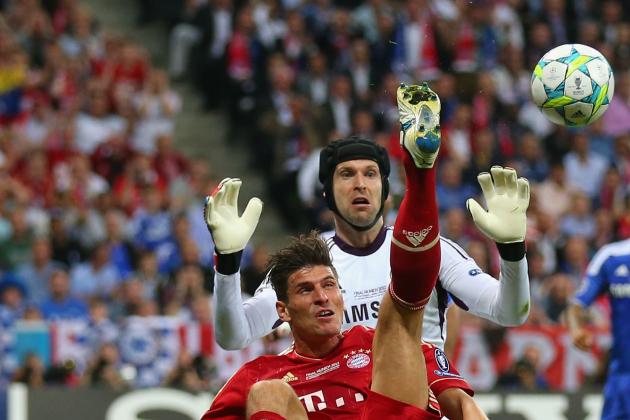 Alex Livesey/Getty Images

It was typical Chelsea.
Defence came first, and bodies were put on the line to defend Petr Cech's goal. In their odd foray forward, Didier Drogba's piece of opportunism was enough to show that the writing was on the wall for Bayern.
And it was typical Bayern.
Relying too heavily on their wing play from Arjen Robben and Franck Ribery, and hoping Mario Gomez would continue his hot goal-scoring streak in Bundesliga play this season. Thomas Muller showed the finishing touch that Gomez never did, but was taken off in a show of apparent complacency.
It was exactly this kind of predictable play that landed Bayern in hot water.
What will Bayern do without their wing wizards?
And what will they do when Gomez leaves his shooting boots at home?
They don't have an answer yet, and it cost them big time. Jupp Heynckes needs to find a solution.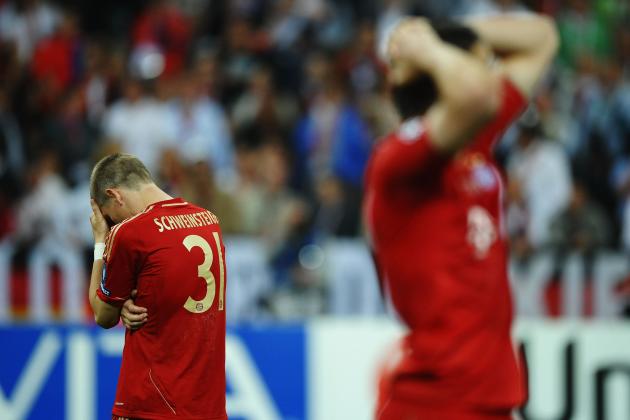 Laurence Griffiths/Getty Images

Much was made in pre-match buildup of the Champions League final being played in Bayern's very own Allianz Arena in Munich.
How it was supposed to herald a home win at Bayern's fortress. How the home support would be able to usher their players on. How the players would enjoy home advantage as pre-match favorites.
They must not have heard of the Chelsea story.
How Chelsea love triumphantly frustrating their opponents. And how, just like Liverpool seven years ago, Chelsea forced their way into the final despite being the underdogs for the majority of their Champions League journey.
And so, when Chelsea played their Jose Mourinho-designed game on Saturday, Bayern's players and fans didn't know how to respond.
The early applause at Bayern's domination and attacking play quickly became restless as they wasted chance after chance. Soon, the anxiety started to show on the players' faces.
They lost the penalty shootout in front of the Bayern stand.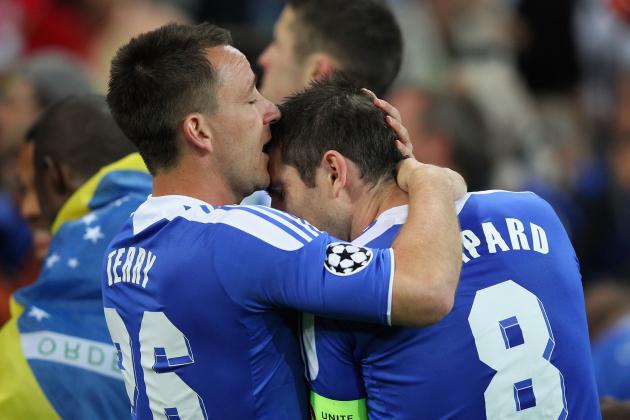 Alex Livesey/Getty Images

But any Chelsea fan would know that winning the Champions League does not, and cannot, mend the cracks that are beginning to show in this Chelsea squad.
Sure, Roberto Di Matteo has done a fine job resuscitating Chelsea's old guard and inspiring them to great achievements in his few short months in charge.
But Andre Villas-Boas was brought to Chelsea to usher in a new era precisely because there has to come a time when new blood needs to be transfused in to keep the team alive. Villas-Boas perhaps tried to do it too radically and a bit too prematurely, but the idea was right.
A year on, and the likes of John Terry, Frank Lampard and Didier Drogba have aged another year. It's not certain how much longer they, much like Florent Malouda and Salomon Kalou—products of the Jose Mourinho era—will be around.
AVB's turbulent reign showed how hard the transition at Stamford Bridge will be.
The Champions League win should signal the end of a glorious, glorious era. The hard work lies ahead.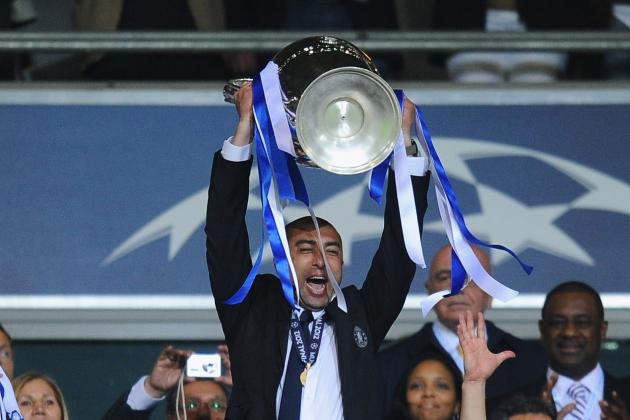 Mike Hewitt/Getty Images

Speaking of hard work, Roberto Di Matteo has done plenty of it in admirable fashion.
Having won the FA Cup and now the Champions League, he has delivered two trophies, when, just three months ago, doom and gloom reigned at Stamford Bridge.
Chelsea's next manager will have to live up to these silverware expectations while remolding the Blues in a new, younger image.
It's time for Di Matteo to walk away on a high.
If he stays at Chelsea, he can only go down from here.
What were your observations from the Champions League final? Do you think Di Matteo should stay at Chelsea? Let us know in the comments below.
If you liked this article, please check out my writer's profile, where you can find more of my work, and my blog, The Red Armchair, for Liverpool opinions and match reactions.