Miami Dolphins' 9 Best and Worst Moves of the 2012 Offseason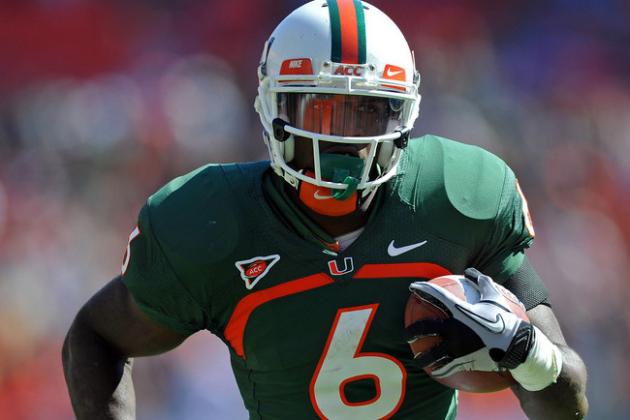 The dust has finally settled on the NFL offseason, and the Miami Dolphins can finally exhale.
Although Ryan Tannehill's arrival has generated excitement and positive energy, the Dolphins were the laughingstock of the league a few short weeks ago.
Fans literally rebelled when the Dolphins failed to land Jeff Fisher, Peyton Manning and Matt Flynn, and then, traded Brandon Marshall for a pair of draft picks.
It seems like an eternity ago, doesn't it?
Thankfully, Jeff Ireland made up for his team's abhorrent offseason with a strong draft and some wise acquisitions.
Here's a look at the best and the worst of Miami's hectic offseason.
Begin Slideshow

»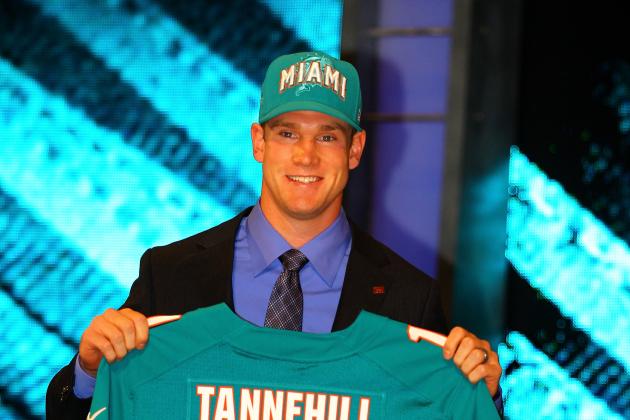 Al Bello/Getty Images

The Miami Dolphins might've "reached" for Ryan Tannehill, but can you blame them?
For more than a decade, the Dolphins tried to replace Dan Marino by luring in big-name free agents (Daunte Culpepper, Trent Green), overpaying for unproven talent (A.J. Feely) and whiffing on draft picks (Chad Henne, Pat White).
It was time for the 'Fins to invest a first-round draft pick in a quarterback.
Plus, the fanbase's frustration had reached new heights, and Tannehill's arrival has appeased tensions. In fact, Jeff Ireland now has overwhelming support from the fans who pleaded for his termination a few short weeks ago.
Only time will tell if Tannehill is a franchise quarterback, but if he fails, at least the Dolphins go down swinging.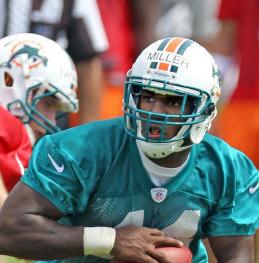 Photo via Al Diaz/Miami Herald
Lamar Miller wasn't just a steal.
He might've been the biggest steal of the entire 2012 NFL draft.
Once heralded as a first-round pick, durability and inconsistency concerns knocked Miller all the way down to the fourth round where Miami scooped him up.
Running backs with 4.3 speed and a 212-pound build don't come around very often, let alone in the fourth round.
With Reggie Bush entering the final year of his contract and Daniel Thomas coming off a disappointing rookie season, this was arguably the best move Miami made this offseason.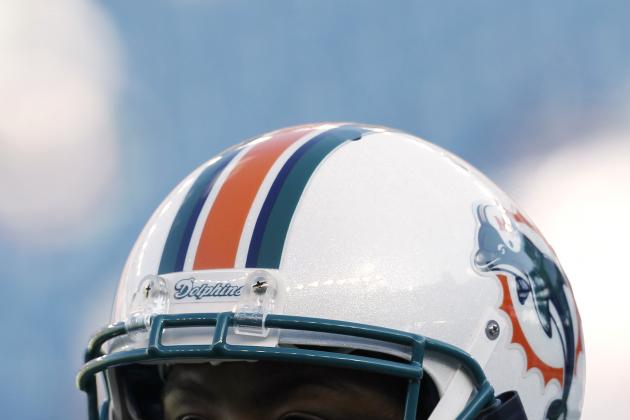 Winslow Townson/Getty Images

Brandon Marshall was arguably the best wide receiver in the NFL a few years ago, so how can the Dolphins justify swapping him for a pair of third-round draft picks?
Well, consider that Marshall dropped 12 passes last season and his production dipped sharply since the Dolphins acquired him.
More importantly, Marshall is a big, domineering personality. It's imperative that Joe Philbin have total authority over the locker room, and Marshall could've made that difficult.
Plus, according to the fan who received a phone call from Stephen Ross, "Nobody would return their phone calls about getting [Marshall]...they would have ended up cutting him very shortly after that and got nothing."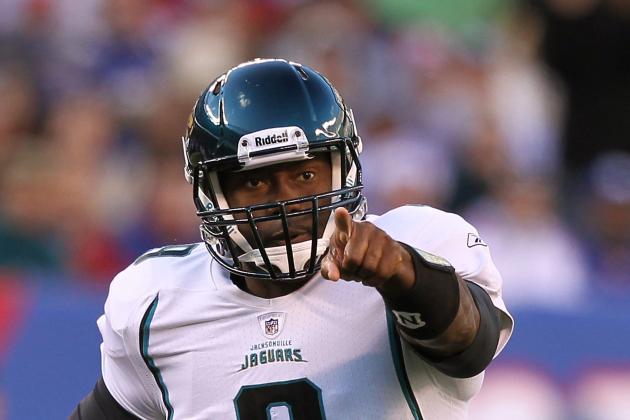 Al Bello/Getty Images

One of Miami's least publicized transactions just so happens to be one of their wisest.
The Dolphins inked David Garrard to a one-year deal in March, adding a veteran presence to one of the NFL's youngest rosters.
Although back surgery sidelined Garrard for the entire 2011 season, he's just two years removed from a Pro Bowl appearance, and he can impart invaluable wisdom on Ryan Tannehill.
Garrard wasn't signed to tutor Tannehill, though. He has a legitimate shot at winning the starting quarterback job.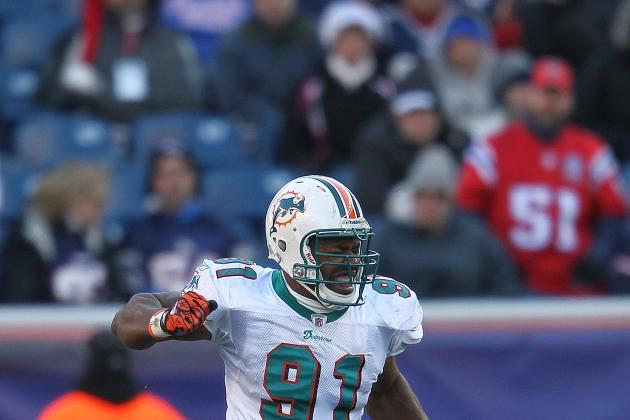 Jim Rogash/Getty Images

After racking up 28 sacks in three seasons, Cameron Wake was due for a contract extension.
And following a brief and worrisome holdout, Jeff Ireland finally delivered, handing Wake a four-year, $49 million deal.
No player is more pivotal to the defense's success than Wake, and it's comforting to know that he'll don orange and aqua for the next four seasons.
Winslow Townson/Getty Images

If the Dolphins could extend Jake Long, they probably would.
But, the 'Fins are strapped for cash.
Ben Volin of the Palm Beach Post projects that Miami will only have $3.13 million after it signs its rookie class. That's not enough to sign Long, who will likely demand a massive contract—one that could make him the highest paid offensive tackle in NFL history.
Jeff Ireland said that he has "plans to keep Jake Long here for a long time," and the Dolphins will have enough cap space to make that a reality next summer (All assuming Long fully recovers from the biceps injury he suffered at the end of last season).
Let's just hope Ireland's plans come to fruition.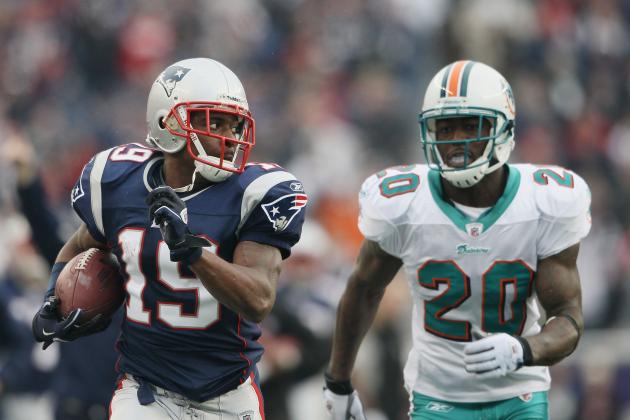 Elsa/Getty Images

The Dolphins entered this offseason with holes at quarterback, wide receiver, tight end, offensive guard, offensive tackle, pass-rusher, cornerback and safety.
It was unrealistic for Miami to address all of its shortcomings, but Jeff Ireland could've done more to bolster the team's safety corps.
Chris Clemons, Reshad Jones, Jimmy Wilson, Tyrone Culver and free-agent signee Tyrell Johnson will compete for the starting jobs in training camp, and that's not a comforting list of names.
Defensive coordinator Kevin Coyle garnered a reputation for turning mediocre defensive backs into great ones in Cincinnati. If he can't do that with Miami's safeties, then its defense will be vulnerable.
Technically, the Dolphins didn't completely neglect right guard.
They signed veteran journeyman Artis Hicks back in March, but he doesn't appear to be a candidate for a starting job.
If the season started tomorrow, then either John Jerry, Nate Garner, Ryan Cook or Ray Feinga would start. Jeff Ireland dug the 'Fins into a hole by not signing or drafting a starting-caliber guard, but all hope is not yet lost.
There should be a wave of quality veterans cut later in the summer when teams look to create cap space and trim their rosters.
But, there's no guarantee any starting-caliber guards will hit the open market. And, there's no guarantee that any guards who are cut will want to sign with the Dolphins.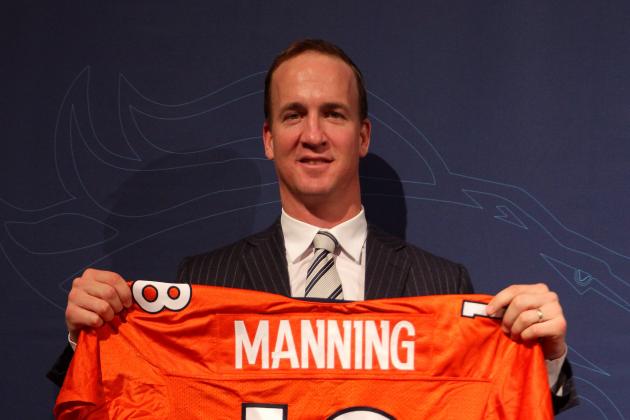 Doug Pensinger/Getty Images

Nobody should ever rag on Jeff Ireland and Stephen Ross for pursuing Peyton Manning, Matt Flynn and Jeff Fisher.
You would've done the same thing if you were in their position.
But, it's the way that the Dolphins lost out on these three that made it so tough to swallow.
The Dolphins made themselves far too vulnerable during the Peyton Manning and Jeff Fisher sweepstakes. Despite reports that both favored the 'Fins at one point, both signed elsewhere, making this storied franchise the butt of NFL jokes.
In retrospect, it looks like Manning and Fisher used the Dolphins to attract bigger offers from other teams. Miami should've seen this coming, and they should've done something to save face.
And then, there was the Matt Flynn debacle.
Flynn says the Dolphins low-balled him, but Joe Philbin said, "We made an aggressive push...ask Matt Flynn why he's in Seattle."
By drafting Ryan Tannehill and a promising crop of rookies, Miami made fans forget about this disastrous offseason. But, this free-agency period will be a black eye in Dolphins history.