New York Giants: David Wilson Will Be the NFL's Most Explosive Rookie in 2012
May 20, 2012
Jim McIsaac/Getty Images
"Explosive" is the word that aptly describes former Virginia Tech running back and New York Giants first-round draft selection David Wilson, a 5'10", 206-pound blur that can change the game with one play because of his rare blend of speed, balance and power.
Wilson comes to the Giants as a replacement for running back Brandon Jacobs, who left for the San Francisco 49ers. Jacobs was a bulldozing running back that had the size of a linebacker and deceptive speed, an ideal complement to teammate Ahmad Bradshaw.
Bradshaw is a smaller back that has some home-run ability (even though injuries have robbed him of some speed) and quick feet that enable him to bounce from hole to hole in hopes of springing free into the open field. But with Jacobs gone, there are concerns about the team's running back stable, even with recently drafted Wilson at the helm.
When the team selected Wilson in the first round, many questioned the pick. Who is David Wilson? How would he replace Jacobs? Can he be the team's goal-line back? Why are they selecting a running back so high after having success finding them late?
The Virginia Tech product doesn't seem to be the ideal replacement for Jacobs considering his stature, but as the old saying goes, you can't judge a book by its cover.
Wilson was one of the most productive running backs in the country last year, rushing for over 1,700 yards—much of which came after contact. In fact, according to STATS X-info, 990 of his yards came after contact, by far the most of all collegiate running backs in the draft and over 260 more than top-five pick Trent Richardson.
This shows that his smaller stature is a natural advantage as he's built lower to the ground, thus he is the lower man at the point of attack which gives him the leverage advantage. Consequently, his lower body strength enables him to run with power and there were numerous plays this past season that displayed it.
An instance of this lower body strength came against the Miami Hurricanes this past season. After taking a hand-off to the right, Wilson encountered a Hurricanes defensive back who attempted to bring him down by the shoulders, a poorly formed tackle.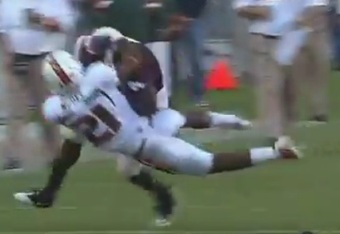 However, even though it was bad form by the defensive back, the defender appeared to possess good strength and nearly brought down Wilson. It appeared that Wilson was going to be brought down, except he shrugged off the defender with his strong upper body and displayed extraordinary balance to stay on his feet and continue running down the sideline.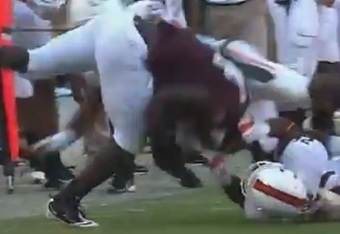 Wilson was one of the top-rated running backs in the 2012 NFL draft and the No. 2 back on the Giants' draft board because of his physical gifts. He has rare balance, a characteristic trait that's arguably the most important at the position. He constantly stays on his feet despite contact, as noted earlier, because of this. 
Furthermore, he has very good stop and start ability, showcasing the quickness to make defenders miss by making knifing cuts to get downhill. At times, he makes too many cuts which leads to him losing crucial yardage, but other times it pays off as seen against Clemson.
In what might be the most impressive run of the 2011-12 NCAA season, Wilson covered a significant amount of yards after making multiple defenders miss on a hand-off to the left. After getting the hand-off, Wilson looked to turn up-field, but Clemson defenders swarmed and cut him off, which forced him to cut back at the last second and run right.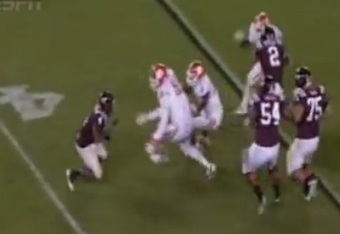 As he ran right, he looked to turn up the field before being cut off once again by five Clemson defenders, leading him to make the defenders miss once again and running right.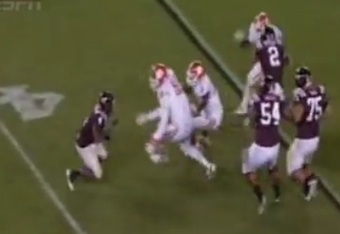 When he got to the far right, a Clemson defender nearly tackled him. He wrapped him up and appeared to have brought him down, but Wilson's lower body strength prevailed as he was able to spin out of the tackle.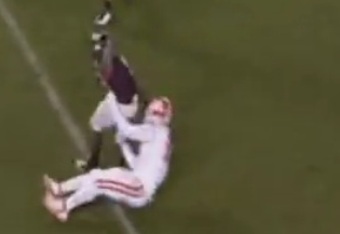 After spinning out of the tackle, Wilson displayed his great balance and stayed on his feet before turning back to the left and outrunning the Clemson defense for a first down.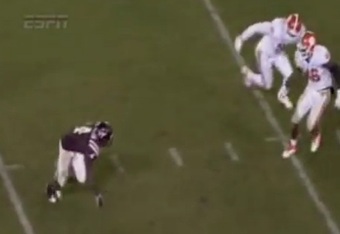 This was merely one play in Wilson's career, but it wasn't the only one. He's had numerous big plays in his career that could lead to one saying he's a human highlight reel. He has the ability to do it all, running the ball as well as catching it and returning it on special teams.
Wilson's explosiveness is a big addition to the team because they lacked it. According to Zach Berman of The New York Times, the Giants' longest running play last season was 37 yards while Wilson's was 57 yards. Not to mention, Wilson had runs of 20 or more yards in 11 of the 14 games he played for the Virginia Tech Hokies last season.
Because of his dangerous open-field ability, Reese stated that Wilson will play special teams, which he did at Virginia Tech. He played as a gunner on special teams, as well as effectively returned kicks.
Wilson had over 1,300 yards in returns in his three years in college, including two special teams touchdowns. Both returns for touchdowns were 90 yards or longer, including a 90-yard game-winner against rival Georgia Tech.
The return showcased his good, long speed, which he proved he had at the combine by running a 4.49 40-yard dash, and his outstanding acceleration, which is visible not only on this return, but when he's given the ball in the backfield. Wilson is fast through the hole, not to the hole as many other rookie tailbacks are, which is the way coaches teach it.
Picking at the bottom of the first round for the second time in only a few years, the Giants selected Wilson, a surprise to many. Draft pundits billed it as a reactionary pick to the Tampa Bay Buccaneers' trade-up for Boise State's Doug Martin, but Reese squashed those rumors by saying Wilson was the second-best back on their board and for good reason.
Wilson is exceptional in some of the most crucial traits for running backs, such as balance and yards after contact. His blend of balance, speed and power gives the Giants a unique skill set that enables them to use him in different areas of the game, which will lead to him becoming the most explosive rookie of 2012. He can change the game with a single play, whether it be running the ball, catching it or returning it.
Get your popcorn ready, Giants fans.