Chelsea Wins Champions League: Biggest Ever Fairytale Final?
May 20, 2012

Alex Livesey/Getty Images
Chelsea's incogitable UEFA Champions League Final win against Bayern Munich—on the Bundesliga side's own patch—could be the biggest fairytale final in history.
Of course, Tottenham Hotspur fans wouldn't see it that way. Their hopes of rejoining Europe's elite have been cruelly dashed by a simple spot-kick, despite the fact that in any other season, their fourth-place Premier League finish would've merited a place in the most lucrative and powerful club competition in football.
But as it stands, the unfancied Chelsea—despite finishing sixth in the table—will re-enter football's most prestigious club tournament next term, having literally defied all the odds to win it this season.
And given the season—or rather, half-season—they and their manager have had, few could deny them their second trophy of the campaign after Didier Drogba's title-winning penalty.
After all, the Blues' win in Munich is what dreams are made of, certainly for Chelsea fans, and it should be for the neutrals also.
Why? Consider the following.
After Chelsea lost 3-1 away to Napoli and Andre Villas-Boas was a sacked-man walking, nobody gave the club even the smallest glimmer of hope of beating the Serie A side, let alone making it through to the next round.
But then winning the whole competition? At the time that was the most laughable thing one could say.
When the Blues played FC Barcelona in the semifinals a 1-0 win at Stamford Bridge seemingly did nothing to suggest Chelsea had a chance of making the final.
When Pep Guardiola said of his Barca side ahead of the Camp Nou return-leg: "I don't have any doubt that we will be in Munich," nobody doubted him.
It was a prophecy that was virtually 100 percent true when Barca were 2-0 up thanks to Sergio Busquets and Andres Iniesta, with John Terry sent off for Chelsea.
Nobody believed the Blues would come back from the brink and do the unthinkable, apart from the manager and the players themselves, even if they were fighting that looming spectre of doubt.
But come back from the brink they did, with Lionel Messi missing a penalty and Fernando Torres sealing Barcelona's doomed fate—quite possibly the most unlikely football scenario of 2012.
Even then, despite defying all the odds to reach the final, still Chelsea were dismissed—knocked back as over-aged, overrated has-beens with virtually no chance of winning.
After all, Bayern Munich were theoretically a stronger team with better-performing stars and a much stronger league position. Plus they were playing the final at home.
And with just seven minutes to go in the final it certainly looked like Chelsea had finally read the script, with lacklustre man-marking and too much focus on Mario Gomez allowing Thomas Mueller the chance to head home and put Bayern Munich 1-0 up.
At that point, the world thought the 2011-12 Champions League's rich version of APOEL Nicosia had finally been put back in their place.
But no, unwanted Chelsea rose back yet again thanks to a towering, powerful and gloriously emphatic Didier Drogba header. His 88th minute equaliser kept that most unlikely dream remarkably alive.
With an Arjen Robben penalty in extra time and then being 3-1 up in the penalty shoot-out, again it seemed like the darling Bayern Munich would finally brush aside this clinging Chelsea team.
But yet again, it never happened. Then one of football's favourite players, Bastian Schweinsteiger, ruined the script as his penalty smacked the post and out of hope, "the actor," the diver and the man who already had his one prescribed moment of glory, stepped up again to break every rule of football logic and win Chelsea the most unlikely Champions League trophy in history.
It certainly isn't a rags to riches fairytale, with Roman Abramovich's £1 billion investment finally being worth something.
However, Chelsea's win is a story of hope—no matter what the haters say, "impossible" is two letters too long.
And for the manager and the players, "unthinkable" is also two letters too long.
After all, when Roberto Di Matteo took charge, who knew he'd go on to lead Chelsea to an FA Cup, and far more astonishingly, a UEFA Champions League title win?
He was the quiet, reserved assistant to the brash Andre Villas-Boas, and a man supposedly more "hated" than the former FC Porto boss.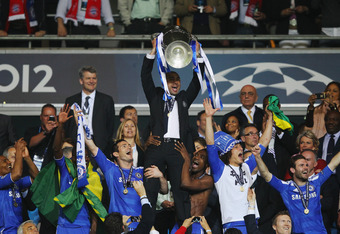 Alex Livesey/Getty Images
Yet hate is certainly not a word the Chelsea players would have for the Italian today, with almost every player clamouring for their caretaker boss to take the role full-time.
Like the team all season, the unfancied, part-time Di Matteo has defied all the odds to deliver the one trophy for a callous owner that Jose Mourinho, Carlo Ancelotti, Guus Hiddink and Luiz Felipe Scolari, amongst others, simply couldn't provide. It capped off the most improbable of fairytale seasons for the 41-year-old.
And besides the manager, the win in Munich represents what just a few months ago would've been an unimaginable fairytale.
At the start of the season when Gary Cahill couldn't secure a move away from Bolton Wanderers, did he ever think he'd end the campaign as a Champions League winner?
In January when Didier Drogba, Salomon Kalou, Jose Bosingwa were all set for the Chelsea exit by Villas-Boas, could they ever imagine ending the season by playing in and winning the Champions League?
Safe to say both Nicolas Anelka and Alex are now kicking themselves at the thought of what they could've been a part of.
However, the biggest player fairytale of all has to be the story of Ryan Bertrand.
Signed as a 15-year-old from little known Gillingham FC, having slowly worked his way through the Chelsea ranks via several loans to Championship clubs, the 22-year-old fullback had gone his whole career without ever playing a European game.
But on the May 19, wondering when he'd ever get a decent chance at the club, he played and started his first ever match in European football.
Which happened to the biggest club match in the sport—the UEFA Champions League Final.
Even just a few weeks ago, the player himself would've viewed the thought of ending the season with a Champions League winners medal totally unthinkable.
Now, that word "unthinkable" has become two letters too long—a phrase which encapsulates the fairytale season of Chelsea FC.
To leave on a cliché, and quote the fitting motto of Chelsea's kit sponsor, as the world found out at the Allianz Arena in Munich—impossible is nothing.