The Brutal Jon Jones Backlash: Why the UFC Champion Creates Such Strong Emotions
May 19, 2012

Kevin C. Cox/Getty Images
We can forgive almost anything of our heroes, athletes in particular. Look at Mike Tyson—a man who spent time in prison for rape, a man who practically invented anti-social behavior. Today, he's the toast of the town, headlining his own one-man show in Las Vegas. His lunacy long since relegated to part of a charming package.
It won't be so easy for UFC light heavyweight champion Jon Jones, who was arrested Saturday morning on suspicion of DUI around 5 a.m. in the town of Binghamton, New York. Like other squeaky-clean athletes before him—men like Tiger Woods and Kobe Bryant, who had invested their lives into an image no one could possibly live up to—Jones has created high expectations for himself. When he fails to live up to an image he himself is responsible for creating, the public responds with vitriol and howls of derision.
We can, you see, stomach a villain. We can even love the heel. But no one loves a hypocrite. Here's Jones just a month ago before his fight with Rashad Evans:
"We came up with a strategy to keep it clean and be sponsored by the UFC itself. I'm glad the UFC wanted to work with me as well, and I think that they trust that I'll never make them look bad. You never have to worry about me with a DWI (driving while under the influence) or doing something crazy," Jones explained.
The hardest pedestals from which to fall are the ones you build for yourself. Jones built a public image around the good book, often touting his Christianity in interviews. He proclaimed himself a "good person," although fans were skeptical from the beginning. After all, those talking the loudest about their personal sainthood often have the most to hide.
What, they wondered, about the fact that he hadn't sanctified his relationship with the mother of his children in front of God and the world? Did actions speak louder than words? What about his constant claims of being "humble." Did his actions and words reflect that? After all, Jones was one of the cockiest fighters in the world, openly comparing himself to Muhammad Ali and embracing the idea that he would one day transcend his own sport.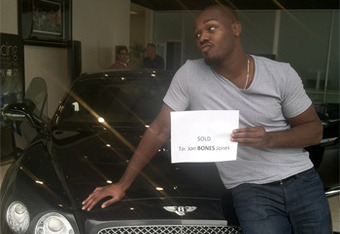 The public Jon Jones, in short, was a little hard for some people to swallow. The questions nagged at him, especially when Rashad Evans told the world his former training partner was "fake." Others grabbed on to that epitaph. It put into words the feelings that had long nagged them. Something didn't quite ring true about him.
Take this accident for instance. Last year, Jones told USA Today, "Right now, I have enough money. I don't buy anything unnecessary. I don't buy new houses and cars and clothes. I just save the money.
"I live exactly the same way I lived before I had a penny. I wear the same shoes I had in high school. I have the same shorts all the time that I wore when I was in college."
One month later, before the ink on that interview was dry, he was buying the Bentley he wrapped around a pole Saturday morning. Price tag? $190,000.
To those in the know, there are/were two Jon Jones personas. And no one was the least bit surprised that a night on the town caught up with him in the end. His lifestyle, and probably the lifestyle of most 24-year-old celebrities, had an edge to it.
It was notable to the point his management made sure to tell the assembled media in Atlanta that Jones hadn't partied at all in the weeks leading up to the Rashad Evans fight. It was such a part of his life that it had invaded other training camps and fight preparation.
Now Jones, who openly courted Nike and other big-name sponsors is between a rock and a pole. The good guy image he has cultivated, in the face of what seems to be his natural inclinations, has been wrecked ever bit as much as his luxury car. No matter what happens next, the Jon Jones character will never be the same.