Profiling UFC Champs: How Safe Are Their Belts in the Long Term?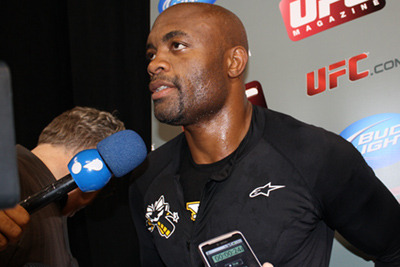 Today's pantheon of UFC champions is the most spectacular in company history.
Each current champ possesses an elite, trademark skill. Each brings versatility to the octagon. Each has proven himself in the highly competitive arena of modern MMA. Each one, in their own way, is a badass.
Some of 2012's strap-holders have already asserted their dominance over many years—for example, Georges St.-Pierre has harnessed the welterweight belt since 2008. All of them, however, have the potential to reign over their weight class for a long time. Of them, who's most likely to actualize prolonged dominance going forward?
Given the numerous strengths of each champion, predicting their futures requires inspecting other variables too, like the depth of their respective divisions and their age.
Here they are: power ranking the current champs based on the likelihood they will protect their titles for a long time.
Begin Slideshow

»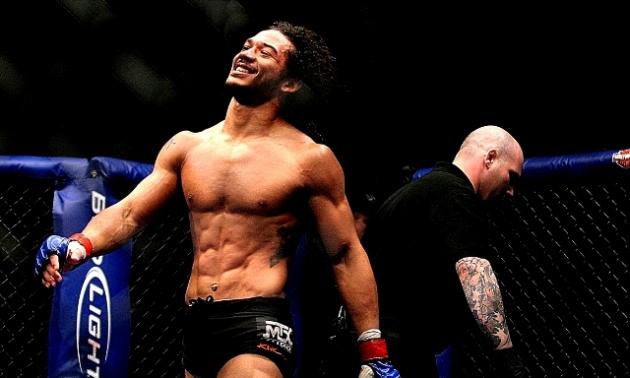 Ben Henderson climbed the lightweight ladder with haste, battering stalwarts Jim Miller, Clay Guida, and Frankie Edgar. "Smooth" drew blood from each of them.
Ben's athleticism, which served him well in the WEC, has been used to great effect in the big leagues. However, I don't think Ben will succeed in successively slaying the lightweight stampede charging towards his belt.
Granted, Ben has proven his wrestling prowess, and that his ability to wriggle out of submissions is Houdini-like. His striking looks crisper than it did in the WEC, demonstrating a champion's strive towards greatness. But he's submerged in the most talent-rich pool of fighters in MMA today, and even titans of the sport would be hard-pressed to dominate this division.
Henderson is known to have a voracious work ethic, and perhaps his ability to push himself will propel him past all challengers. I wouldn't make that bet, though.
As Henderson has experienced firsthand, the lightweight division is a gnarled, sinister forest crawling with beasts, each posing unique threats. Anthony Pettis, the man who defeated Henderson in 2010, waits in line for another chance. The list winds on: Nate Diaz, Donald Cerrone, Gray Maynard, Clay Guida, and more monsters are lingering, patiently waiting for their chance at Ben's gold.
I'm not sure that Ben is diverse enough to overcome the wave of talented fighters that will soon be crashing down upon him. We need to see more from Henderson before we can properly assess his chances at being a long-term belt holder; his rematch with Frankie Edgar will be telling.
His ability to wrestle-swarm in hand, Henderson certainly has the grit to pose a tough match to those who'll come for his belt. He'll need every bit of that grit to withstand the star-studded onslaught coming for him.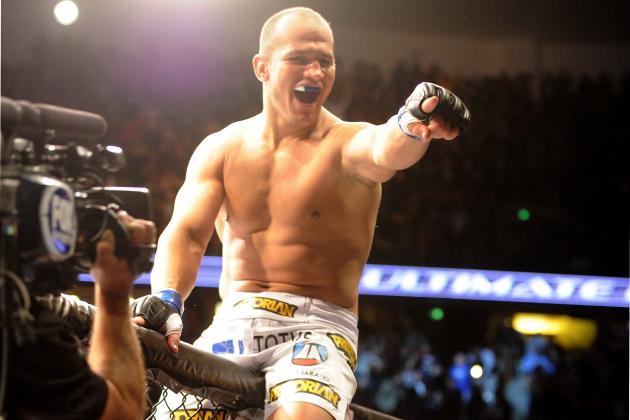 Jason Merritt/Getty Images

The heavyweight division has come a long way from the nauseating hellscape that saw Tim Sylvia crowned as champion. Really, that guy?
If today's Junior Dos Santos fought during the UFC's formative years, he would've snatched the heavyweight strap and defended it a dozen times. But 2012's heavyweight division provides threats, unlike the squishy roster of jellybeans that Tim Sylvia ruled in 2006.
That's not to say the huggable giant can't punch away all comers for a while. Junior's been infallible in the octagon, using his crafty, thorny punches to ace every test thus far. Despite his unexceptional head movement, it's hard to pick against the dude. His hands are weapons.
We know what we've seen from Junior: great boxing. It's what we haven't seen from Junior that's concerning: his ground game and his ability to persevere through adversity are in question. We'll have a clearer idea of what kind of champ Dos Santos can be after we find out if his overall game sparkles like his boxing does.
JDS has a decent chance to retain the belt of giants for a while, but there are plenty of heavyweights who can potentially give Junior a competitive fight. Frank Mir and Alistair Overreem are intriguing matchups, and the imminent arrival of Strikeforce juggernauts Josh Barnett and Daniel Cormier will add drama to the division.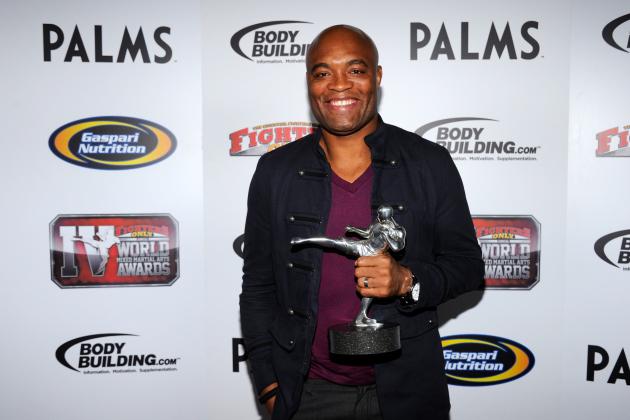 Ethan Miller/Getty Images

Anderson Silva, certified ninja, is the greatest ever. But he's not invincible.
History shines on Anderson: Silva holds the record for most consecutive title defenses with nine. Anderson also has won more consecutive fights than any other in UFC history; he's won fourteen without a loss.
The arachnid's eight-limbed striking arsenal and competent ground game have allowed Silva to thrash all comers.
"The Spider" is reaching the twilight of his marvelous career, but his recent performances haven't shown any signs that the 37-year-old is deteriorating. The tranquil Brazilian flattened Vitor Belfort and Yushin Okami in showman's fashion, using cheeky head movement and a sniper's accuracy to embarrass the slower challengers. Silva's next challenge, however, has proven to be a serious threat to his strap.
That challenger is a smoldering mass of machismo and swagger who nearly squished "The Spider" at UFC 117. His name is Chael Sonnen, and he's earned another shot at Anderson come UFC 148.
If Anderson can defeat Sonnen convincingly in their rematch, not only will he erase a blemish from his legacy, but he'll sink the only legitimate threat to his belt. That might be the most difficult task of his UFC career.
In their first bout, Sonnen proved he can hang with the deified champ. Chael vexed Anderson with his powerful double-leg takedowns and suffocating top control, denying Silva's will to put ninja moves on him.
It seems Anderson hates the double-leg: Dan Henderson controlled Silva on the ground in the first round of their match after securing a double-leg, and Chael dropped Silva to the mat repeatedly in their fight with the same technique.
Perhaps Anderson's rib injury kept him from an optimal performance against Sonnen the first time. Perhaps he just didn't have a great night in the octagon. On July 7, many questions will be answered.
If Silva defeats his brash antagonist come UFC 148, expect the champ to ride out the rest of his career with the middleweight belt on his waist. There aren't any believable threats left for Silva; no one left has the wrestling acumen of Sonnen, and no one is striking with Anderson.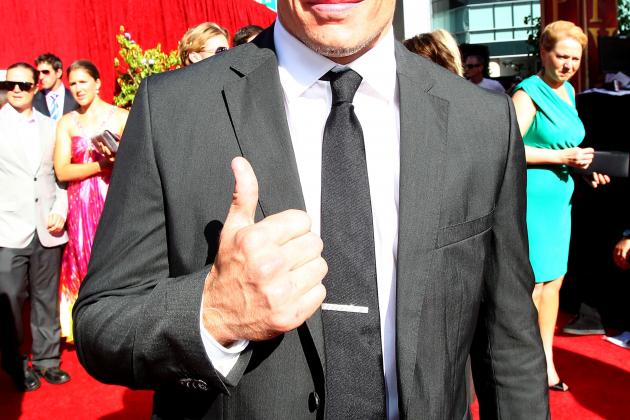 Alexandra Wyman/Getty Images

It's been awhile since we've seen GSP perform. We'll probably be getting more of the same from Georges upon his return, which is a good thing for the Canadian playboy.
With few exceptions, St.-Pierre's wrestling skills have pacified his challengers. He disarms strikers with takedowns, like Dan Hardy. But if Georges is impelled to trade strikes with his challenger, he generally has success with that, too: Freddie Roach has bestowed a tight jab and head movement upon GSP. It's almost a worthless appraisal, given the prevalence of cross-training in today's MMA, but St.-Pierre is surely a "well-rounded" fighter. He does every aspect of MMA well.
The welterweight division owns a stable of well-credentialed wrestlers (Jonny Hendricks, Jake Ellenberger) among others vying for the belt that Georges first won in 2006. Fortunately for St.-Pierre, he owns an outstanding takedown versus takedown defense rate: he's 77 percent successful with his takedowns and he wards off 88 percent of takedowns attempted on him, as per UFC.com.
The fact that Georges can match, if not outmatch, the touted wrestling of the ascending fighters of his weight class bodes well for him.
St.-Pierre's innate athleticism will continue to serve him in the octagon upon his return. Athleticism, however, is a fleeting tool. His emphasis on technique must outweigh his reliance on explosiveness as age weighs on his bones. Plus, who knows if he'll come back with a spry step upon his return from his ACL tear? As St.-Pierre's time away from the octagon continues, more questions about his future arise.
Carlos Condit promises to provide an entertaining test for the reigning champ when he's ready for it.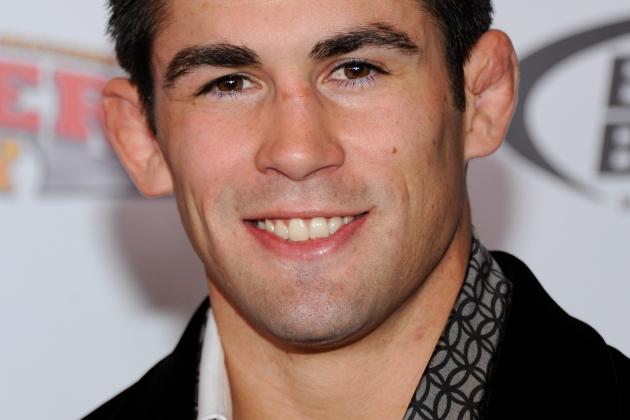 Ethan Miller/Getty Images

Dominick Cruz is a ball of perpetual motion. He bounces around the octagon, throws numerous feints, peppers his foe with strikes, and takes the fight to the ground when he pleases—on command. He's fun to watch and liable to command the top of the UFC's bantamweight division for a while.
A trend among many dominant fighters is that they dictate where the fight takes place. Cruz's wrestling pedigree grants him that luxury. He stands out as the best wrestler in the division, having landed 34 takedowns in his last six fights against being taken down only four times, according to UFC.com.
Assuming his recent injury isn't any worse than it seems, Cruz's chances of keeping the belt are peachy. Conceived just last year, the UFC's bantamweight division is still a baby. Like babies do, it craps itself a lot. Right now, too few UFC bantams offer a threat to Cruz. So few, in fact, that Cruz was scheduled to rematch Urijah Faber, a man he handily bested less than a year ago.
In the coming years, the division's scenery will change and a panel of viable threats will emerge. Until then, Urijah Faber and Renan Barao have the best chance to commandeer the fun-sized belt from Cruz.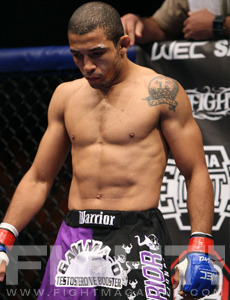 What can I say about the mousey Brazilian? He's the ruler of the featherweight division, and his rule has been stern.
Like with Anderson and Cruz, perhaps Aldo's rule is diminished by the shallowness of his division. He's sitting atop a heap of decent fighters, not excellent ones. With time, the featherweight division will grow. Until then at least, Aldo's waist is likely to keep the belt warm.
Why? Aldo's striking is matchless at 145. The little man kicks with the intent to maim. He winds up his leg kicks as if he's fixing to kill a cow with them. His combos are also wicked; José incorporates knees, punches, elbows and kicks in seamless sequences that leave his challengers reeling. His brilliant use of combinations provides a refreshing contrast to the sloppy one-punch slugfests we dread to see in the octagon.
It remains to be seen whether Aldo's ground game is dynamic. His takedown defense has been sharp enough to negate most grounding attempts thus far, so the champ's submission and reversal skills remain mysterious. We do know his black belt isn't forged.
If José has a weakness, it's his cardio. Mark Hominick encountered little resistance in mounting and repeatedly whacking the champ in the fifth round of their fight, showing Aldo isn't above wilting in a fast-paced fight. His gas tank hasn't been problematic since, though.
Many thought Chad Mendes would shatter Aldo's immaculate image, exposing him as another striker without takedown defense. Jose silenced those doubters with a beautifully timed knee to Mendes's face, handing Chad his first pro loss.
Having passed the time-honored "wrestler test," Aldo emerged as a pound-for-pound contender. His long-term reign has few foreseeable road blocks, thanks to his anomalous talents and his mostly lackluster weight class (I didn't forget you guys, Zombie, Poirier, Hioki and Mendes).
Kevin C. Cox/Getty Images

You shouldn't be surprised by Jon Jones's imminence.
Between 2007 and 2011, the light-heavyweight strap was successfully defended only once. Those four years saw the UFC's light-heavyweight division become a shark tank, not reckoned to be cleaned out by a mere mortal.
But after Jon Jones pillaged Mauricio Rua for his belt in 2011, the strap would be juggled no more. "Bones" proceeded to dive headfirst into 205's impregnable shark tank and dominate every former champ who lined up across from him.
How does Jones make elite fighters look like helpless toddlers? It helps that his tangible assets are freakish. Most notably, the New Yorker's 84.5-inch reach, as listed on his Wikipedia, makes albatrosses gawk.
And Jones knows how to harness his hyperbolic limbs. He employs a diverse striking attack, keeping his foes on the outside of his range with far-reaching kicks and a pinpoint jab. You also might have seen Jones' handy work with his elbows. Stephan Bonnar has.
His striking ability aside, Jon Jones relies heavily on his wrestling. Jones has a tendency to take down his opponents, often with majestic Judo throws, and then rearrange their faces with elbow strikes once they're grounded.
Jones's college wrestling career isn't prestigious, but it doesn't reflect his magnificence. As UFC.com tells, "Bones" has succeeded in 22 takedowns in his UFC career. Conversely, he hasn't been taken down. Not once. He's the veteran of 11 UFC bouts, most against elite competition, and he has never hit the mat against his will.
So, Jones dictates where the fight will take place, as dominators do. It hardly matters where he takes it though; he'll have an advantage whether he chooses to keep the fight standing or to throw his foe like a ragdoll to the canvas.
Even more, entrusting Greg Jackson as his tactician ensures Jones will come into each fight with an added advantage.
Jones has smelled trouble just once since clutching the belt: during the first round of his bout with Lyoto Machida. The champion, however, quelled the karate master's pesky attack with a cinematic standing-guillotine choke that sent Machida, unconscious, tumbling towards the blood-soaked canvas.
Jones's list of victims includes Ryan Bader, Mauricio Rua, Lyoto Machida, Quinton Jackson, and Rashad Evans. He's finished four of those monsters. What names the young man has vanquished already! Dan Henderson, barring a patented "H-bomb," is next.
Jon's reach, athleticism, and skill set seem unsolvable, and I don't expect any challengers to solve the puzzle for years to come.