Michigan's 2012 Tilt with Michigan State Takes Precedent over Ohio State Rivalry
May 19, 2012

Leon Halip/Getty Images
The longstanding bitter rivalry between Michigan and the Ohio State Buckeyes has often been labeled as the greatest rivalry in all of sports, and there's never a bigger game on either team's respective schedule than their annual regular-season finale against one another. However, the Wolverines tilt with cross-town rival Michigan State on October 20th is, by far, the most important game they will play in 2012. 
At first glance, it seems blasphemous to say that any other game could be more important to Michigan fans than "The Game" on November 24th, but when you take a hard look at what has transpired between the Spartans and Wolverines over the past 16 years, it becomes easier to understand. 
Michigan boasted an astounding 10-2 record against the Spartans from 1996-2007. Many of those games were made more memorable for Wolverine fans due to Michigan State's habit of coughing up late leads and their uncanny ability to seize defeat from the jaws of victory. 
The six consecutive years of bragging rights from 2002-2007 eventually led to Michigan's fans and players being overconfident, brash and arrogant when it came to talking about the Spartans. 
All of this came to a boiling point at the conclusion of Michigan's 10-point, fourth-quarter comeback victory over Michigan State in 2007 at Spartan Stadium. 
Once the clock ran out, the Wolverine players gathered around midfield to have a "moment of silence" in order to mock Michigan State head coach Mark Dantonio, who jokingly asked if he should have a "moment of silence" after being informed of Michigan's monumental loss to Appalachian State earlier that season. 
Later on in the postgame press conferences, Michigan running back Mike Hart dubbed the Spartans as the Wolverines' "Little Brother," which no one on either side of the rivalry has or ever will forget. 
When Dantonio was asked about all of those events by members of the media following the game, he responded with a frustrated tone, a stern set of words and set the tone for the immediate future of the bitter rivalry. 
"I find a lot of the things they do amusing. They need to check themselves sometimes, but just remember pride comes before the fall," Dantonio said. "This game is an important game, so if they want to mock us I'm telling 'em it's not over. They can print all that crap all over their locker room. It's not over and it'll never be over here. It's just started. 
"Whether they mock us or not this game will be important to Michigan State. If they want to make a mockery of it so be it. Their time will come." 
Michigan State went on to win the next four meetings between the two squads after Dantonio's comments, and it has been because of the level of importance the Spartans' head man has placed on the rivalry. 
The Wolverines are to the Spartans what Ohio State is to Michigan—their most important rival. As much as Dantonio and Michigan State love to compete for Big Ten Championships, beating Michigan means more to them than any other victory over the course of the season does. 
Michigan seemed to have forgotten to take the rivalry between the two teams seriously at the height of their dominance over the Spartans, because of that—and the abysmal three years Rich Rodriguez spent as head coach of the Wolverines from 2008-2010—Michigan is getting a dose of the medicine they dished out to Michigan State for 10 out of 12 years.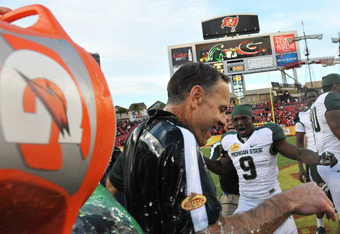 Al Messerschmidt/Getty Images
Now, after four consecutive wins over Michigan, a share of the Big Ten Championship in 2010 and a Legends Division title last season, it's the Spartan fans who have become brash, arrogant and a bit too cocky for the likings of the Wolverine faithful. 
Even Dantonio has taken a few shots of his own at the Wolverines coaches and program over the past five months. 
Michigan wide receivers coach and recruiting coordinator Jeff Hecklinski was asked to speak after Dantonio at the annual Michigan High School Football Coaches Association clinic in January. Hecklinski began to talk about recruiting in the state of Michigan before being rudely cut-off by the Spartans head coach. 
"OK, here's what we're going to do," Dantonio said. "We're going to get other people up here. We're going to talk about more than the University of Michigan." 
In April, a reporter asked Dantonio what he thought of Michigan's outstanding success on the recruiting trail over the past year. All Dantonio did was smile and deliver an answer along with a question of his own that has tensions between Michigan and Michigan State fans nearing perhaps all-time highs. 
"We're laying in the weeds," Dantonio told ESPN.com's Brian Bennett. "We've beat Michigan the last four years. So where's the threat?" 
Unfortunately, for Wolverine fans, there's nothing untrue about Dantonio's response, and even Michigan's second-year head coach Brady Hoke acknowledged on Friday afternoon they have to do better. 
"They've beaten Michigan the last four years and we need to do something about it," Hoke said on WTKA-AM 1050. "That's what it's all about. We've got to do our job. We haven't done our job." 
Hoke and his staff raised plenty of eyebrows across the country after leading Michigan to an 11-2 record in 2011, but he continues to remind everyone that the Wolverines failed to accomplish their main goal last season by not winning the Big Ten title, which they would have had a chance to play for had it not been for the 28-14 beatdown they took in East Lansing in mid-October. 
The two teams will enter the 2012 season as the favorites to represent the Legends Division in the Big Ten Championship Game and their tilt at the Big House is likely to be a key factor in deciding which one of them it will be. 
Hoke and the Wolverines got a huge monkey off their back last season when they defeated Ohio State for the first time since 2003 and won 11 games for only the fifth time in school history. The loss to Michigan State though is enough to say the Wolverines have not fully returned to vintage form. 
Winning "The Game" against the Buckeyes will be as important as it always is to Michigan, and their heavyweight bout with defending national champion Alabama at Cowboys Stadium on September 1st will give the Wolverines a chance to prove they are ready to contend for national titles. 
Neither of those games would re-establish Michigan as the best team in their own state, put a pacifier in the mouths of Spartan fans until 2013 and end Michigan State's four-year reign over the Wolverines though.
Zach Dirlam is the Lead Editor of the College Basketball section as well as Big Ten columnist for the FOX Sports/MSN/YardBarker affiliate website Sports at Work. Check out his blog, Dirlam's Dirty Dugout Sports Blog, which features this story, along with other articles and video reports on major sports.
Follow Zach on Twitter.