LA Dodgers: Blue Crew on Pace for Greatness After Team-Wide Win over Cardinals
May 19, 2012

Harry How/Getty Images
It was all too fitting that the Los Angeles Dodgers had the Los Angeles Kings ice crew throw out the first pitch before Friday night's 6-5 win over the St. Louis Cardinals.
After all, both teams are playing like the best things going in MLB and the NHL, respectively, thanks to contributions from top to bottom.
No Matt Kemp, in whose absence the Dodgers, with a best-in-baseball record of 26-13, had scored just six runs in three games? Andre Ethier and Dee Gordon going hitless? 
Not a problem, when Adam Kennedy, James Loney, AJ Ellis and Tony Gwynn Jr.—hitters five through eight in the lineup—combine for 10 hits, three walks and six runs driven in.
Said AJ Ellis, who drove in the winning run on a walk-off walk in the bottom of the ninth:
"It's just guys having good at-bats throughout the lineup. We know we have to step up and carry things as long as we can until Matt's back. But we had guys giving great at-bats...It's fun. We're getting contributions up and down the lineup."
Ted Lilly gives up four unearned runs in a contentious third inning? Not an issue, when Lilly, now third in all of baseball in earned-run average, lets just two men on base in the other six innings he pitched.
And when one of those men reaches on an error from one of the fielders behind him. 
Pretty remarkable for a guy who, at 36, is lucky to touch 90 on the gun and has never posted an ERA below 3.00 over a full season. Said manager Don Mattingly after the game:
"Teddy's been solid...I felt like he was sharp all camp. I think he was healthy through the winter for the first time in a couple years. He was able to do a lot more work in the winter, get off the mound, and it showed. His stuff's been sharper all year."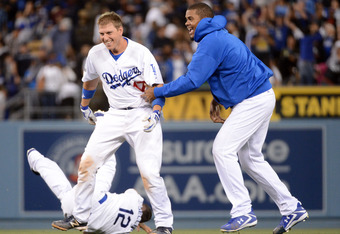 Harry How/Getty Images
As has Donnie Baseball, in his own way. Mattingly earned his second ejection of the season, and the fifth of his career as a Major League skipper, for venting at home plate umpire Tom Hallion over some check swing calls with which he took particular umbrage.
For Donnie, it's "I should keep my mouth shut."
For his players—like Ellis, whose check swing that was called a strike by the crew set Mattingly off in the first place—it's:
"He's definitely protecting the players and fighting for us...I think he's getting more comfortable with the way he talks to the umpires about what he sees during the game. I think we're all getting more comfortable, just from more time together. One thing you know is that Donnie's going to be here every day and he's going to bring it. There's not a man in this clubhouse who doesn't love playing for him."
And it shows. Mattingly showed flashes of his managerial acumen last season, particularly over the final two months, but he truly seems to have the clubhouse following him in lockstep more than ever.
Not that everything was or is necessarily hunky dory in Dodgertown. Newly-installed closer Kenley Jansen won the game, but only after surrendering his second blown save of the season on a juicy pitch down the middle that Lance Berkman sent flying out of Dodger Stadium.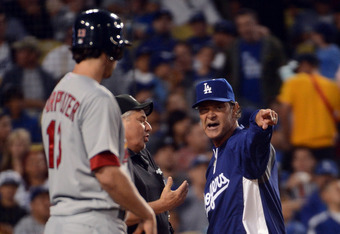 Harry How/Getty Images
Dee Gordon's season-long struggles continued, too, with another 0-fer dropping his batting average smack-dab onto the Mendoza line.
But Mattingly, ever the optimist, found reason for encouragement amongst the quagmire in which his 24-year-old shortstop appears to be stuck. 
"This kid's going to be a great player. He's going through something right now that's going to make him a better player later on. That's the way I look at it. You come out of things like this being a better player later after you went through it."
In the meantime, it'll be up to the rest of the team to pick up the slack and carry the load.
Just as they did against the defending World Series champion Cardinals, who sport the strongest run differential in the National League by a mile even after losing six of their last 10 games.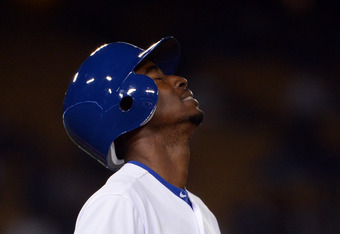 Harry How/Getty Images
Added Ellis:
"Just a different person contributing every day. That's the mark of a good team..."
A mark worn well of late by the Kings, whose march through the Stanley Cup playoffs the Dodgers honored before the game.
And a mark that appears to be rubbing off the Blue Crew, as well.