LeBron James and Dwyane Wade Struggle: Are Pacers Getting to Their Heads?
May 18, 2012

Ronald Martinez/Getty Images
First of all, I want to say just how much I enjoy this particular Indiana team. They're an incredible cross between the '07 Warriors (for their awesome home court), the '04 Pistons (for their teamwork and relentless front court) and the Baltimore Ravens (for their completely unearned swagger). They play like bullies in a street fight.
Only they aren't supposed to be the bullies, the Miami Heat are supposed to be the bullies.
They're supposed to be the big bad Heat that everyone fears and nobody can keep up with. But that's not what's happening. The Pacers are pushing them around and getting almost anything they want, and it's starting to show in how the Heat carry themselves. 
So far in the series Dwyane Wade (normally seen as the classy member of Miami's big three) has looked like a thug. In the last two games he's attacked Darren Collison, complained about the Pacers celebrating (right, because the Heat have never celebrated over nothing), had one of the worst games of his career, and gotten into a heated argument with his coach. 
I'll admit I can't blame Wade too much for getting angry with Erik Spoelstra. He's done a terrible job. In Game 3 he played all 12 of his available players when most playoff rotations consist of eight or nine guys. Mario Chalmers (probably his third best player with Chris Bosh out) played only 23 minutes in Game 2, but them played 38 in Game 3. Dexter Pittman started Game 3 but played only three minutes.
None of these moves make any sense. 
The only explanation is the simplest one: the Heat are desperate.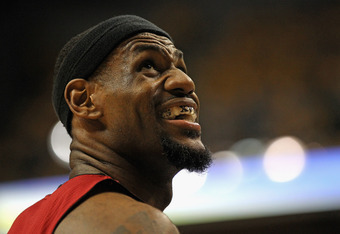 Jonathan Daniel/Getty Images
They thought they were going to roll through Indiana but are now getting tested in a way they didn't think possible. Rather than keep his cool and maintain his rotation like a veteran coach would, Spoelstra has panicked and is now just throwing stuff against the wall to see what sticks. 
He's doing this because not only is his season on the line, but probably his job.
He knows that if he loses in the playoffs again, this time against a huge underdog like Indiana, Pat Riley probably won't give him a third chance, and it's evident in the way he's coaching.
He's looking for a magic formula that doesn't exist because he doesn't want to be known as the guy who couldn't win with LeBron and Wade.
When a coach starts thinking that way his team is doomed. For Miami to get back into the series they're going to have to stick with the rotation that got them there, even without Chris Bosh. 
Bosh's injury has affected the team, but more mentally than physically. Suddenly LeBron and Wade feel like they both have to be Superman all of the time, and that pressure is hurting them.
Dwyane Wade scored five points on 2-13 shooting yesterday. But since nobody ever wants to blame Wade, let's look at Miami's national whipping boy LeBron James. 
His stats have steadily declined in the series. He put up a phenomenal 32-15-5 in Game 1, followed that up with a still great 28-9-5 in Game 2, then fell off a cliff like Wade in Game 3 with a 22-7-3. 
Maybe the pressure is getting to him.
He's been a villain for two years. He's been told that he can't get it done when it matters. Suddenly he has a chance to silence the critics, but he's shrunken from the situation much like he did in Dallas last spring. 
His stats are down.
He missed two key free throws in the final minutes of Game 2 that could have changed the game (the Heat didn't score in the final 2:40 of the fourth quarter, which can also be partially attributed to LeBron).
Without Bosh and with Wade falling apart, LeBron has to be great to salvage the series. So far he hasn't been able to hold his team together. 
So now we see the NBA's biggest draw looking desperate, exhausted and practically beaten. Their stars don't look like stars, their coach doesn't seem like he knows what to do, and we're two games away from seeing them get stunned by a team nowhere near their talent level.
The Pacers have made up for that by physically imposing their will on the Heat, and as such, have firmly planted themselves into Miami's head. The Heat aren't just thinking about basketball anymore, but the consequences of each decision they make on and off the court. If this trend continues, the Pacers will win this series with ease.