NBA Playoffs 2012: Miami Heat Can't Win and Lose for the Same Reasons
May 18, 2012

Jonathan Daniel/Getty Images
When it comes to the Miami Heat and their performance to this point, folks need to do one simple thing: pick a side.
The Big Three of Chris Bosh, LeBron James and Dwayne Wade was formed almost two years ago, and it was the talk of the NBA. It became what people assumed was the model for winning titles: two greats, one really good player and whomever else was needed to fill in and take up roster spots.
After a trip to the Finals last season and a loss to the Dallas Mavericks, the Heat seemed poised this year to easily win the East and get another shot at the first of the many championships. 
But now, as they face a 2-1 deficit to the Indiana Pacers, questions are rising about the ability of a team to win with three superstars and nobody else. Good point. The problem is it's contradictory to the argument everyone used to prove the Heat had the best shot at winning it all this season.
It starts with the Big Three themselves. Chris Bosh was scrutinized as though he just rode the Olympic coattails of LeBron and Wade into Miami; an afterthought who signed because he was their buddy. But now, with Bosh out due to injury, his importance is being stressed like never before, turning him from role player extraordinaire to a key part of this Heat team. Pick a side.
Others can't seem to make their minds up about the Heat's role players. First, it was strong defense from Shane Battier, deep shooting threats from Mike Miller and James Jones, or serviceable interior play from Joel Anthony.
After two straight losses to the Pacers, Battier suddenly doesn't have what it takes to guard younger, more athletic guys. Miller and Jones aren't the three-ball threats folks purported, proven by the Heat's abysmal 13.9 percent from behind the arc in this series. And Anthony didn't even start last night, showing his worth to the team. Pick a side.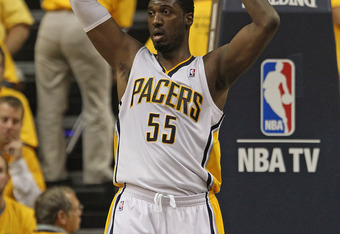 Jonathan Daniel/Getty Images
When the Heat went .500 in their last 10 games of the regular season, the story was that they were resting and looking to peak at just the right time. Partially true, but now they face trouble and the bandwagoners are becoming critics. The mindset is that maybe those losses were because they didn't have it all together due to coaching or lack of role players. Pick a side.
The biggest problem in all of this is that one of the only true "teams" left in the NBA isn't getting the credit it deserves for being up two games to one right now. The Indiana Pacers have a balanced attack, with four double-figure scorers, and they are running four different defenders at Wade, holding him to just five points in Game 3. 
In a league that we all think has turned to isolation offenses and invisible defenses, the Pacers are showing that a team can win by spreading the ball around and keeping a defense guessing.
You simply cannot put too much effort toward stopping one player because another can step up and score. Perfect example: Danny Granger had been non-existent offensively in this series until last night when he scored 17 points on 15 shots. 
Nobody, including themselves, thought the Heat would encounter a single problem until the Finals this year, so going down 2-1 right now has them reeling. A team reflects its leader, and as Wade's woes last night dragged him into frustration, so went the Heat. Sunday's Game 4 will be make-or-break for them, and at this point it's hard to tell which Heat team will show up.
The fat lady isn't singing yet, but she's certainly squeezing into her corset and warming up the pipes.