Stanley Cup Playoffs 2012: Mike Smith and Coyotes Who Must Thrive to Avoid Sweep
May 18, 2012

Christian Petersen/Getty Images
Despite the fact that the Phoenix Coyotes were seeded higher than the Los Angeles Kings, many still expected the Kings to win their Western Conference Finals. Now that LA has a 3-0 series lead, it would seem to appear as though that is what will happen.
If the Coyotes want to have any chance of making this series interesting again, though, several players will need to be much better.
Phoenix simply hasn't played with the same passion as when they knocked out the Chicago Blackhawks and the Nashville Predators in the previous two rounds. The defense and goaltending have taken a step backwards, the scoring has plummeted and many players have been undisciplined.
With that said, until one team wins four games, it isn't too late to turn things around.
Here are three Coyotes stars who must be much better in Game 4 if they hope to send the series back to Phoenix for Game 5.
Mike Smith
Regardless of what happens in this series, you can't take anything away from Coyotes goalie Mike Smith. He is the main reason why they have gotten as far as they have.
Smith was fantastic in the regular season, but he turned things up another notch when the playoffs began as he has recorded a 2.02 goals against average and an unfathomable .942 save percentage.
He has been at a disadvantage in this series, however, and it has shown.
Smith has played well despite suffering three straight defeats. The fact that his team has racked up so many penalties has really hurt him. Smith really didn't have a chance on many of the Kings' goals this series.
If the Coyotes are going to win Game 4 and stay alive, then he will have to turn in his best effort of the year. That may seem like a lot to ask, but Phoenix relies on Smith a ton. Sunday will be no different.
Radim Vrbata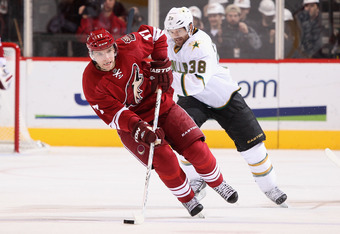 Christian Petersen/Getty Images
Coyotes forward Radim Vrbata led the team in scoring during the regular season with 35 goals and was one of the true unsung heroes in the entire league. He hasn't built off of his impressive regular season, though, as he has only two goals and two assists in 14 postseason games.
Even when the Coyotes were winning in the playoffs, the dangerous Vrbata simply wasn't as much of a factor as most thought that he would be.
He has yet to record a single point in three games against the Kings, and while much of that has to do with the superb goaltending of Jonathan Quick, Vrbata hasn't been particularly noticeable.
Vrbata is a shooter who needs to be set up. He's typically not a guy who creates offense for himself, so some blame has to fall on his line mates as well.
Vrbata is the guy Phoenix counts on for a lot of their offensive production, though, and he needs to show up in Game 4.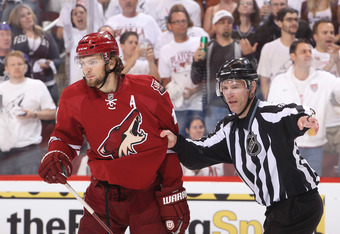 Christian Petersen/Getty Images
The Coyotes missed center Martin Hanzal dearly in their Game 3 loss to the Kings. The towering, 6'6" pivot is an important presence for Phoenix as he wins face-offs, kills penalties, wreaks havoc in front of the net and uses his physicality to his advantage.
Hanzal was suspended for Game 3 after a reckless hit on Dustin Brown in Game 2, and his absence cost the Coyotes in the most recent contest.
Hanzal has to know that he messed up and let his team down, so it is incumbent upon him to come out with plenty of vim and vigor in Game 4. He isn't known for his point production, but he has five points in 10 games this postseason, so he can help in that regard too.
The Coyotes are probably going to need to win a dirty, sloppy and ugly affair to keep the series alive, and since that plays into Hanzal's hands, he has to play well.
Follow @MikeChiari on Twitter