New England Patriots' Undrafted Running Back Brandon Bolden Eyes a Roster Spot
May 18, 2012

Jim Rogash/Getty Images
Former Ole Miss rusher Brandon Bolden didn't hear his name called in April's NFL draft, but he might have found a fit with the New England Patriots.
The 5'11", 215-pound halfback finished his collegiate career with the second-most total touchdowns in Rebels' history with 33 and the fourth-most rushing yards with 2,604. Yet during his senior year, a lingering broken ankle and a suspension hurt his draft stock.
"I'm a guy that looks forward," Bolden said to WEEI's Christopher Price. "The injury happened, everything happens for a reason. I'm just looking forward."
Looking forward or not, Bolden is undeniably linked with another 5'11", 215-pound Ole Miss alum known as the "Law Firm." The lofty expectations of being "the next BenJarvus Green-Ellis" just add to the pressure.
Brandon Bolden has some work to do to emerge from BenJarvus Green-Ellis' shadow bit.ly/IK3jkU

— Jeff Howe (@jeffphowe) May 11, 2012
"Ben was at Ole Miss two years before I was there; he was walking out the door as I was coming in," Bolden said. "He's a great guy, a great running back. I watched a lot of film on him."
In 2008, the Patriots brought in BenJarvus Green-Ellis, who also went undrafted. No. 42 was cut as a rookie when the roster was trimmed to 53 men. However, he was signed to the practice squad the very next day. Two months into the regular season, Green-Ellis was signed to the active roster and played well in a limited role.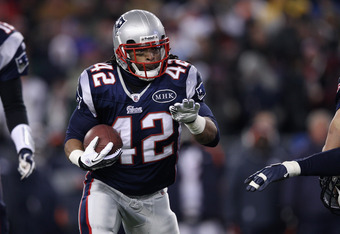 Elsa/Getty Images
Four years later, Green-Ellis has amassed a 1,000-yard rushing season, two double-digit touchdown campaigns and zero regular-season fumbles. Unfortunately for Pats fans, his success in New England earned him a new contract with the Cincinnati Bengals.
The burning question is: Can the Patriots get the same production out of Brandon Bolden as they did out of Green-Ellis, or will he become another training camp casualty?
"Each guy that we put out there we feel like can be competitive and has an opportunity,'' a cliche Bill Belichick said after the draft.
But with upwards of 90 players in camp, nearly half the roster will be returning their playbooks come September. If Bolden has a shot at making the team, he will have to make someone else look expendable.
"There's a lot of young guys and everybody's trying to prove the same point," Bolden told Christopher Price. "Why not throw my two cents in as well? I'm just here to make them better, to push them as well as they're going to push me."
One player who might be on the chopping block is newly-acquired veteran Joseph Addai. At age 29, Addai's prime could be in the rear-view mirror, but the former Indianapolis Colt adds experience and versatility to the backfield.
"I could see Bolden earning a roster spot over Addai if he outperforms him and puts some of the other off-field questions behind him," said ESPNBoston.com's Mike Reiss. "The Patriots won't hesitate to keep a younger player, even one that's undrafted, as we've seen in recent years."
With that said, Reiss believes finances will make the decision all the more difficult.
The one-year contract that Joseph Addai signed included $125,000 in bonus money that he will see regardless of whether he makes the roster, and then a $218,750 roster bonus. So one might say that reflects some minor uncertainty on the team's side that Addai will definitely be on the roster. While there is probably a vision for how it might unfold, I don't think the club has any firm decision made at this point and will let the competition in training camp dictate.
On the other hand, Bolden reeled in a $15,000 signing bonus, a number which shrivels in comparison to Addai's earnings.
"Bolden was arguably the top running back available after the draft, so it's likely the Patriots were bidding against others, which drove up the price," Reiss said.
Winning the bidding war for Bolden shows that the Patriots were genuinely interested in signing more than just a camp body. Perhaps coach Belichick and Co. saw a resemblance to Green-Ellis, perhaps they did not. Either way, Bolden is in camp and looking to make his own name.
It will be a long summer for the undrafted back. Playing behind Danny Woodhead, Stevan Ridley, Shane Vereen and Joseph Addai won't give him much room for error, but he's got a shot.
"They're going to evaluate me just like they're going to do everybody else," Bolden said. "Just try. Just try my hardest—that's all I can do."
For Brandon Bolden, fitting in isn't as important as standing out—something he must do in order to make the Patriots' 53-man roster.