Oklahoma Football: How Landry Jones Will Excel Without Ryan Broyles
May 20, 2012

Jamie Squire/Getty Images
We've all heard the narrative by now. When Ryan Broyles, all-time NCAA leader in receptions, went down with a knee explosion (medical term, of course) against Texas A&M last season, Landry Jones didn't throw a touchdown pass in another game the rest of year.
The knee-jerk judgment passed by most of Sooner Nation—including myself—was that Jones just isn't that good of a quarterback. He was all-world with his safety blanket Broyles in the slot, but got exposed as a phony without him. He was labeled a "system" guy, the scarlet letter for college quarterbacks. His Heisman status and draft stock were adjusted accordingly.
There have been several other excuses made for this lack of passing production, the flagship being the emergence of the Bell-Dozer. The power package ram-rodded its way through the red zone with remarkable efficiency, keeping Jones on the sidelines in scoring situations.
But this doesn't explain away the painful decrease in production from Jones between the 20's after the Broyles injury.
So what gives? Is Jones really that mediocre? What about all those yards? All those records!?
Let's go on a little journey. Put yourself in the offensive coordinator's shoes at the beginning of last season. You are sitting in a meeting in the spring, trying to devise an offensive strategy for the upcoming season revolving around your best players.
The Landry Jones/Ryan Broyles Express had accounted for 220 receptions, 2,742 yards and 29 touchdowns the previous two seasons. Kenny Stills was coming off a good freshman campaign but was still young. Also, the running back situation was as up in the air as it has ever been.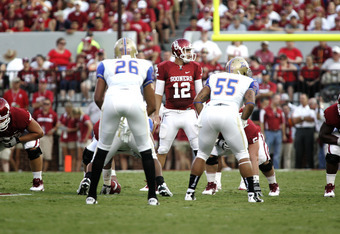 Brett Deering/Getty Images
All signs point toward featuring Broyles and Jones, right?
Fast forward eight games into the season, and it was working. Before the home game against the Aggies, Broyles was averaging 10 catches and 134 yards per game and the offense was humming along.
So what do you think would happen to any offense, any quarterback, when the focal point of the entire scheme goes down for the remainder of the season?
Maybe it wasn't all Jones' fault!
I know, it was quite a realization for me, too. Let it sink in for a minute. I'll wait.
Sure, some of the weight can be placed on Landry, but an equal—if not larger—proportion should be placed on co-coordinators Jay Norvell and Josh Heupel. Given the immense negative shock to the passing game and the degree of difficulty in restructuring a new passing scheme in the middle of the season, relying on the Bell-Dozer was probably their best option.
So fast forward a little more to this spring, in a similar meeting. One can only hope that the coaches learned their lesson last season on the dangers of relying too heavily on one player and have built an attack that better utilizes the strengths of all of their weapons.
The suspension of three receivers—all expected to contribute this season—doesn't help, but it also doesn't hurt that much, either. The Sooners brought in a top-notch class of receivers—JUCO transfer Courtney Gardner and freshman phenom Trey Metoyer to name a few—during this offseason that can step right in where the misfits left off.
Don't forget about the deep, versatile group of running backs, either. Dom Whaley, Roy Finch, Brennan Clay and Trey Millard are going to do their fair share of damage to Big 12 defenses, as well.
While a receiver of Broyles' caliber can take an offense to the next level, it is easy sometimes to lean a little too heavily on him. Using a player as a crutch works just fine until someone kicks it out from under you. While going down stairs. In front of the entire school.
This year, Landry Jones will no doubt excel in a well-balanced offense and see his stock raise back to where it should be.