Oklahoma Sooners Football: Gaudy Numbers Continue to Mask the True Landry Jones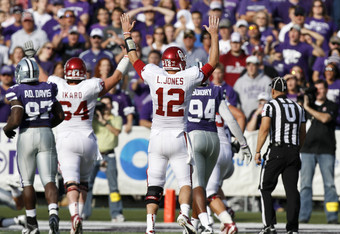 Ed Zurga/Getty Images
Oklahoma quarterback Landry Jones is receiving all the headlines the day after the Sooner's 58-17 stomping of previously undefeated Kansas State. After completing nearly 75 percent of his passes on his way to an OU-record 505 passing yards with five TD passes, the praise is warranted, right?
Well, sort of.
As I always do, I will give credit where credit is due. Landry threw a couple "wow" balls that had me reaching for the DVR remote for a replay.
He also led an offense that completely overwhelmed K-State in the second half, ripping off five consecutive touchdown drives in a fashion I haven't seen in some time: 332 total yards and 35 points that only took 21 plays and six minutes of game time.
The praise, however, should go to Landry's stable of receivers who, as a group, had their best game of the year by a long shot. I'll get back to them in a minute.
Despite his record-setting performance, Landry continued his streak of poor down field accuracy and bad decision making. It seemed like every single attempt beyond 15 yards either went embarrassingly awry or had the receiver contorting themselves like circus freaks to make the catch.
The Sooners recovered a fumble just before the half and had a great opportunity to gain some much needed momentum heading into the locker room after a not-so-hot second quarter. With the pressure on, Landry answered with three incomplete passes. "Incomplete" doesn't quite do the passes justice, though. The balls weren't even close.
Ed Zurga/Getty Images
His two interceptions illustrated some of Landry's bad habits, as well. In the second quarter, with the Sooners on the edge of field goal range, Landry stared down Trey Franks for a solid four seconds (an eternity in football time) before throwing to him, allowing Kansas State's Nigel Malone to jump the route and pick the pass off.
Landry became even more acquainted with Malone later in the second quarter when he massively under-threw Kenny Stills on a long ball. Kenny had a full two steps on the defensive back but tripped over himself trying to come back for the ball, and Malone easily caught the pass instead.
If the Sooners didn't have what is arguably the best crop of receivers in the country, Landry would be in trouble. Against the Wildcats, Ryan Broyles, Kenny Stills, Jaz Reynolds and Dejuan Miller (finally!) put together one heck of a highlight reel, making near-impossible grabs and impressive runs-after-catches all game long.
One reason the offense took off in the second half is because Landry kept the passes short, letting the receivers do all the work after the catch. This unit seems to work best when the passes stay under the 15-yard barrier, not giving Landry too much rope to hang the team with. If this is what the team needs to do to run the table, then by all means keep doing it.
Despite the Texas Tech loss, the Sooners still have an outside shot at sneaking in the back door to the BCS title game. If that is to happen, Landry is going to have to be on his best behavior, something we have seen little of in his career.
Disclaimer: Having said all that, I realize I have been hard on the kid this season. This is not my first article on Landry, and it probably won't be the last. To clear the air, I do not have some personal vendetta against Landry. He seems like a great guy.
But when I check the headlines after a game to find other writers giving all the credit to someone who doesn't deserve it, I have to blow the whistle.
Landry Jones is a good quarterback. Keyword: good.
When it's all said and done, Landry's career numbers will persuade some to anoint him the greatest quarterback in OU history. For lack of a better word, I will instead label him as the good-est quarterback in OU history.
This article is
What is the duplicate article?
Why is this article offensive?
Where is this article plagiarized from?
Why is this article poorly edited?

Oklahoma Sooners Football: Like this team?