AFC South Advanced Stat of the Week: Indianapolis Colts
May 18, 2012

Andy Lyons/Getty Images
I love advanced football statistics.
Often fans and analysts use "the eye test" as a way of justifying their own unfounded biases. Stats don't replace a solid understanding of the game, but they tend to root out falsehoods.
This week's advanced stat is among the more controversial I'll cover. DVOA is the primary stat of the FootballOutsiders. It stands for Defense Adjusted Value Over Average. It creates a per-play percentage of how much better or worse a player or team is than average. The stat is expressed as a percentile with zero percent serving as a baseline: a player over zero on offense is more valuable than average; a player with a negative DVOA number is worse than average.
DVOA can apply to teams, units or players. It is an efficiency stat, not a volume stat. It indicates how well a team or player performed, rather than how much they performed. There are other numbers that better indicate volume.
There are objections to DVOA. It's complicated. It's a "black box" stat, which means that no one can calculate it thanks to the Outsiders' use of a proprietary formula. It also relies on game-charting data, which can be inconsistent.
The benefits, however, far outweigh the objections. What makes DVOA useful is the fact that it accounts for the strength of the opponent. In a short season, traditional statistics are often heavily influenced by the level of competition a team or player faces. DVOA attempts to account for that.
DVOA for units is also vastly superior to traditional NFL rankings based on yards. Yard-based rankings should never be used for serious analysis. They ignore context entirely. Teams that trail in games will typically post higher passing yard totals than teams that are winning. Good teams will face inflated pass totals and suppressed run totals. Yard-based rankings have no place or value in modern football.
For the Colts, there's lots of ways I could go. Peyton Manning has always been the DVOA king. His volume stats are gaudy, but for years he was one of the most efficient quarterbacks in football. We could also talk about offensive/defensive splits in the Colts era.
Instead, let's look at one of the biggest question marks for Indianapolis in 2012: Austin Collie.
Collie's play in 2009 helped the Colts to a Super Bowl, and in 2010 he was having a huge year before concussions ended his season. As the Colts struggled in 2011 without Manning, Collie's effectiveness dropped.
His catches didn't fall off much. His totals declined from 60 in his rookie year to 54 in 2011, but a six-catch difference isn't noticeable. His touchdown numbers fell off the table, but given how bad the offense was as a whole, it makes sense he wouldn't be getting many scoring chances.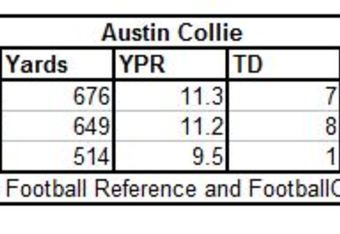 DVOA can be helpful in this case to illustrate just how dominant Collie was in 2010, and how much his impact suffered in 2011. He was among the most effective wideouts in the game in 2010, posting a DVOA of more than 33 percent better than league average. In 2011, however, he was 11 percent below average.
What does that mean in practical terms? DVOA is affected by a player's catch rate for one. Collie's was insane 82 percent with Manning throwing him the ball. It's also affected by how useful the catches are. Collie was a first-down machine in 2010, making the kind of catches that extended drives and won games. In 2011, he was playing pitch and catch for six yards on 3rd-and-8.
What DVOA can't tell us is why Collie dropped off so sharply. Was it the lingering effects of concussions or the putrid quarterbacks he was playing with? Collie had 43 percent of his catches in the team's final five games, so it's possible he was finally coming around when the season ended.
If the problem was quarterbacking, Collie may rebound to be an impact player for the Colts. His volume totals may not tell the story, but DVOA will help show just effective he is with Andrew Luck under center.