San Antonio Spurs: Tim Duncan, Kawhi Leonard Give Team a Menacing Grin
May 18, 2012
Justin Edmonds/Getty Images
Kawhi Leonard pick pocketed Chris Paul in the third quarter, ran the length of the floor then swerved around the hobbled point guard for a slam dunk.
An hour later, just like that, the Spurs were up 2-0 on the L.A. Clippers, halfway home to another Western Conference Finals berth.
Leonard rarely smiles. He also seems content to exist in the shadow of Springfield-bound teammates and stay under the awning of a respected, accomplished organization.
The rookie wears a consistent poker face that would impress Lady Gaga and perplex a high stakes gambler with all his chips on the table.
While Leonard's often-expressionless demeanor would fit the profile of a practiced casino junkie, his game suits the streaking Spurs even more.
Confident but collected. Stubborn and stoic. His athleticism accents his aplomb.
Tim Duncan has won a few things in his career with five of those qualities as calling cards. Even a casual basketball fan can pick out the one trait that doesn't belong.
The next time Duncan receives recognition for his hops will be the first.
Yet, he continues to fly over foes with superior leaping ability because he is grounded in the principles and the intricacies of winning that matter. Blake Griffin can jump over the hood of a sedan and Kendrick Perkins, but the Clippers' budding All-Star lacks the substance needed to concoct an effective postseason potion.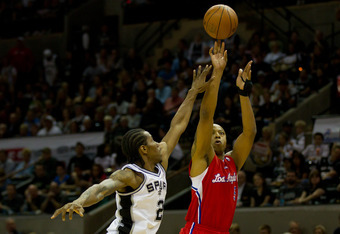 Justin Edmonds/Getty Images
As the Spurs prepare for a weekend back-to-back at Staples Center, they can thank Duncan, Leonard and a host of other key cogs for control of the matchup that numbers alone cannot illustrate.
Griffin flushed three scintillating slams Tuesday night, but he finished 7-of-17 from the field and followed that with a 7-for-16 outing. The Big Fundamental towered over Bad Blake twice with a 26-point, 10-rebound performance straight from his MVP-caliber years in the second round kickoff and a circumspect 18-point, five-rebound effort Thursday.
Duke Blue Devil fans used to chant "Spock" when the former Deacon Demon attempted a free throw at Cameron Indoor Stadium. Since supporters of rival programs could not assault his game, they attacked his supposed placidity.
Those followers paid him an unintentional compliment, given that they bellowed the name of a fictional Star Trek character who served on the USS Enterprise as a commanding officer.
Commanding is a fitting word to describe the aging but sprightly 36-year-old Duncan who showed up to dissect the Jazz and the Clippers.
Leonard, who finished fourth in Rookie of the Year balloting, possesses many of Duncan's best qualities along with an extra zip that has helped the Spurs' anchor stay fresher and look younger.
The two teammates stand light years apart when it comes to resume bragging points and playoff pedigree. Duncan's CV includes four championships, an astonishing string of All-Star and first team All-NBA appearances, a parade of All-Defense nods, a pair of MVPs and three Finals MVPs.
Leonard is still writing the first chapter of a promising career.
The Spurs love what he has typed so far.
Many basketball writers eligible to vote for the league's annual awards thought enough of Leonard to slot him ahead of all but one of the 14 players picked before him in the 2011 draft.
Jonas Valanciunas, the heralded and tantalizing fifth selection, did not cross the pond this season. A few other lottery picks were tabbed as projects with potential to make long-term impacts. No one expected Jan Vesely and Tristan Thompson to reach their respective potentials in a debut campaign marred by a work stoppage.
Yet, where Leonard ranks in the minds of those who cover and broadcast the game after the final tally is still impressive.
The NBA released Rookie of the Year voting results this week, and San Antonio's defensive-minded freshman trailed only three other breakout players: Kenneth Faried, 2009 draftee Ricky Rubio and award winner Kyrie Irving.
Leonard's boundless energy and a corner touch that has surprised both coaches and fans has sparked the runaway Spurs at so many opportune junctures.
The Spurs and others were not sure about his shot or his overall readiness, but they were confident Leonard would not dally during the lockout. R.C. Buford plucked a worker bee and a determined fighter from the draft's bargain bin because other GMs might have wondered too much about whether his scoring range would extend beyond 5-10 feet.
Popovich and Buford jettisoned George Hill to secure Leonard's draft rights. That the immense risk became an indisputable payoff is one reason Buford finished second in Executive of the Year voting. The man orchestrating that deal from the other end, Larry Bird, finished first.
The once popular notion that Popovich mistrusts rookies is overblown. Tony Parker became the Spurs' starting point guard five games into his first season and has not relinquished it on a full-time basis since. Manu Ginobili needed two years of seasoning to establish himself as San Antonio's spiciest superstar-caliber guard since George Gervin, but he was still dynamite as an NBA newbie.
The idea stuck when Popovich said in advance of a 2009 first round series with the Dallas Mavericks, "these playoffs aren't for George (Hill)."
The Ginobili-less Spurs cratered in five games, and Hill's two-way spunk would have been useful from the start.
Roger Mason Jr. and Michael Finley grabbed most of Hill's available minutes, and their value fell when their shots did not.
Popovich used Hill late in the series when the desperation of a 3-1 deficit necessitated trying something else.
The combo guard from IUPUI was a difference maker in the 2010 postseason rematch. The Spurs returned the favor and ousted the Mavs in six.
A similar dynamic surfaced with Tiago Splitter. A bum hamstring wiped out most of his rookie training camp and doomed his chance to lock up a rotation spot. He didn't see the court in a first-round flameout versus Memphis until another 3-1 deficit was certain in a joust that turned from winnable to out of hand in a third quarter shellacking.
The 6'11", two-time Spanish League MVP has been a favorite pick-and-roll target for Parker and Ginobili in his sophomore campaign.
That makes Leonard's rise in a truncated slate—when coaches were barred from working with or cajoling him for an entire summer and a portion of the fall—equal parts impressive and improbable.
The lockout could have been an excuse or a crutch. Instead, the circumstances brought out the best in the forward from San Diego State.
The pressure of the postseason has done the same.
Leonard poured in 16 points in the opener. He scored just five points Thursday but added six rebounds and two steals.
Through two games, the Spurs have out-assisted the Clippers 52 to 31 and outscored them 213 to 180.
A laboring Paul has more turnovers, 13, than made baskets, seven.
The two guys who often look like they are auditioning for an additional spot on Mount Rushmore after power dunks have been bookend catalysts.
Visitors to the national memorial in Keystone, South Dakota, might say that the granite sculptures of George Washington, Thomas Jefferson, Theodore Roosevelt and Abraham Lincoln emote more than Duncan or Leonard do on most possessions.
No chest bumping, prancing or preening, just business.
San Antonio has now won 16 in a row, and the drive for five looks as alive as ever.
With a 36-year-old anchor carving up the Clippers' flawed frontcourt and a 20-year-old rookie playing like he's done this before, the Spurs can do something Duncan and Leonard often avoid when the glare of cameras and a national TV audience beckon.
Smile.