Alex Gordon Takes a Foul Ball in a Spot Where Hitters Aren't Used to Getting Hit
May 17, 2012

On the rare occasions my mother has watched a baseball game with me, she's often wondered why the players "scratch their crotch so much." 
Naturally, I explained that baseball players wear a protective cup and it's not typically the most comfortable piece of equipment to deal with. Thus, the "scratching" and adjusting.
Mom thought that seemed kind of silly. I assured her that players shouldn't take the field without wearing a cup. 
Kansas City Royals outfielder Alex Gordon provided us with the latest example of why you don't play baseball unprotected, fouling a ball into...a delicate area during the 15th inning of their game versus the Baltimore Orioles on Wednesday night.
As the Royals' play-by-play man (Steve Physioc? Steve Stewart?) put it, the ball "came up and bit" Gordon. Upon seeing the replay, however, the broadcaster amended that statement, explaining that the ball hit Gordon "in a spot where hitters aren't used to getting hit."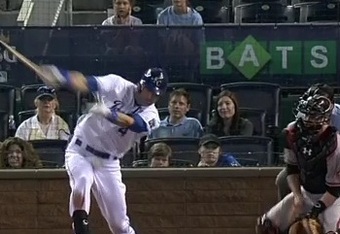 Oh, my. That hurts just watching it, as you can see from the reaction of Baltimore Orioles catcher Matt Wieters. He acted as if that foul ball hit him, not Gordon, in the cookies.
The other comment from the Royals broadcast team lent even more insight to the visuals. "I'm sure that is not... a pleasant situation," the color commentator (Rex Hudler?) said.
Dancing around what perhaps couldn't be stated explicitly is what surely makes him one of the best in the business, folks. 
Hopefully, Washington Nationals pitcher Stephen Strasburg caught what happened and gave Gordon a sympathetic call after the game. He knows just the thing to apply to such a sensitive area. 
Follow @iancass on Twitter.