Dion Waiters: Highlights, Analysis and Pro Projections
June 13, 2012

Elsa/Getty Images
Dion Waiters is an athletic slasher, but the Dwyane Wade and James Harden comparisons are a little exaggerated. Waiters was one of the top contributors on a Syracuse team that was dominant through the regular season, but they lost in the Elite Eight to Ohio State.
Waiters is certainly athletic, with obvious slasher qualities. He averaged 12.6 points per game as a sophomore, and he made himself eligible for the NBA draft on March 26.
Waiters has the type of game that could blossom on the NBA level, but he needs to work on a few things to reach his full potential. One of them may be his overall attitude and willingness to be coached.
ESPN's Chad Ford reported this about Waiters and his last season at Syracuse:
Waiters came to Syracuse ranked as a top-15 prospect by ESPN and expected to contribute right away. However, he showed up to school in less-than-ideal conditioning. Boeheim became frustrated with his lack of intensity on the defensive end. The media picked up on some poor body language. By the end of the season, Waiters and Boeheim were at odds.

"He had nothing to be frustrated about because he was 100 percent wrong," Boeheim told The New York Times. "He played no defense last year. Not some. None."

Waiters, however, stuck it out. "I called my mom after almost every game crying," he told me on Tuesday. "But she just told me to keep going. To not give up. I'm glad I listened to her. I matured this year."

"I came to Syracuse a boy," Waiters added. "I left as a man."
A college kid being at odds with a legendary college coach is a definite red flag for most teams. This will almost certainly affect his draft stock; if he really does have a poor attitude, it'll affect his development as well.
Here is a scouting report on Waiters highlighting his strengths and weaknesses.
(Height, weight and stats per statsheet.com)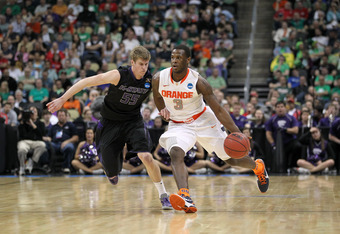 Gregory Shamus/Getty Images
Profile
Height: 6'4""
Weight: 215 pounds 
School: Syracuse
Date of Birth: December 1, 1991
Best NBA Position: Shooting Guard
College Stats: 12.6 PPG, 24.1 MPG, 47.6 FG%, 36.3 3FG%, 72.9 FT%, 2.5 APG, 2.3 RPG, 0.3 BPG, 1.8 SPG
Skill Grades
Athleticism: A-
Size: B
Intangibles: D
Rebounding: B-
Ball Handling: B+
Defense: B-
Shooting: B+
Passing: B+
Post Game: B+
Basketball IQ: A-
Upside: A
Strengths
Waiters is an excellent quick-twitch athlete. He is great at changing directions and spin-moves, and he shows excellent body control. He is relentless on his drives to the basket, and he is strong.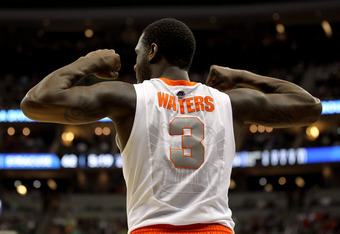 Gregory Shamus/Getty Images
He can absorb contact and he is a decent free-throw shooter. This is something that is huge for a player that attacks the basket as much as Waiters does.
He has the ability to be a very good defender if he commits on that end of the floor.
He only played 24 minutes per game at Syracuse, and he averaged just under 13 points per game. He has the ability to score in bunches, but he has a few physical and mental hang-ups.
You'll notice some Dwyane Wade-like plays in this highlight reel:
(music in highlight reel contains some profane language)
Weaknesses
Waiters is only 6'4", and that is not an ideal height for a SG. He is physically strong, with very good athleticism, so that helps, but the lack of length could be an issue against bigger 2-guards.
Perhaps his biggest drawback is his attitude. Waiters got mouthy with officials on the college level. I can only imagine what that tendency will grow to in the NBA if it isn't curtailed. Waiters may just have an issue with authority all together, if the perceptions are correct.
He must fight to get by these issues, as it has appeared to cause him to lose focus at times. He appears lazy at points, and not totally plugged in. He could stand to improve his facial expressions and body language, but I don't think that is a trait that is likely to change. 
Waiters is over 200 pounds, which is good, but he is a bit soft in the body. His frame is such that he will need to work hard to stay in top physical condition. He's had weight problems and issues with coaching even before last season, so it is an area of concern. 
If Waiters dedicates himself to good conditioning, possibly even dropping 10 pounds, he can be more explosive. If he checks his attitude, he'll be in the right mindset to make the proper adjustments to grow and mature, mentally and physically.
NBA Player Comparison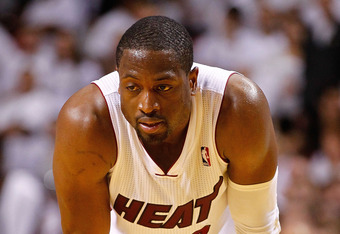 Mike Ehrmann/Getty Images
Poor Man's Dwyane Wade
Wade is a Hall of Famer. He doesn't have to make another shot, he's already done enough. He has overcome a perceived height disadvantage to find greatness.
In his nine-year career, Wade has averaged 25.2 points, 4.8 rebounds, 4.6 assists, 1.7 steals and an amazing 1.3 blocks per game. He has been honored with eight All-Star appearances, NBA Finals MVP, All-Star Game MVP, three All-Defensive Team selections and six All-NBA selections (two first-team nods).
Though Waiters has some of Wade's ability to slash and finish near the basket, and their height is similar, I don't see Waiters ever ascending to Wade's status.
You will see Wade-like tendencies from him, but I predict you'll only see flashes of Flash from Waiters. Being a future Hall of Famer is about more than just the physical attributes. The effort and dedication has to be there as well.
Draft Projection
Mid First Round
Follow Brian Mazique and Franchiseplay.net for reactions, analysis and news from the world of sports and sports video games.