England Euro 2012 Roster: Roy Hodgson's Team Selection Makes Him a Coward
May 17, 2012

Michael Regan/Getty Images
Let's be honest for a moment.
Very few outside of the most rabid—and thus ignorantly blind—Three Lions supporter has much faith in any combination of 23 English-born footballers winning the Euros this summer. The truth of the matter is that the quality of the EPL has not recently been manifested in a strong national side.
This could have something to do with better foreign imports coming into the league—three of the four players really in contention for this season's PFA Player of the Year were foreign players, including the winner Robin van Persie.
A case could also be made that perhaps the country is in a period of transition. Some of the very best and brightest talent England has to offer are young in respect to the competition they would be facing, with Danny Welbeck, Daniel Sturridge, Alex Oxlade-Chamberlin and Theo Walcott all 23 years of age or younger.
Then of course there is always the media-driven controversies that swallow up the side before any big tournament. It was John Terry and his extramarital affair with teammate Wayne Bridge's girlfriend before the 2010 World Cup. And wouldn't you know it that once again Terry is the center of the scandal, this time involving racial slurs he was alleged to have made at his defensive partner Rio Ferdinand's brother, Anton, in an EPL match between Chelsea and QPR?
These are only a few of the many circumstances that have already plagued England, a heavy underdog going into Euro 2012. We will be told about many more before this thing kicks off in Poland and Ukraine as the over-hyping and grotesque amount of analysis that are shoved down our throats comes in bulkier forms as the tournament approaches.
But any vague notion of hope—a romantic sensibility toward sport that these are the exact kind of instances where a team can motivate themselves to glory—was erased with a single press release.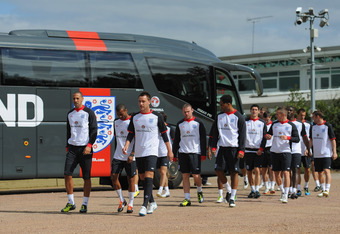 Michael Regan/Getty Images
In the early afternoon of May 16th, 2012 England manager Roy Hodgson named his 23-man roster that would be representing the Three Lions at Euro 2012. The list is as follows:
Goalkeepers
Robert Green (West Ham United), Joe Hart (Manchester City), John Ruddy (Norwich City).
Defenders
Leighton Baines (Everton), Gary Cahill (Chelsea), Ashley Cole (Chelsea), Glen Johnson (Liverpool), Phil Jones (Manchester United), Joleon Lescott (Manchester City), John Terry (Chelsea).
Midfielders
Gareth Barry (Manchester City), Stewart Downing (Liverpool), Steven Gerrard (Liverpool), Frank Lampard (Chelsea), James Milner (Manchester City), Scott Parker (Tottenham Hotspur), Alex Oxlade-Chamberlain (Arsenal), Theo Walcott (Arsenal), Ashley Young (Manchester United).
Forwards
Andy Carroll (Liverpool), Wayne Rooney (Manchester United), Daniel Welbeck (Manchester United), Jermain Defoe (Tottenham Hotspur).
Standby list
Jack Butland (Birmingham City), Phil Jagielka (Everton), Jordan Henderson (Liverpool), Adam Johnson (Manchester City), Daniel Sturridge (Chelsea).
The roster endears itself to some of the biggest names in English football. There are plenty of veteran stars such as Frank Lampard, Steven Gerrard and Scott Parker. There is also plenty of energetic youth such as Joe Hart, Phil Jones and Danny Welbeck. Yes indeed, there is not really anything shocking about this roster at all.
And there lies the problem.
Three months ago yesterday I published a short reactionary piece on the departure of Fabio Cappello and the rumored appointment of Harry Redknapp. I looked at the only time England had ever enjoyed international success, the 1966 World Cup where Alf Ramsey guided the team to glory using his revolutionary "wingless wonder" tactic. It was audacious, different and new, leaving the opposition confused and bewildered.
Obviously the article is no longer completely accurate as Hodgson is in charge rather than Redknapp, but the message is still the same: to win, you must be bold enough to try.
This roster is not bold. Heck, it is barely even logical! But it is also the safest choices he could have made.
There are plenty of arguments for those who should and should not have made the roster, (you can find a complete list of my biggest snubs here.) but none are needed beyond the notion that it would change things up and be the exact kind of daring move that can act as a catalyst for overachieving.
Why take Andy Carroll who is a mediocre forward on his best day, rather than Grant Holt whose upside is as much in what he brings to the team's presence as his actual play? Why leave someone who can give you that extra bit of pace like Daniel Sturridge on standby instead of an increasingly unimportant Jermaine Defoe? Why ignore England's most versatile and physical right-back, Micah Richards, for Glen Johnson, whose team underperformed the entire season?
I do not have answers to these questions, and I doubt Hodgson does either beyond it was the easy choice. It's peak over potential, experience over youth, the known over the unknown—it's cowardice.
England will not win this year's Euro competition, but it will have little to do with the lack of talent in their lineup. The best team does not always win but rather the country that plays with the most bravado.
For English fans, they better hope that this is not the case this time around.
For all my articles, follow me on Twitter: @thecriterionman