England Euro 2012 Roster: Roy Hodgson's 5 Biggest Snubs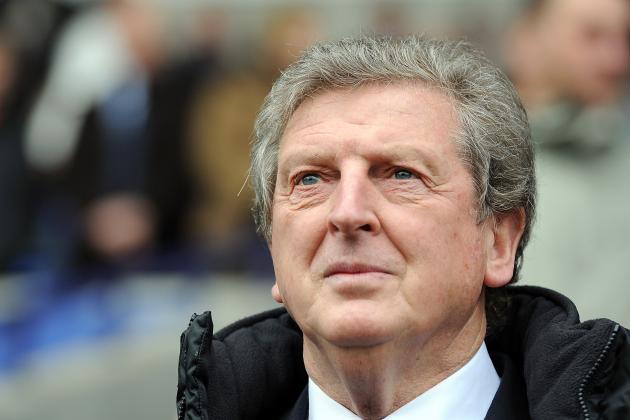 Chris Brunskill/Getty Images

England manager Roy Hodgson announced his squad today that he will be taking to Poland/Ukraine for the Euro 2012 Championships. The squad list is as follows:
Goalkeepers: Joe Hart (Man City), Robert Green (West Ham), John Ruddy (Norwich)
Defenders: Glen Johnson (Liverpool), Phil Jones (Man United), John Terry (Chelsea), Joleon Lescott (Man City), Gary Cahill (Chelsea), Ashley Cole (Chelsea), Leighton Baines (Everton)
Midfielders: Theo Walcott (Arsenal), Stewart Downing (Liverpool), Alex Oxlade-Chamberlain (Arsenal), Steven Gerrard (Liverpool), Gareth Barry (Man City), Frank Lampard (Chelsea), Scott Parker (Tottenham), Ashley Young (Man United), James Milner (Man City)
Strikers: Wayne Rooney (Man United), Danny Welbeck (Man United), Andy Carroll (Liverpool), Jermain Defoe (Tottenham)
Stand-by: Jack Butland (Birmingham), Phil Jagielka (Everton), Jordan Henderson (Liverpool), Adam Johnson (Man City), Daniel Sturridge (Chelsea)
As usual, no 23-man squad would go by without controversy as there are plenty of big names on the roster that missed out, some more deserving than others. Here are the five I believe should be the most upset with the snub.
Begin Slideshow

»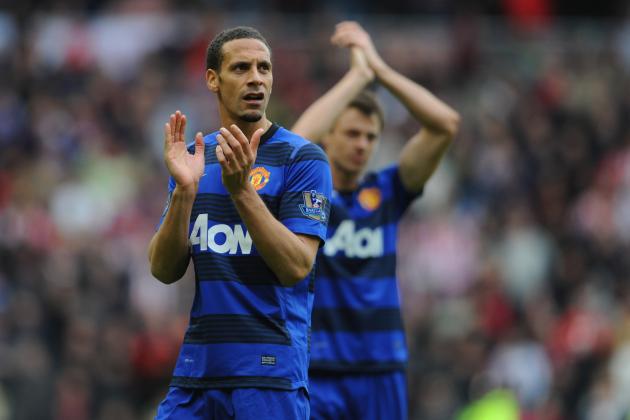 Michael Regan/Getty Images

The name that will immediately jump off as being absent is one of the Three Lions' most recognizable faces, Rio Ferdinand.
The Manchester United defender is as capable as ever in terms of footballing ability to add to his already impressive 81 caps, but the falling out he had with defensive partner John Terry kept him home.
Earlier in the Premier League season, Terry was accused of racially abusing Rio's brother Anton, who plays for Queens Park Rangers. Rio, of course, took exception to this and is no longer on good terms with the former England captain. The issue itself led to the resignation of former England boss Fabio Capello.
Hodgson knew coming into the job that this would be a matter he would have to deal with. From the early days of his appointment, he attempted to reconcile the differences between the two, but to no avail. In the end he made a choice based on what gave his team the best chance to win, and he went with Terry.
In no short way, this is going to sting the Ferdinand family. Many feel that Terry should have to pay for his actions and not be rewarded with representing the country. However, with the trial set to start after the tournament's conclusion, that would be presuming guilt without a trial.
Ultimately, it is a tough situation for everyone involved, including the fans who will see an untested back line.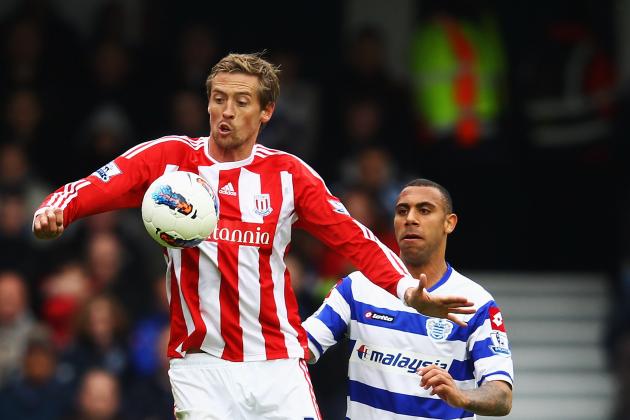 Julian Finney/Getty Images

There will be mixed feelings on Peter Crouch not being added to the list of Euro players. The lanky forward is often chastised for not having the class required of the highest level, but he is also a fan favorite and someone that we all love to see on the pitch.
The journeyman plied his trade with Stoke City this past season, putting together his fourth-best year to date in terms of scoring, netting 14 goals in all competitions, including arguably the goal of the season against Manchester City.
The biggest shocker about Crouch being left off the roster is that the front line for England is lacking in substantial height. Andy Carroll is the tallest at 6'3", but he is not that much better of a talent than Crouch in the air or on the ground.
At the very least, Crouch is that kind of player that can open up others by simply having to respect him on set pieces.
In the end, it seems that Hodgson does not find that to be enough of a reason to take up a spot on the roster.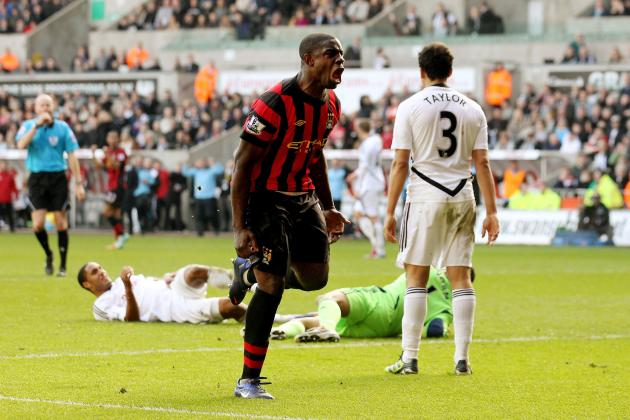 Scott Heavey/Getty Images

When Kyle Walker went down with an injury that ruled him out of contention for a Euro spot, it was assumed that Manchester City defender Micah Richards would take his spot.
Richards learned today that would not be the case.
The 23-year-old right-back had an outstanding season with City, a regular in a back line that had the best defense in the Premier League. He is an extraordinary specimen, big and strong as a bull, with unmatched pace and energy. He is the ideal full-back.
With a goal and six assists to his credit, he provided as much in the attack as he did in the back, able to push the offense and not have to worry about being beaten on the other end. He would fit in very well with a back line of physical defenders not afraid to get into the chest of a forward.
Without Richards, Glen Johnson is the only true right-back on the team, with Phil Jones playing there this past season for United as well.
It was a risky move for Hodgson should one go down with an injury or find themselves in danger of a suspension. England fans will hope that not having their best natural right-back will not come back to hurt them.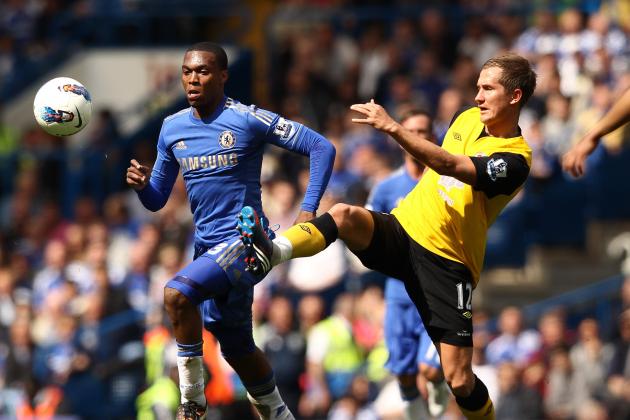 Ian Walton/Getty Images

Daniel Sturridge enjoyed a breakout season with Chelsea this past year, netting 13 goals in all competitions and adding seven assists.
The speedy forward spent much of his campaign with the Blues in a wide role as a makeshift winger. From there, he found the position as rewarding as it was frustrating, getting the space he needs to run with the ball, but also not always making the correct decision on the back end of it.
Despite that, he was still one of the biggest goal threats Chelsea had and certainly merited some interest for a starting spot. Looking at this England team, there is no real speed beyond Theo Walcott in the midfield and only he, Alex Oxlade-Chamberlin and Ashley Young are actual wingers. But Sturridge has the added versatility to play up top as well.
Granted, Sturridge is on the stand-by list, so he still has a chance to make his mark this summer. But I find it foolish to not have him on the main roster.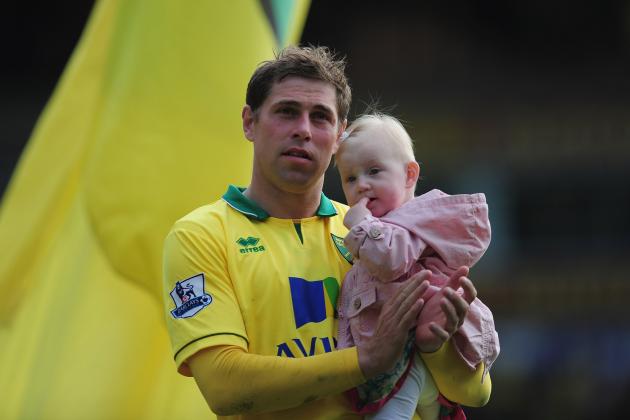 Jamie McDonald/Getty Images

Most of the names on this list are here because they are big ones, on big clubs, with a history of representing England. But none were as big an insult in being left off as Grant Holt, someone who has never donned an English cap but is more deserving than several names on the 23-man list.
Holt is coming off a 17-goal season in 37 matches, the second most of any English player behind Wayne Rooney. He also did it with a much lesser team surrounding him than any of the forwards who were selected, and he was often asked to make plays up top on his own with little support.
But what really makes him an effective player is his approach to the game. A tireless worker, he is constantly hounding defenders when they are on the ball, forcing turnovers. He is as strong as any center-back and as fast as any full-back.
He is not exactly the most gifted footballer, but as a forward, he does what is most important: put the ball in the back of the net.
I personally think Holt was more than deserving of a spot simply for the fact that he played so well in his first Premier League season, and I would expect him to do the same in international competition.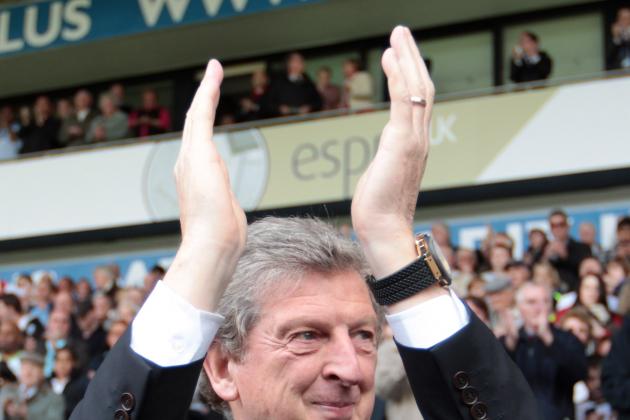 Ross Kinnaird/Getty Images

For better or worse, the 23 men chosen by Hodgson will be the ones representing England this summer. To me, it is a list picked out of the same bland tradition that has kept the country from raising a major trophy in nearly 50 years.
I wrote an article a while back that talked about how Alf Ramsey won the World Cup using inventive tactics and how that is what England needed to succeed again. Apparently, Hodgson never got a chance to check it out.
Who do you think deserved a spot on the roster that is not on there?
As always, please leave your comments below, and thanks for reading!
For all my articles, follow me on Twitter: @thecriterionman