NFC South Morning Jog: Former Buccaneers OG Lashes out at LeGarrette Blount
May 17, 2012

Ezra Shaw/Getty Images
Each morning, I like to start the day off with a workout—usually a morning jog. I can clear my head, plan my day, and think about what's going on around the NFC South.
Jeff Darlington spoke about the slimmed down Josh Freeman and the NFL Network crew wonders if the Tampa Bay Buccaneers can win the NFC South.
Former Tampa Bay Buccaneers guard Ian Beckles lashed out at LeGarrette Blount's statement that drafting  a running back might be what he needed. Beckles said "If he needs competition to take his crap seriously, what good is he?"
Roddy White wasn't happy with being placed on NFL Network's Top 100 Players of 2012 list at No. 65. In his video reaction he did expand on his tweet and said "I'm not happy with where I'm at on the list; I'm happy to be on the list."
The Falcons held their State of the Franchise address Wednesday evening.
The Carolina Panthers signed tight end Joe Jon Finley on Wednesday and waived Tarren Lloyd. The tight end depth chart is full at the moment and Finley will come in at the back end.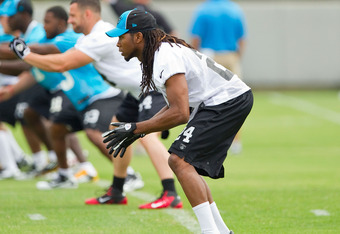 Brian A. Westerholt/Getty Images
Rookie Josh Norman said rookie minicamp was beneficial because it gave him a working knowledge of how to come in to OTA's and training camp and work like the Panthers want him to.
An arbitrator met with the NFL and NFLPA reps Wednesday to determine whether Roger Goodell had the authority to discipline players for actions that occurred before the league's current labor agreement was executed. The arbitrator did not state when he would rule. A separate hearing on May 30 will be held to determine whether or not Goodell has the authority to impose penalties for the Saints bounty system.
The NFL may release some of the Saints Bountygate evidence to the public after the players appeals have concluded.