Roddy White Ranked at No. 65 on NFL's Top 100 List Is Ludicrous
May 17, 2012

Kevin C. Cox/Getty Images
Atlanta Falcons wide receiver Roddy White has never been afraid to say what's on his mind.
Whether he's talking with the media at his locker, using his official TV channel at Roddy White TV or taking to Twitter, White is opinionated and very forward. Sometimes his actions get him in hot water, and sometimes—like Wednesday night—White's comments are, to borrow a phrase from the fictional character Mona Lisa Vito, "dead-on balls accurate."
The NFL Network is currently counting down the Top 100 Players of 2012. White sent out a tweet that he would be on the network Wednesday, and he wasn't happy about it.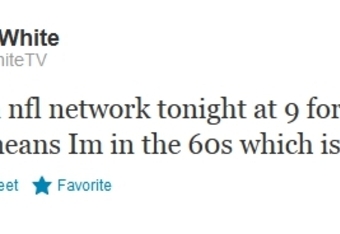 Now, I've argued in the past that if White isn't the best receiver in the NFC South (which I think he is), he's no lower than No. 2.
But the NFL Network tossed White in at No. 65 on Wednesday, which is completely laughable.
Did the NFL Network forget that White led the NFL in receptions in 2010 or that he was second in the  league last year? He's also the only receiver to average more than 100 catches per year over the last two years.
White finished second in the league in receiving yards with 1,389 in 2010 and eighth with 1,296 last season. How does averaging just under 1,350 yards per season over the last two seasons warrant a ranking at No. 65?
Maybe White was being punished for leading the league in dropped passes, with 15 last year. I agree, take off points for this. But come on—No. 65?
One of my Twitter followers Wednesday suggested that maybe White's slip in the ranking was due to the fact that Julio Jones is emerging on the Falcons depth chart as a go-to option.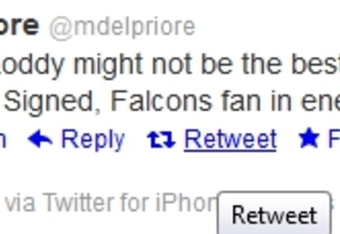 My response to that is two-fold: 1) Why would you have to reduce White's ranking because Jones is around? 2) Let's not confuse upside with rank. I'll agree that Jones' upside is white-hot, but he's not a better receiver than White is, not yet.
With all this said, I plan to watch the rest of the NFL Network's Top 100 countdown with bated breath. And I have a few questions as I wait.
How many receivers will be ranked higher than White? Anything more than five or six would just be absurd.
Will Jones be ranked higher than White? I've already touched on upside versus ranking above, but I'll add this: Who does Jones look to for advice in the locker room? Or in the file room? Or on the field, for that matter? It's White. While I'll be the first to tell you Jones' days of being top dog with the Falcons are close, 2012 is not the year. Come watch in 2014.
Why should I even care? Instead of turning off the TV, I'm finding myself in a Nielsen Ratings equivalent of rubbernecking as I drive by a crash site. I know I shouldn't watch because the view is gruesome and I won't like what I'll see.
But I just can't turn away, and neither should you.