Steve Smith vs. Roddy White: Who's the Top NFC South WR?
April 13, 2012

Scott Halleran/Getty Images
One of the very best things about Twitter for sports fans and sports writers alike is the fact that at any one moment a sports debate can erupt. Whether it's friendly banter or a virtual slapfest, the ability for a group of people to argue about a sports topic, and the fact that thousands of people can watch the debate, makes Twitter fantastic.

This very thing happened to me Friday morning after I posted my NFC South WR rankings.

Prior to posting I asked my Twitter followers to give me the best receiver in the division. Our very own national NFL writer Aaron Nagler tweeted something that I wasn't expecting.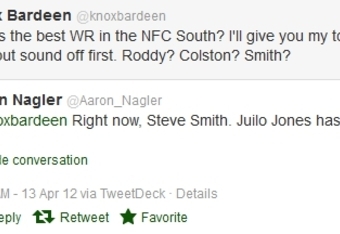 Well, I had already written my article and knew I had placed Falcons wideout Roddy White at No. 1. I asked Nagler where he'd place Julio Jones. His response blew my mind.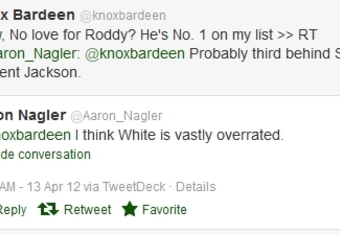 This, along with NFL draft writer Sigmund Bloom's request for Nagler to "expound," started a full-on debate pitting Roddy White against Steve Smith.
I asked Nagler to send me a few thoughts to include in this article, and I'll post those below. I'll also comment and post the entire Twitter stream.
Enjoy!
From Nagler:
I understand the desire to put Roddy White into the upper echelon of NFL wide receivers. The production has been there throughout his career (save for a disappointing 2011) and he certainly has the physical skills to beat most cornerbacks and to make plays all over the field.

When I look at the other receivers in the NFC South, however, I see a superior football player in Carolina's Steve Smith. I see much more overall potential in White's teammate, Julio Jones. I see Vincent Jackson in Tampa Bay as a superior talent, though perhaps a bit inconsistent in his ability to stay on the field.

To me, White is a great player when you're looking at fantasy matchups. But on a real football field, give me Steve Smith and his tenacity every time. I don't want numbers. I want a football player.
My rebuttal is simply that you can't attempt to value a wide receiver and not look at numbers.
Over the past two seasons, no one has caught more passes that White. Over that same period of time White leads the league in first-down catches as well. I understand White led the league in dropped passes in 2011, but it's a little extreme to say it was a disappointing year for White, and it's nowhere close to fair to say he's not one of the top three receivers in the NFC South, much less the best receiver in his team.
Here is our debate on Twitter mixed in with a few comments from others: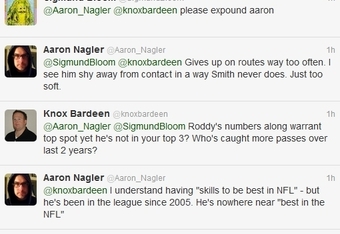 A few more comments: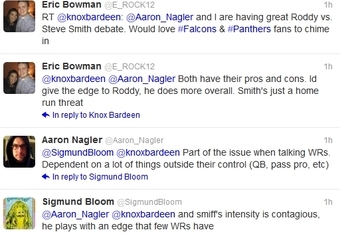 Even more comments: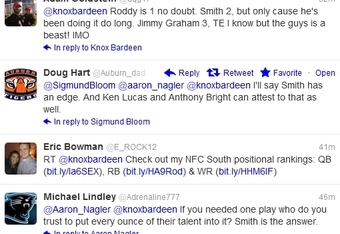 Thank you for reading and participating in this Twitter debate. Maybe this is something I should do on a weekly basis. I'm sure I can find many others to argue with about the NFC South.
In the meantime, please follow @knoxbardeen, @Aaron_Nagler, @SigmundBloom and everyone else who got involved today on Twitter.