7 Reasons the Houston Astros Can Actually Contend for the NL Central Title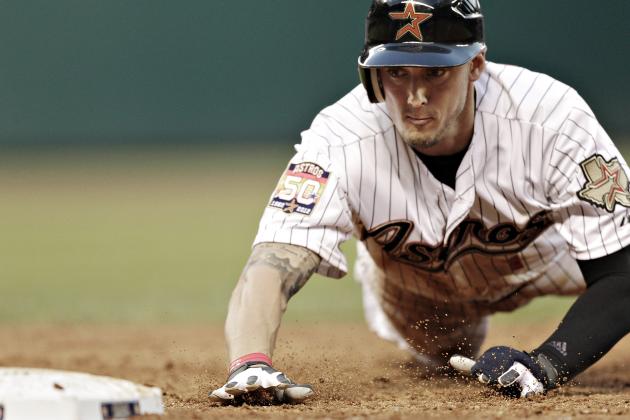 Bob Levey/Getty Images

The Houston Astros have been a pleasant surprise so far this season for the fans and currently are 16-21 after beating division rival Milwaukee Wednesday night. The question Astros fans want to know is how long they can sustain this for and whether or not they can contend for the division title.
To even have this discussion before the season would have been considered insanity, and many thought Houston would be fighting for the No. 1 pick in next year's draft. However, with how this season has played out it is plausible, though still a long shot, for Houston to sneak up and grab the NL Central crown.
These are the top seven reasons Houston can contend for the NL Central title.
Begin Slideshow

»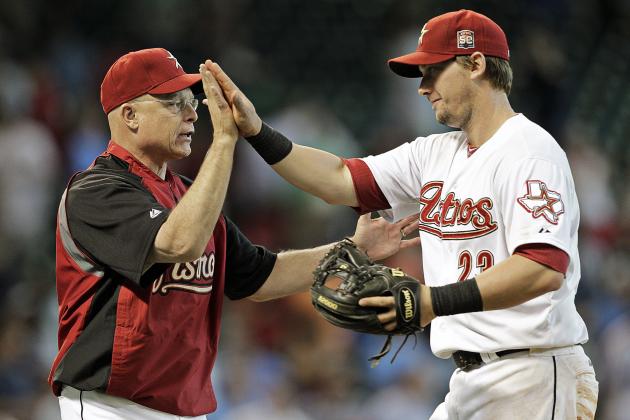 Bob Levey/Getty Images

A little self promotion, but last week I wrote about whether Brad Mills was the right man to lead the Astros. I think he will be one of the reasons they could contend.
Mills has done a great job over his tenure with Houston of holding players accountable while still helping to develop the younger players.
Mills can relate to his players, and whether they are in the NL Central race or not one thing is for sure: They will play hard all 162 games. When the Astros traded Lance Berkman and Roy Oswalt two years ago, Mills led his team to a record above .500 over the second half of the season.
Bob Levey/Getty Images

Wandy Rodriguez has been pitching like an ace to start the season, even though he only has a record of 3-3. He has an ERA of 1.99 and struck out 36 over his first eight starts.
The one thing he has done a great job of this year is keeping runners off the basepaths. Opponents are only batting .205 against him, and he has given up 13 walks to date.
Wandy is the most veteran pitcher in the rotation, and if he can lead by example for the other pitchers in the rotation, Houston could be in contention come September.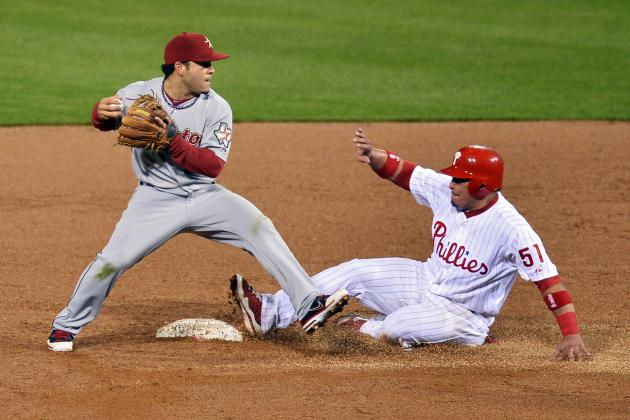 Drew Hallowell/Getty Images

The Astros have committed only 23 errors through the first 36 games, which is a huge improvement over last year when they committed the second-most errors in the National League.
If this team wants to have any chance of competing for the NL Central title, it will need to limit its mistakes and play near perfect. The other teams in the division, primarily the Cardinals and Brewers, are more talented right now, but errors is one thing that can quickly level the playing field.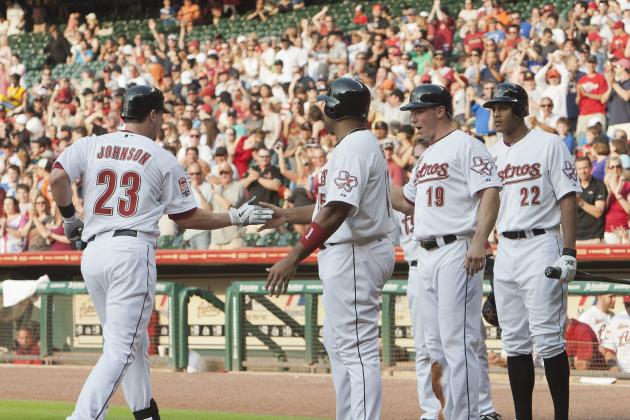 Bob Levey/Getty Images

The Astros are currently in the top five in runs scored in the National League. This has to be one of the biggest surprises about this team because of how bad they were last year.
One of the big reasons for the improved offense is the team's plate discipline as a whole. Last year, Houston only generated 401 walks over the season. This year through 36 games, it already has 114 walks, which averages out to a half-walk more per game. It may seem like a small increase, but over a 162-game season, this adds up to roughly 80 more players on base.
Now, this team won't win many games if it tries to outscore its opponents. However, if the Astros can get above-average pitching and continue to limit mistakes, this offense can be a strength rather than a weakness, just like it was last year.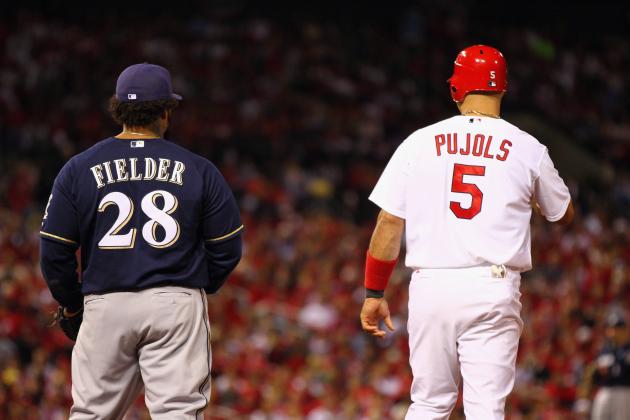 Dilip Vishwanat/Getty Images

This could be one of the biggest reasons Houston can grab the NL Central title. Albert Pujols has caused nightmares for Astros players and fans for years now. The Cardinals don't look like they have missed a beat, though, with the re-emergence of Carlos Beltran, who is playing at an MVP level right now. Time will tell if he can keep it up.
The Brewers, on the other hand, have struggled finding a way to replace the offense lost with Prince Fielder now in Detroit. Either way, both teams are weaker than they were a year ago with the loss of these two offensive juggernauts.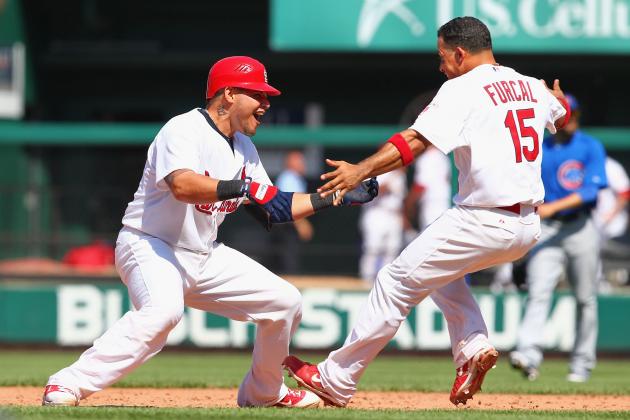 Dilip Vishwanat/Getty Images

The Cardinals have the second-best run differential in all of Major League Baseball at plus-64. The Rangers are the only team better at an impressive plus-78.
The good news for Astros fans is that even with the offensive output, the Cardinals have not really separated themselves from the rest of the division. The Cardinals only have a six-game lead over the last-place Cubs.
The other good sign is that Houston took two of three from St. Louis in the only series they have played so far this season. This series could have been a fluke and they could have caught the Cardinals at the right time. Having this type of success, though, early in the season for a young team could give them the confidence that they can compete with the powerhouses like St. Louis.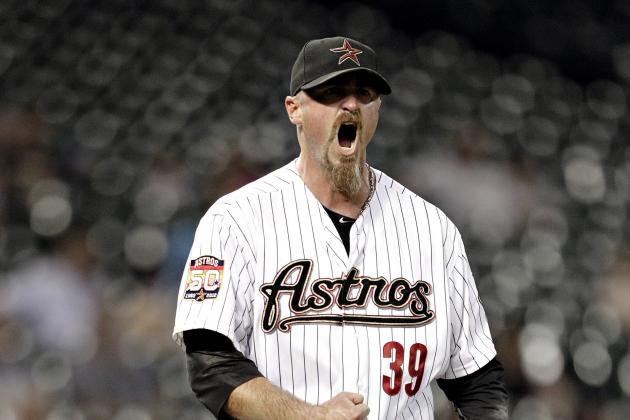 Bob Levey/Getty Images

Brett Myers has been almost automatic in his new role as closer, and the Astros will need him to be near perfect if they want to compete for the division title. The Astros presently have an above-average offense and an average pitching staff, which will lead to a lot of close games.
This is where Myers comes in to play, as he will probably get a lot of save opportunities this year. He has converted nine of his first 10 save opportunities and has given up only three earned runs in 14 appearances.
Last year, the Astros only converted half of their save opportunities and lost out on potentially 25 wins. With a veteran pitcher closing out games this year, the Astros should be able to capitalize on these opportunities and be right there come September.