Houston Astros: Is Brad Mills the Right Man to Right the Ship?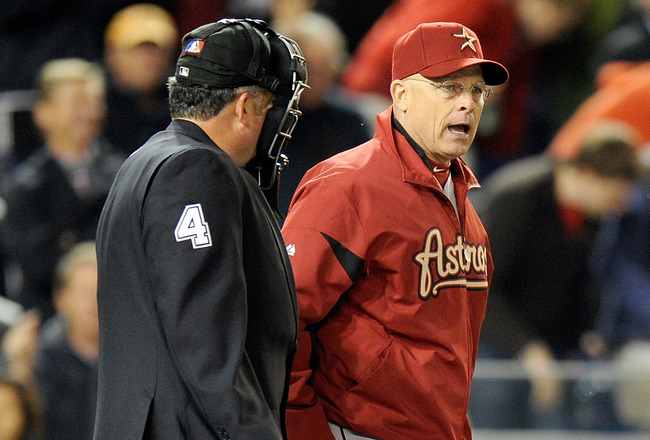 Greg Fiume/Getty Images
Brad Mills was named manager of the Houston Astros in October 2009 and has not had an easy go of it since then.
He has seen management trade away Lance Berkman, Roy Oswalt, Michael Bourn and Hunter Pence and go into full blown rebuilding mode.
The No. 1 goal when rebuilding is obviously to get quality, young players who will be lead to continued success in the future. However, one aspect that organizations sometimes overlook is having good leadership.
Luckily for the Astros, they have that leadership already in place with Brad Mills.
These are the top reasons why Mills is the right man for the job and to bring Houston out of the rebuilding process.
Has Championship Experience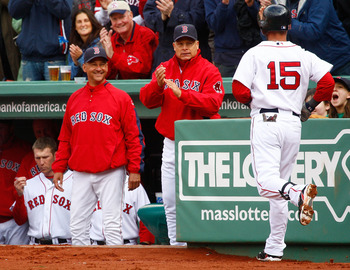 Jim Rogash/Getty Images
Brad Mills was the bench coach for Terry Francona and the Boston Red Sox from 2004-2010. His first year with the team will go down in Red Sox history as being the year the curse was officially broken.
He went on to win his second World Series ring in 2007, and this type of experience is invaluable for a manager. Having the opportunity to sit next to and learn from one of the better managers in Terry Francona can only help him when Houston is back in the playoffs.
Stays Composed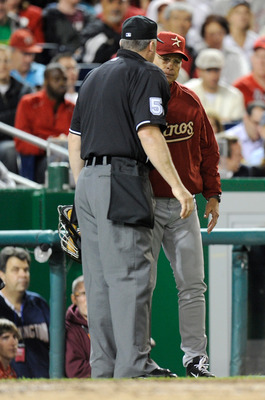 Greg Fiume/Getty Images
Everyone loves to see a manager lose his cool, but Astros fans shouldn't expect it to see it from Brad Mills.
Now some may see it as a weakness that Mills doesn't yell and scream and throw his hat, but it should be considered a strength.
When you are trying to teach young players to keep their cool in pressure situations and don't let it get the better of them, it becomes hypocritical if the manager is getting thrown out every other game.
Can Relate to Players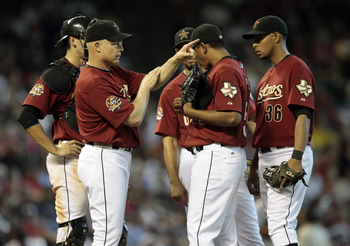 Bob Levey/Getty Images
In the middle of his first season with the team they traded away Roy Oswalt and Lance Berkman. Two players who were the face of the team for years.
It would of been easy for the team to close up shop and no one would have blamed them.
However, he kept them playing hard, finishing the season 32-27. Mills showed he is able to relate to his players and keep them motivated even though they really didn't have anything to play for at the end of 2010.
Holds Players Accountable but Keeps It in House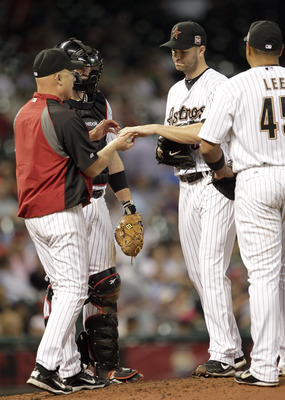 Bob Levey/Getty Images
Brad Mills doesn't show much emotion during the game and some fans may view this as being a pushover when it comes to holding players accountable. However, Brad Mills does a great job of holding players accountable but keeping it in-house.
When dealing with a young team, confidence is sometimes hard to come by and when they are called out to the media this can crush a player's psyche.
In an article written by Richard Justice of the Houston Chronicle, he asked a player if Brad Mills was a pushover and wrote:
The player proceeded to tell me about the time he'd failed to run out a ground ball, and even though he apologized on the spot in the dugout, he got it good behind closed doors after the game.
Teaches the Right Way to Play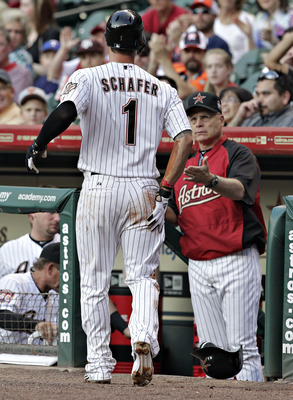 Bob Levey/Getty Images
It seems like Brad Mills legitimately enjoys teaching his players how to play the game and play the right way.
Some managers, like Joe Girardi—who has a veteran team—seems like they spend more time managing egos than helping players with fundamentals of the game.
With a young team like the Astros who are rebuilding, they need a manager who can help the younger players along and making them better as they gain experience in the big leagues.
This teacher mentality is perfect for the Astros and probably the No. 1 reason Brad Mills is the right guy for the job.
Keep Reading

Houston Astros: Like this team?