Chan-Sung Jung Only a Distraction from UFC's Big Little Problem
May 16, 2012

Recently, while discussing the future of The Ultimate Fighter and the potential for another heavyweight-focused season, Dana White firmly stated "The problem is that there aren't a lot of heavyweights...I need them in the UFC, not on The Ultimate Fighter."
The thing is, though, that the UFC's heavyweight division is hands-down the best it has ever been. The division has a good blend of both young and veteran talent, a strong (but still beatable) champion and a strong enough hierarchy that there has been a clear line of contenders since Antonio Rodrigo Nogueira beat Tim Sylvia in 2008.
The UFC is hurting for talent, yes, but not in the heavyweight division. The UFC's biggest problem right now is the lack of little guys in the featherweight, bantamweight and flyweight divisions.
Chan-Sung Jung's electrifying performance in the most recent UFC on Fuel TV event has the world ablaze. Even though there is plenty of talk about his exciting style and seemingly overnight development from a Chris Leben-style brawler to a well-rounded mixed martial artist, it really only serves as a distraction from the division's overarching problem.
To break it down to its simplest level, there simply are not enough quality fighters in the UFC's featherweight division to get a clear picture of who is better than who. Well, except that Jose Aldo is better than everyone else.
Look back a few years to the ascent of Cain Velasquez. Velasquez came into the UFC with a 2-0 record. He beat a trio of guys you likely have not heard of, but proved himself somebody not to be trifled with.
From there he beat an on-the-rise Cheick Kongo and followed that up against veteran IFL heavyweight Ben Rothwell. This set up a top-contender bout with Antonio Rodrigo Nogueira, which he won. Then, he beat Brock Lesnar to become champion.
He beat lesser opponents, then beat mid-tier opponents, then beat good opponents and then he became champion.
Simple, right?
The featherweight division, though, has such a small pool of fighters that anybody who can get two wins in a row instantly jumps into title contention, regardless of their past record or who they actually beat. Erik Koch is a perfect example of this.
Koch, who is slated to fight Jose Aldo at UFC 149, is presently riding one of the most unimpressive four-fight win streaks in the UFC. His first two wins came over WEC washouts Bendy Casimir and Francisco Rivera. His resume in the UFC is short, with two wins in two fights. His first, coming over Raphael Assuncao, who was 3-3 in the UFC and WEC as a featherweight.
His second victory, which ultimately put him over the top, was his victory over Jonathan Brookins in Brookins' first fight after winning the Season 12 of The Ultimate Fighter. The fight was by no means impressive, as the rookie ended up out-grappling Koch for the entirety of the fight. Though Koch ultimately got the decision by literally landing a few punches (to reiterate, literally a few punches), it was a very weak performance against somebody a title contender should have been able to dispatch with ease.
Chad Mendes was in a very similar boat, and was ultimately annihilated by Jose Aldo. Dustin Poirier? Same thing, with only one win over a fighter with a winning record under Zuffa employment (his 2011 win over Josh Grispi).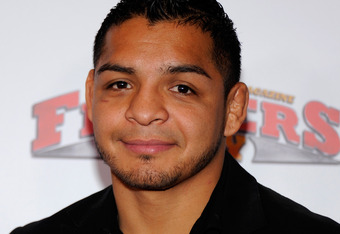 Ethan Miller/Getty Images
The UFC has only a few quality fighters in their featherweight division. Because of the simple fact that they cannot fight each other every time, the result is that any mediocre fighter is left to open cans, and beat down UFC newcomers. In fact, Poirier's fight immediately before Jung was against 20-year-old Max Holloway in just his fifth pro fight.
The bantamweight division is in a comparably bad spot. While their straits are not as dire due to a handful of proven fighters, guys like Chris Cariaso and Michael McDonald are sitting fairly close to a title fight without any noteworthy wins. The flyweight division will almost certainly be in the same exact spot within a year after the championship tournament wraps up.
The UFC really, really needs to inject some new talent into their three smallest divisions. Even with Chan-Sung Jung's impressive performance, his resume would still have him far away from a title shot in any other division.
The UFC seems to have noticed that there is a problem here, as they have been trying hard to get more talent here through The Ultimate Fighter reality show.
The show's 12th installment featured an all-lightweight class, with many of its alumni dropping a few more pounds to become featherweights. TUF: Live, which is also exclusively lightweights, will probably have similar results.
TUF 13 cut out the middleman and had featherweights and bantamweights share the stage. To top it off, TUF: Brazil features featherweights alongside middleweights.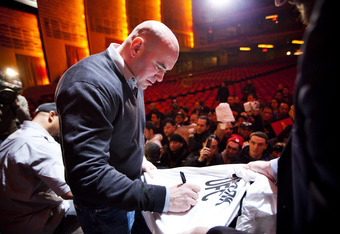 Michael Nagle/Getty Images
These fighters are a few years off from being fully groomed though, and they need to fill out the division right now. Fighters between 125-145 lbs are not extremely difficult to find in other promotions. DREAM, OneFC, Bellator and Tachi Palace Fights all have at least one fighter in B/R's top ten rankings in these three divisions, and adding somebody like Pat Curran or Tatsuya Kawajiri would help bolster those divisions.
Whether they need to be more aggressive with free agents, or whether they need to do a better job luring guys like Frankie Edgar to cut down to 145, they really need to do something.
This is a problem the UFC needs to solve immediately—but it has been lingering for so long that it is unlikely it will be solved any time soon. Just look at Urijah Faber and his four title shots in the last three years. There simply are not enough fighters to consistently produce compelling bouts.
That is really disappointing, as the little guys usually put up the biggest fights.