B/R Debate: Can Dolphins RB Reggie Bush Lead the League in Yards from Scrimmage?
May 16, 2012

Winslow Townson/Getty Images
After his first 1,000-yard rushing season, Reggie Bush's confidence is at an all-time high, but are his hopes too high as well?
The Dolphins running back told WSVN-TV, via the South Florida Sun-Sentinel, that he wants to lead the league in rushing in 2012.
This coming from a player who was a role player in the Saints' pass-happy offense as recently as 2010 and from a player who's had a hard time staying healthy for a full season throughout his career.
And while he may have a decreased role in the offense as a running back, his utility in the passing game and his explosiveness in the open field remain threats that Joe Philbin and Mike Sherman can and should incorporate into the offense.
So perhaps it's out of the question for Bush to lead the league in rushing, but could he potentially lead the league in yards from scrimmage?
To debate the topic, we bring in B/R Dolphins featured columnist Alex Miglio, an editor for stats and analytics website Pro Football Focus, who can also be found on Twitter.
As usual, the guest leads us off.
Alex: Bush has certainly set a lofty goal.
Last season marked the first time Bush reached the 1,000-yard mark, and he had never gotten close before. His previous high was 581 yards in his second year. It is a pretty big stretch to think this is a trend, but it is nice to see that he set that goal for himself.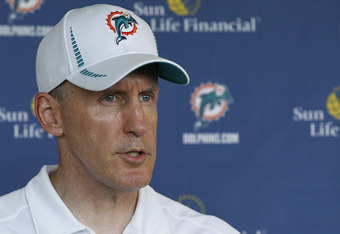 Joel Auerbach/Getty Images
One of the bigger issues is the new offense. The traditional West Coast offense actually utilizes running backs more than people think. Mike Sherman will be running a version of that offense, and if you look back at his running backs, you will notice a good trend.
When Sherman was the head coach for Green Bay, he helped Ahman Green have his most productive years, topping 1,000 yards each season from 2000-2004, including an 1,833-yard season in '03. He also caught 50-plus catches in four of those five seasons, dropping down to 40 in '04. Heck, even Samkon Gado rushed for 582 yards in just eight games in 2005 after Green was injured.
This all happened with Brett Favre at quarterback.
Ron Dayne had 773 yards rushing over just 13 games and eight starts in 2007 when Sherman was the offensive coordinator in Houston.
Fast-forward to Texas A&M where he coached the past four seasons, and you will see another positive trend. After an inaugural season that saw Mike Goodson lead the team with just 408 rushing yards, the Aggies increased their collective rushing yardage each season with Sherman.
Cyrus Gray, now a Kansas City Chief, as a rookie, topped 1,000 yards in each of the past two seasons on 198 and 200 carries, respectively, for Sherman at Texas A&M, and he averaged over five yards per carry (YPC) for his career in college.
What does this spell for Bush? An honest shot to make good on his promise, if you ask me.
Erik: Aaron Nagler brings up a good point that the Packers didn't utilize running backs in their offense as much more than extra blockers in the passing game last year, but it seems like Mike Sherman will have the bigger impact on the offense; that is, if you believe Ryan Tannehill that 80-85 percent of the offensive playbook is similar or the same as it was at Texas A&M.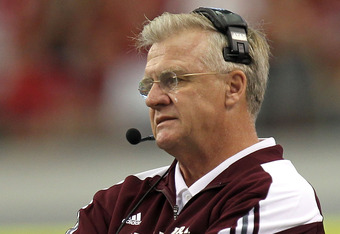 Ronald Martinez/Getty Images
As you pointed out, though, the stats indicate that Sherman likes to utilize his running backs, but although the playbook comes mostly from Texas A&M, it remains unclear which coach's philosophy will have the biggest impact for the Dolphins. Even if it's Philbin, though, that's not the death knell for Bush's chances to lead the league in yards from scrimmage.
The Packers had at least one back break the 1,000-yard plateau for yards from scrimmage from 2007-2010, four of Philbin's five years as coordinator. All that occurred with much better QB play than the Dolphins will likely get in 2012, and they never had a back with the explosive abilities of Bush.
But one thing is clear: Bush is the best, and perhaps the only, offensive weapon the Dolphins have. Who else is going to carry the load for the Dolphins offense? With that being said, though, Bush may be at a disadvantage simply because of the Dolphins lack of additional weapons, which will likely have defenses keying in on Bush more often than not.
To lead the league in rushing is one thing; to lead the league in yards from scrimmage is something else. The league's leading rusher is typically a back who can be counted on for 20 or more carries per game. A leader in yards from scrimmage is a weapon in both the running and passing game. With his new attitude of aggressively hitting the hole in the running game and the utility he brings in the passing game, Bush has the tools to lead the league in YFS.
Alex: I do agree that Bush is probably the best weapon Miami has on the offense right now, which is telling. It is important for the offense that he build on his successful 2011 campaign. If he does, he might win himself a long-term contract from the team.
No doubt, if the Dolphins plan to use Bush plenty as a pass-catcher—as they should—he could have a shot to lead the league in YFS. Last season, Bush caught just 43 passes, which would have been a career low had he not played just eight games in 2010 due to injury. If he can get to 60-plus catches at 8 YPC or higher, look out!
Erik: He's certainly physically capable, and schematically, it would also seem that it's in the cards for Bush to lead the league in yards from scrimmage.
But to maximize his ability to do so, he'll have to do something he hasn't done any year except his rookie year: stay healthy for a full 16 games. If he can do that, there's no question he has the ability to lead the league in yards from scrimmage.
Whether he actually does or not, though, it's clear that he'll be a great tool in the growth of Tannehill, especially if Sherman and Philbin are as dedicated to making this an easy transition for Tannehill as it seems they are.
How likely is he to lead the league in yards from scrimmage, though, if the Dolphins have no other offensive weapons? How much will opposing defenses key in on Bush?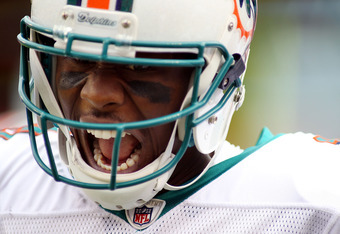 Marc Serota/Getty Images
Alex: True, the Dolphins traded Brandon Marshall away and replaced him with Legedu Naanee, B.J. Cunningham, Rishard Matthews and Jeff Fuller. This does not mean Miami is devoid of talent around the offense, though.
Miami thinks highly enough of Brian Hartline that they want to re-sign him before the season starts. Whether or not Hartline can be the man will be interesting to see—he has not lived up to his potential thus far, but a new system that favors guys like him could be a big help.
Davone Bess was up and coming, but the Dolphins have underutilized him in recent years, stunting his growth. The hope is that Philbin can get him back on track to being a good weapon.
Anthony Fasano, Charles Clay and Michael Egnew should provide some solid options down the seam for the Dolphins as well.
Taking off my aqua-and-orange-tinted glasses here—the Dolphins are not the Packers, yes. It might be tough sledding for them after all, meaning stacked boxes against Bush.
They should and probably will move him around to help him, however. He might even be in formations that include Daniel Thomas or Lamar Miller. 
Erik: And as you pointed out earlier, the West Coast offense plays into a running back with Bush's skill set. Look at LeSean McCoy for an example of what a back can do for an offense in that style.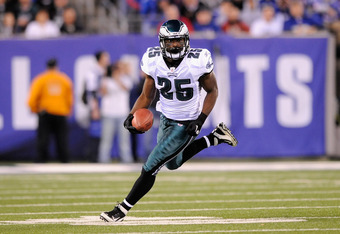 Patrick McDermott/Getty Images
Backs like Ray Rice, Ryan Matthews and Matt Forte are all examples of what a big difference a back can make, especially when that back comes with the ability to catch passes out of the backfield.
The offense functions as a unit, though, and if the other pieces aren't getting it done, it may be difficult for Bush to carry the load on his own.
But don't tell that to Maurice Jones-Drew, who has finished in the top 10 in yards from scrimmage every year since 2009 despite not once having a receiver with over 1,000 yards. In 2011, MJD ranked second in yards from scrimmage despite no receiver with over 500 yards receiving.
It's not impossible, but Bush's job gets a lot easier if the Dolphins can open things up around him. But being that he's the best offensive player the Dolphins have, he could certainly have enough opportunities with the ball to lead the league in yards from scrimmage.
Alex: Indeed. While I do think it is a bit of a stretch, we have certainly proven it is attainable. I think Miami's offense is going to surprise many. They are not ready to light up the league, but they should be better than expected.
Reggie Bush should be a big reason.
Erik: And with that, I think our debate has come to a close.
Thanks for joining me, Alex, and we'll join forces again for a Dolphins debate in the near future.
For the readers, check back at the AFC East blog every day for more debates around the AFC East.