Denver Broncos: New Additions at Tight End to Carry the Offense in 2012
May 16, 2012

Andy Lyons/Getty Images
Peyton Manning was the biggest offseason acquisition the Denver Broncos made this year, and his arrival prompted a series of other moves that ultimately will improve the team in 2012.
Within twenty-four hours Manning's signing, the Broncos had shipped Tim Tebow out of town to the New York Jets. Two more additions following Manning's grand entrance: a set of new tight ends, Jacob Tamme and Joel Dreessen.
Many predicted that the Broncos would bring in one of Manning's greatest assets during his career in Indianapolis, Dallas Clark, who was also available in free agency. However, Clark has been increasingly riddled with injuries the past few seasons, and an upgrade in the duo of Tamme and Dreessen will prove to be an invaluable set of weapons similar to Aaron Hernandez and Rob Gronkowski in New England.
Last season, the Broncos tight ends never really consistently produced. Dante Rosario frequently dropped balls and besides late in the 4th quarter, Daniel Fells' presence on the field was mostly absent.
Tamme and Dreessen figure to have career years with Peyton Manning under center. Tamme and Manning have a history dating back to his time in Indianapolis in Dallas Clark's shadow. This season for Tamme, however, will be his coming out party.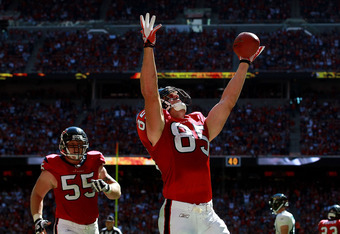 Ronald Martinez/Getty Images
Passing in general this season is going to be up with Manning running the show. Look for Tamme's targets to skyrocket after the Colts' ineffective quarterback committee only looked his way 31 times last season. I see that number to possibly quadruple in 2012 up to around 120 targets in 2012. With opportunities like that in 2012, he may even break the 1,000-yard mark if he can average 8-10 yards per reception.
Joel Dreessen is another offensive weapon that has gone under the radar in Denver after Manning's signing in late March. Dreessen will be the other guy opposite of Tamme who will be a huge addition in both the blocking game and receiving. Dreessen is a major upgrade over Daniel Fells or Dante Rosario. He will likely not see as many opportunities as Tamme, but he has sure hands and could see his targets increase from 2012 to about 70 targets and maybe 500-600 yards.
Both of these tight ends can score too. I see Tamme getting 10-15 touchdowns, especially in goal line situations. The Manning-led Broncos are likely to run a lot of quick outs along the goal line where either of these tight ends have sure hands and enough mass to barrel over the pile on.
Broncos' receivers Demaryius Thomas and Eric Decker will get their looks too, but I expect the improved play at tight end for the Broncos are what will make the greatest impact on the offense in 2012.
After signing Manning, Executive VP of Football Operations, John Elway's best moves this offseason has been Tamme and Dreessen, who are probably the best tight ends the Broncos have had on the roster since Shannon Sharpe left to join the Baltimore Ravens in 2004.