What Will Joseph Addai Bring to the New England Patriots?
May 16, 2012

Andy Lyons/Getty Images
The New England Patriots may not get a ton of production out of Joseph Addai. They may not get very much production. They may not get any at all.
But there were plenty of good reasons to bring him onto the roster anyway.
What exactly does he add to the team?
Well, if nothing else, he's a camp body.
Addai has had a hard time staying healthy, missing 13 games in the past three seasons and 18 in his career. He has played 15 games twice, but has only played a full 16-game season once in his career—his rookie season.
And while Addai has had an up-and-down career from a production standpoint, both his presence on the roster and New England's penchant for a backfield-by-committee should be enough to give second-year backs Shane Vereen and Stevan Ridley a bit of a competition at camp.
Not only that, it also gives them a mentor to go to. Which brings me to my next point.
Addai is the oldest and most experienced back currently on the Patriots roster, edging out Danny Woodhead by two years in age and three years in NFL experience. (In case you forgot, Kevin Faulk still hasn't been re-signed by the team.) Vereen and Ridley are both in their second year in the NFL. If they are the future for the Patriots at running back, they'll need guidance as they take on a bigger role in the Patriots offense. Addai could be just the right back for the job.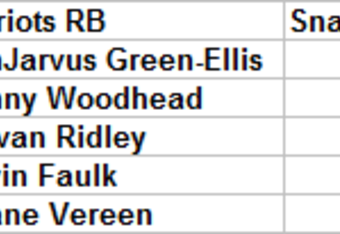 While he's not as reliable as BenJarvus Green-Ellis was, he rarely fumbled the ball (seven times in his career). Also, he was versatile as a pass-catcher and was consistently a top option as a checkdown for Peyton Manning, catching 81 passes in his first two seasons and 191 in his six-year career. Addai will coach that type of versatility to Vereen and Ridley, but he could also contribute a bit of that on his own—if he has anything left in the tank and if he can stay healthy.
But even if he's not a big presence on the field, he can still have a big impact on the team. After being brought in during the 2010 offseason, tight end Alge Crumpler caught six passes for 52 yards and two touchdowns in 2010. Still, he made his impact by helping to mentor then-rookie tight ends Aaron Hernandez and Rob Gronkowski. 
Addai, like Crumpler, may no longer be a dominant player at his position, but he still has the experience and wisdom he's learned from his journeys. The leadership and guidance he can provide the younger backs on the roster will be just as valuable as any on-field production they could ask for.