Dani Alves out for Copa Final, Possibly Olympics: Is Barca Selling Him Soon Too?
May 16, 2012

FC Barcelona right wing back Dani Alves suffered a broken collarbone at practice earlier today and is out for the Copa Del Rey Final.
The 29 year old Brazilian underwent surgery Wednesday evening by famed Barcelona surgeon Dr. Carles Torrens. Typically, a broken collarbone usually takes about eight to ten weeks to heal with physical therapy along the way.
After the successful surgery, FC Barcelona stated on their website that Dani will be out six to eight weeks.
This injury puts Dani's Olympic Games participation in question as well. With Brazil's first game scheduled on July 26 against Egypt at the London games, Dani will need to be a quick healer.
This has been an up and down season for Dani as he's had everything from brilliant goals to being benched to rumors being spread that he will be sold in the offseason. Dani was sent off in the final Liga game against Real Betis last week.
This injury puts an end to his soap opera season.
This injury caps off a nightmare season for the Barcelona back line as well. All of the originals starting defenders have been sidelined for an extended period of time this season. The Eric Abidal situation was different as his situation was not an injury. Injuries to Carles Puyol, Gerard Piqué, Andreu Fontas, Adriano, and now Alves has Barcelona thinking defense for the summer transfer period.
With Alves out, look for young Martin Montoya to start in place of Dani. Montoya is called by many the next Dani Alves and has played well when he's been on the pitch this season with the first squad. As I mentioned in my previous article "Handing Out FC Barcelona's End of Season Awards", I selected Montoya as the rising star to look out for in 2012-13. A solid performance in the Copa final will not only help his confidence going into the offseason, it'll give his teammates and Tito Vilanova confidence in Martin as well.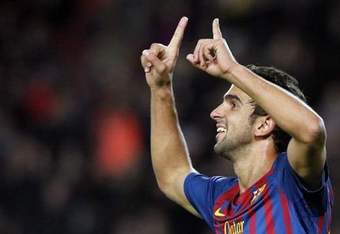 One question that will now be asked by many is if Dani Alves has played his last game in a blaugrana kit. Rumors began buzzing about Dani possibly being sold this summer ever since Pep Guardiola benched Alves a few weeks back. Rumors out of Catalunya have spread that the club would seriously consider selling Dani Alves sooner rather than later. With Martin Montoya seemingly ready to be a starter, the chances of the team selling Alves appears to be higher than any other starting XI Barcelona player being sold this summer.
Nonetheless,Barcelona sporting director Andoni Zubizarreta has stated that no Barcelona player is available via transfer and no offers have been made for Alves' services.
"We do not have any players who are available for a transfer, and we have not received any bids for (Gerard) Pique or Dani Alves."
Then again, these kinds of statements must be said by club officially at times. Things can always change.
Recently, Pep said at a press conference that he doesn't believe Alves should leave FC Barcelona.
"It's not my call answering questions about his future," said Guardiola. "From my point of view Dani Alves is an irreplaceable player. He's contribution to the team is fantastic. He's been a pivotal player for Barcelona during the past years and I hope can continue to be so in the future."
I agree with Pep. While Montoya is seemingly ready to be a starter, he's still a year away from being fully prepared to take over the RB spot. Dani should stay with the team for one more season, then I would expect the club to let him go.
Then again, stranger things have happened. At 29, this is probably the best time for Sandro Rosell to sell Dani Alves as his value will not be getting any higher.
But I say keep Dani.
We'll see what happens.
Stay strong, Dani.
Anims Dani.
Animo Dani.
Xoel, The Voice of FC Barcelona on Bleacher Report and Featured Columnist for Spain for Euro 2012.
Follow me on Twitter:@XoelCardenas
Don't forget to check out my other columns:
FC Barcelona: Handing Out the End of Season Awards 

FC Barcelona Interested In Signing Sergio Araujo

Euro 2012: 3 Candidates to Replace Carles Puyol in Spain's Starting XI