Terrence Jones: Highlights, Analysis and Pro Projections
June 11, 2012

Streeter Lecka/Getty Images
Terrence Jones is a versatile forward who hurt his stock a bit by coming back to school for his sophomore year. He did, however, gain the experience of playing for a national champion as his Kentucky Wildcats won it all. 
The 6'9" Jones is a versatile player, but almost all of his numbers dipped in his second season in Lexington. Much of that can be attributed to the great talent he played with, but he appeared to struggle to find his place at times last year.
He and the rest of the key Wildcats underclassmen made themselves eligible for the NBA draft on April 18.
Here is a scouting report on Jones highlighting his strengths and weaknesses.
(Height, weight and stats per statsheet.com)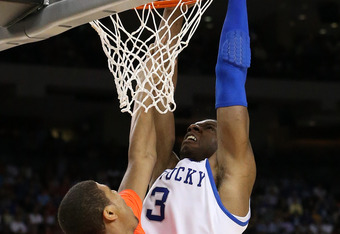 Ronald Martinez/Getty Images
Profile
Height: 6' 9"
Weight: 252 pounds 
School: Kentucky
Date of Birth: January 9, 1992
Best NBA Position: Small Forward
College Stats: (Key Stats Underlined) 12.3 PPG, 29.3 MPG, 50 FG%, 32.7 3FG%, 62.5 FT%, 1.3 APG, 7.2 RPG, 1.8 BPG, 1.3 SPG
Skill Grades
Athleticism: B+
Size: A+
Intangibles: B-
Rebounding: A
Ball Handling: A-
Defense: A+
Shooting: A
Passing: B-
Post Game: A
Basketball IQ: B+
Upside: A
Strengths
Jones is a beast of a SF physically. He is 6'9" and weighs close to 250 pounds. That size should be an asset to him in the post, and on the defensive end. Jones is a willing and very capable defender.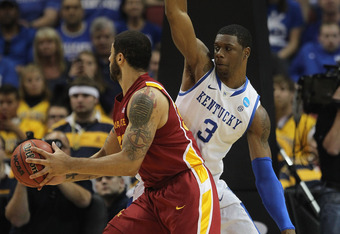 Jonathan Daniel/Getty Images
His size and mobility allows him to defend both forward spots, and he is disciplined on defense, remaining tall against smaller players. He's also a very good rebounder for a SF. The seven boards per game in college is indicative of the type of output he could produce in the NBA.
He handles the bell pretty well in the open floor, and he has legit NBA three-point range. Jones also has the strength and touch to score on the post. He has a very nice package of skills, and though his numbers dipped last year, he showed he could be unselfish in sharing the load.
Here is an example of Jones at his best:
Weaknesses
Jones is not an elite run-and-jump athlete. He is by no means a stiff, but at the SF position you look for a little more bounce ideally. Jones can let his emotions get the best of him on the floor at times, he'll have to watch his reactions after big plays in the NBA.
It's a wonder that he wasn't called for more taunting technicals; he does a lot of posing after dunks. It's not an aspect of the game that drives me crazy, but it can cause silly technicals that hurt a team.
Jones can also work on passing out of the double-team on the low-post. I believe he should play the SF position in the NBA, but because of his strength he's a solid post option. In that situation in college he did not show great vision in finding his teammates.
NBA Player Comparison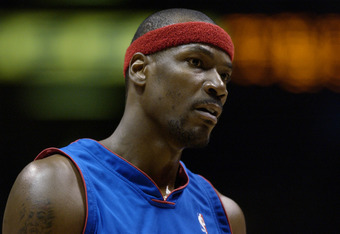 Ezra Shaw/Getty Images
Stronger Clifford Robinson
Robinson was a solid player that had great longevity in the NBA because of his versatility on both ends of the floor. In his 18-year NBA career, Robinson averaged 14.2 points and 4.6 rebounds per game for five teams.
Robinson used his length to make himself a solid defender. He made two NBA All-Defensive teams (1999-00 and 2001-2002), won the Sixth Man of the Year (1992-93) and one All-Star appearance (1994).
Robinson could shoot from the outside, and despite his height he was more comfortable from the perimeter. Jones is similar, but he does bring a bit more power to his game than Robinson did. There biggest similarities are on the defensive end, as Jones has the potential to be the same type of standout defensive player.
Draft Projection
Late Lottery to No. 20
Follow Brian Mazique and Franchiseplay.net for reactions, analysis and news from the world of sports and sports video games.