Why the San Francisco 49ers Will Win the Super Bowl in 2012
May 16, 2012

Jed Jacobsohn/Getty Images
It's never too late to project greatness, especially in San Francisco.  Especially when the 49ers have been virtually irrelevant for the past decade.
They are no longer that "almost-there team," but in fact a team that's ready to go for a legit run and win it all in 2012.
In other words: last year was not a fluke.  It was a blasting white light at the end of what was a long, ugly, tunnel of Shawshank Redemption-like proportions.
Sure, there is really no way of knowing what can and will happen, but there are too many intangible factors to ignore when it comes to the Scarlet and Gold.
There are just too many good signs and too many good things going on in San Francisco for next year to be a disappointment.  
There is an oblong checklist of historical precedents that must be met in order to realistically win a Super Bowl.  The 49ers have most of them checked off with only one major area of concern remaining: Alex Smith.
Other than that, all stars have seemingly aligned for a very memorable 2012 season.
The 49ers Will Have the Best Defense in the NFL
This point would be the hardest to argue and simply the most fun to talk about.  Yes folks, the 49ers are going to be the best at something again and that thing is defense.  Please, name a team that will have a better defense than the 49ers next year.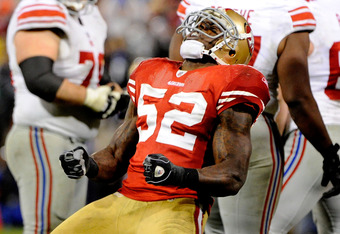 Thearon W. Henderson/Getty Images
I dare you.
The Ravens?  Just lost Suggs.
The Steelers?  Are gutting out the old for the new.
The Texans?  I'll take our guys over theirs any day of the week and of course, twice on Sunday.
Still don't buy it?  Then here's my club to thump over your head: The 49ers barely blitzed last year.  Not because they couldn't or didn't want to but because they simply hadn't opened that part of their playbook yet.
Uh-oh.
So, you're telling me that the top-notch, run-stuffing, quarterback-smothering defense from a year ago is going to be running crazy blitz schemes this year in addition to returning all their starters?  
Super Bowl check mark No. 1, thank you very much.
Oh, and let's not forget the fact that we'll have the best special teams again too.
The 49ers Offense Will Actually Score in the Red Zone
Think about it.  Last year's everything plus two more touchdowns a game.  That's it really.  Just two more touchdowns a game and you might even be looking at an undefeated season.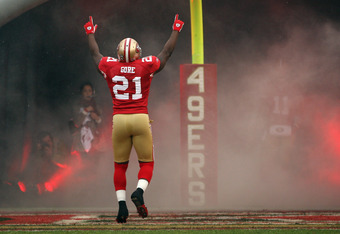 Ezra Shaw/Getty Images
Sure the offense needs more than just a red-zone tuneup.  They need receivers and third-down conversions and Alex Smith to improve (accuracy and sacks especially).  
But with a full offseason and more weapons, it's inevitable that their red-zone offense improves.
And with two more touchdowns a game, complemented with the defense to stomp all defenses...
Super Bowl check mark No. 2.
The 49ers Will Have One of the Best Locker Rooms in the NFL
One of the first things Jim Harbaugh did when he became the head coach of the San Francisco 49ers was restore a locker room that had been stained by Mike Singletary.
The moonings, the long-winded speeches about nothing and the losing had players apart from each other and forming cliques.
During training camp, Harbaugh mandated that players eat lunch with a different teammate everyday.  Harbaugh would then "quiz" the players on what they learned about their teammates as he worked his way around the room, sitting with each pair individually.
Harbaugh also implemented roommates, something that this generation had never seen before but the Super Bowl generation 49ers knew all too well.
The locker room became very "self-policing" and united.
As the 49ers brass have added players during 2012, they had subtly addressed how happy they are with the current locker-room dynamic and how important that is to sustained success.
In short, the San Francisco 49ers are a team in every sense of the word.
Super Bowl check mark No. 3...checkmate.