Chris Bosh Injury: What Does LeBron James Have to Do to Carry Miami Heat?
May 16, 2012

Mike Ehrmann/Getty Images
Miami Heat All-Star Chris Bosh is now on the sideline indefinitely, and it will take a more aggressive leadership role from LeBron James on both ends of the floor for this team to win a 2012 NBA championship.
According to ESPN.com, Bosh is now diagnosed with an abdominal strain after revealing his MRI results. He would go down with a dunk down the middle of the paint in Game 2 of the Indiana series, after he pushed off his right foot and eventually came down wincing in significant paint in his core area.
Having no Bosh has already taken a major toll on this team, as they scored just 75 points in a three-point loss to the Indiana Pacers in Game 2 of the Eastern Conference semifinals without their top-notch power forward.
The absence of Bosh is a critical one in this series, leaving the Heat especially shorthanded in the rebounding and scoring department. In 10 games without him this season, including the Game 2 defeat, the team is just 4-6 and averages nearly 13 points per game fewer per contest.
James is the one player that can get the Heat past this major obstacle and back to contending for an NBA championship.
This postseason, James has been playing as well as any player in the league. He is averaging a whopping 28.5 points (leads playoffs), 7.7 rebounds and 5.5 assists (No. 4 in playoffs) per game. What's all the more impressive? James' 28.2 efficiency rating is easily the highest of any player in the postseason.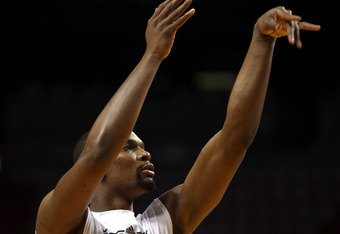 Marc Serota/Getty Images
Individually speaking, his scoring and rebounding have been integral to the success of this team and arguably as good as they can be.
Yet it will take an aggressiveness and outright assertiveness on both ends of the floor for this team to continue to roll this postseason. That does not mean James should look to score more often. Nor does it imply that his numbers aren't good enough as is (far from it).
In order for the Heat to contend for a championship without Bosh, other players will have to get it done, and it will takes James' leadership and high basketball IQ to get his teammates playing better basketball.
The Game 2 loss was a telling one, as 31 of the 37 second-half points for the team came from either Dwyane Wade or James. To score those remaining six points, the rest of the Heat would shoot just 13 percent from the field.
That's right, a mere 13 percent effort from Mario Chalmers, Joel Anthony, Mike Miller and the rest of the Heat team.
Although it is important for them to simply hit more shots, it will be important for James to encourage them to find their sweet spots and continue to shoot the ball. Wade and James had two of their better performances this entire postseason, and even still the team scored less than 80 points and lost the game.
As great as James can play individually, that is far from what will get this team to win an NBA championship. A title in South Beach will come as a result of a team effort, as James' focus now should be getting the troops to step up their games and get the Heat winning games.
If there's one talent that has the potential to make his teammates better in this integral moment for the Heat, it is James. If he gets more aggressive as a leader and teammates respond, the Heat's title chances will rise once again.