Can Detroit Trust Drew Smyly in the Playoffs If Max Scherzer Never Rebounds?
May 16, 2012

Leon Halip/Getty Images
The rookie Drew Smyly and now more veteran-like Max Scherzer have traveled different paths for Detroit in 2012.
The Tigers were expecting a solid season from Scherzer as their No. 3 starter and were hoping that the 22-year-old Smyly could simply settle in and get comfortable at the major league level after having only one year of limited minor league action.
While they've certainly seen the latter fall into place, the former continues to have the same up-and-down season his ball club has experienced as well.
At 18-18 and nearing the quarter-season mark, Detroit cannot be satisfied with what Scherzer has given them thus far—a roller-coaster season of up-and-down consistency. Scherzer looked sharp in his previous two outings against the White Sox and A's, providing quality starts for a team desperate to avoid use of their taxed bullpen. Still, he couldn't get out of the fifth yesterday against Chicago on the road.
The difference between the quality starts and the outings that see him not make it out of the first half of the game have everything to do with his ability to spot his pitches and be in control of the pace of the game.
Facing Chicago a week ago at home and then the A's in Oakland, Scherzer was spot-on, rendering only three runs while striking out 18 and allowing just three walks in 13.1 innings of work.
Yesterday, Scherzer was tagged early and often by a potent White Sox offense that knocked him from the game in the fifth after facing just two hitters and failing to get an out. Before getting yanked, Scherzer had already been tagged for eight hits and five runs. He struck out just three and allowed an equal number of walks as well.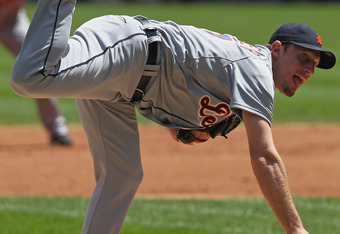 Jonathan Daniel/Getty Images
This pitching dilemma begs the question of who the Tigers can invest their greatest trust to on the mound come playoff time—of course, it will require a visit to the postseason for the proposition of this question to even matter.
Notwithstanding the expectation that ace Justin Verlander and No. 2 man Doug Fister can get a playoff team out of the gate strong, Detroit will still need at least one more pitcher to perform well to give them a fighting chance at playoff glory.
Enter Drew Smyly.
Without burying anything too deep into Smyly's last outing, where he was touched up for twice as many runs (four) as he's given up in any one start all season, Smyly has otherwise pitched far beyond expectation for a young rookie. His. 2.31 ERA is still one of the best in the league among starting pitchers.
In 39 innings of work this season over seven starts, Smyly has struck out 38 while walking 11 and going 1-0, a nice ratio for someone who just two years ago was throwing for the Arkansas Razorbacks.
Opposing offenses are hitting just .225 against Smyly, and he provided a stretch of five quality starts in a row, allowing no more than two runs in any one outing.
Comparatively, Scherzer is an unsavory 2-3 with a 6.26 ERA in eight starts. He's struck out an impressive 48 hitters, but he's also walked 18 over 41.2 innings of work—numbers that pale when slotting them next to Smyly's performances on the hill.
The ugliest of Scherzer's less-than-stellar stats is the failure to get his team the type of innings that lead to consistent quality starts. He's been knocked out of four of his eight starts before seeing the sixth inning, three times never making it out of the fourth.
For a hurler the Tigers expected to be a difference-maker this season, those types of numbers aren't going to amount to anything but mediocrity.
Smyly, on the other hand, has been efficient and well in control of his command on the mound, spotting pitches with great regularity and controlling both the tempo and a more consistent outcome of the performance despite his lack of wins. For the most part, the lack of wins is a result of poor bullpen pickups after putting the Tigers in a position to win. 
Without losing perspective—there is a long season still yet to be played and Scherzer has shown signs of improvement—Smyly has been nearly lights-out and should be in serious contention for Rookie of the Year honors should he continue his mound dominance.
If Scherzer never rebounds and continues his wildly-opposed performances, it would seem only natural that Smyly will make his way up the ladder of expectation and be given greater responsibility as the Tigers look to position their team for a playoff run.
Despite their desire to keep a tight leash on the number of innings Smyly's worked during his first major league campaign, Detroit will be left with little alternative than to lean on the kid to be the difference.