New Orleans Saints Training Camp: Top 3 Position Battles to Watch for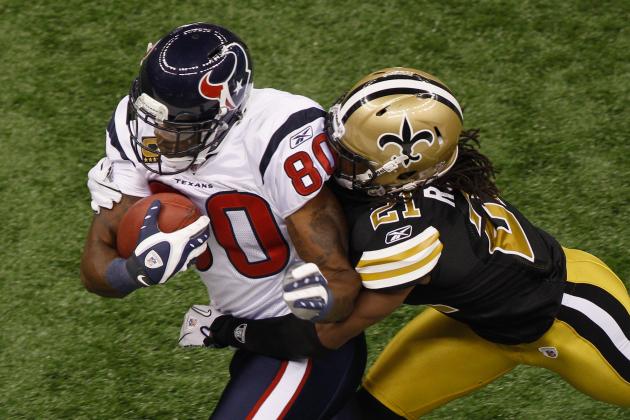 Chris Graythen/Getty Images

OTA's are in full swing, and there are a few starting positions up for grabs in NOLA. The departures of Tracy Porter and Robert Meachem have left the door open for quite the competition on those fronts. Also, if the Will Smith suspension holds up, the Saints will be having an open competition to find the starter opposite Cameron Jordan for the four games.
I'm not including the open wide receiver position left by Meachem for the simple reason that Drew Brees spreads it around so much that it doesn't matter who the starters are. I used the same logic with the running backs. There's no official starter in that group. It goes by matchups every week.
For a 13-3 team, the Saints will have a few more open starting spots than usual, but they also have the depth to prepare for it. If the players weren't on the roster, Mickey Loomis worked hard to stock up the cabinet either through free agency or the draft. With all of this talent in NOLA, it doesn't really matter who starts because the Saints will always "Finish Strong."
Begin Slideshow

»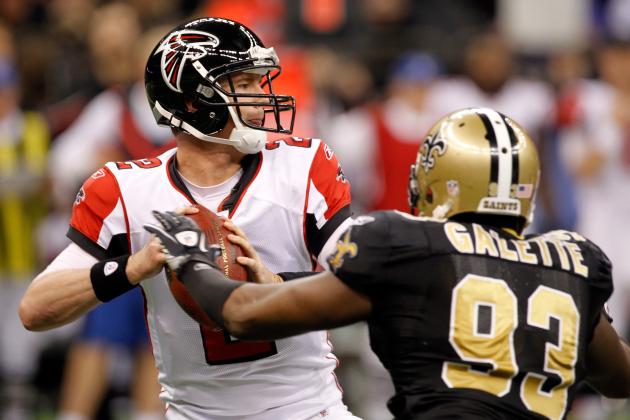 Chris Graythen/Getty Images

As of now, Will Smith is suspended for the first four games because of his "participation" in the bounty scandal. His absence will be filled by someone who is currently on the roster unless the Saints somehow are able to trade for Osi Umenyiora. Let's see who's left to hold down the fort.
Candidates:
Junior Galette, Greg Romeus and Turk McBride
Those three names might not relieve a lot of stress, but, with new defensive coordinator Steve Spagnuolo around, I can see the first two names on that list making huge strides this year. McBride might be the veteran, but Galette and Romeus offer something that McBride lacks: pure pass-rushing ability.
Romeus is coming off a "redshirt" year last year because of an injury that happened late in his college career and lingered over in the pros. The Saints were aware of that when they drafted him and were willing to wait a year to cash in on the goodies.
Galette is coming off a 2011 campaign that saw him appear in 16 games with one start. He used his opportunity to post a career-high 4.5 sacks and could be the reason the Saints didn't address the defensive end position in the draft or free agency.
My Pick: Junior Galette
Also, don't be surprised when Spags uses outside linebacker Martez Wilson in the role that Mathias Kiwanuka has had in New York: Outside 'backer on rushing downs and with his hand in the dirt on passing ones.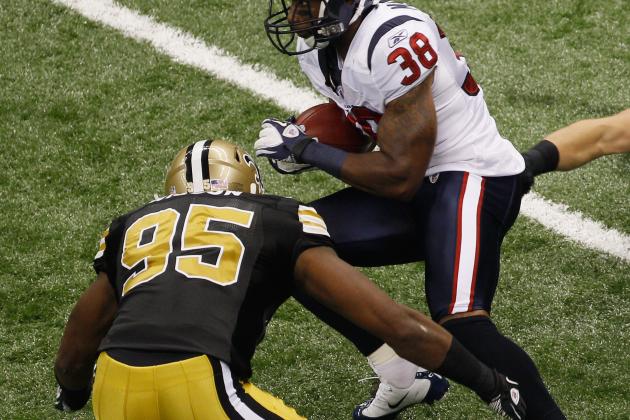 Chris Graythen/Getty Images

The Saints turned one of their worse areas of need in some time into an area of strength in the matter of a few weeks. It's like New England up there stockpiling receivers. New Orleans has nine outside linebackers on its roster after last week's mini-camp. David Hawthorne is set to play on the strong side with Curtis Lofton in the middle, but how about the weak side?
Side note: If Jonathan Vilma's suspension is overturned (don't hold your breath) this competition becomes a moot point. At that point, it would be Lofton and Hawthorne on the outside with Vilma in the middle.
Candidates:
Chris Chamberlain, Martez Wilson, Jonathan Casillas
I have taken Scott Shanle and Will Herring out of the running because I don't think they will make the final roster. The only thing keeping Shanle around was his familiarity with Gregg Williams' defense, and Herring was nothing more than an injured disappointment last year. Spags went out and brought some of his defensive players with him from St. Louis.
The most intriguing is Chris Chamberlain. I don't like to brag, wait, yes I do, but I called the Chamberlain signing as soon as Spags was signed. Chamberlain could be the next diamond-in-the-rough that Loomis and co. uncover. Chamberlain already has a leg up on the competition but will have to fight for the starting spot if Wilson and Casillas have anything to say.
Wilson came on strong at the end of the season. He really started to show his pass-rushing presence during the Saints' two playoff games. If he doesn't grab the starting spot (he played strong side last year), look for him to play with his hand in the dirt on passing downs. Casillas is a long shot because of his injury history, but he has started in the past and has the skills to do so.
My Pick: Chris Chamberlain
Thearon W. Henderson/Getty Images

Tracy Porter took his talents to the Mile High state and left a hole in the starting lineup back in New Orleans. It's up to Patrick Robinson and Johnny Patrick to vie for that position.
Candidates:
Johnny Patrick and Patrick Robinson
Patrick Robinson has the leg up and stepped in last year when Porter was out. Robinson showed his playmaking ability with four interceptions and 15 passes defended. He will get first crack at the starting lineup, and deservedly so.
Don't sleep on Johnny Patrick, though. He was chosen in the third round for a reason. If he doesn't beat out Robinson, he could be very valuable in the slot with the growing passing trend in the league. If he stays healthy he can make a major impact in a thin secondary.
My Pick: Patrick Robinson