Top 10 Priority Free Agents the New Orleans Saints Need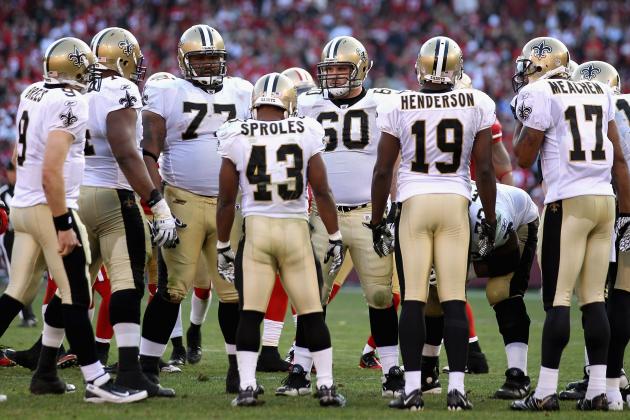 Jed Jacobsohn/Getty Images

The Saints made a big splash year in free agency, signing guys like Darren Sproles, Aubrayo Franklin and Olin Kreutz (however brief his time in New Orleans was). They were showing people that they weren't going to sit back and be content. They struck quick in the free agency period, and struck often. It was amazing the quality of talent the were able to bring in with a limited amount in cap space.
This year will be no different. I map out the priority free agents (with the team or not) that will help this team be the first to be a true "home" team in a Super Bowl. When a coordinator is replaced, the person that takes his place will usually bring in guys who will match his scheme and who he is familiar with.
I also foresee the Saints taking on some cap casualties from disappointing teams who are overpaid for rebuilding teams, but who could come to New Orleans with a cheap price tag, a la Franklin.
So, you probably won't see the Saints go crazy this year in free agency, but who knows? Did anyone see that Sproles or Franklin signing coming?
Begin Slideshow

»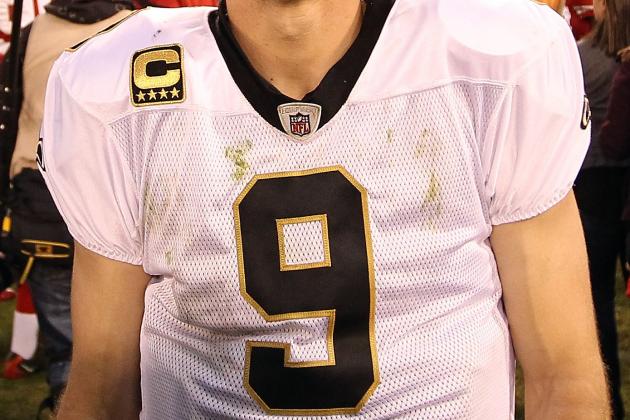 Ezra Shaw/Getty Images

The Saints have plenty of top notch free agents of their own in Tracy Porter, Marques Colston and Carl Nicks, but none of those hold a candle to the importance of resigning Drew Brees. He is not only a future Hall of Famer, but he is also the face of this organization and city. He will start all the dominoes in the Saints' free agency game.
Once he is signed and secure, the Saints will then concentrate on restructuring deals within the team to have more cap space to re-sign key members of the team or go after new blood. My guess is that they only wind up with the capability to re-sign only one of those guys, and the rest will be an influx of new talent.
Streeter Lecka/Getty Images

After Brees, there is one more internal question to be asked at Saints HQ. Which of our other high-priority free agents do or can we re-sign? My guess would be that Carl Nicks is on top of that list, followed by Marques Colston and Tracy Porter. Nicks holds much more value in the team's eyes because the interior lineman in this offense matter the most upfront.
When you have Jermon Bushrod (I know he's a Pro Bowler, but so was Jon Stinchcomb) and Zach Strief as your tackles, the interior of the offensive line has to be that more important.
It also helps that Nicks, the former tackle prospect, is the best guard in the game, and teams up with Jahri Evans to be the best guard tandem in the league. He is also the only one out of the aforementioned free agents that I see the Saints using the Franchise Tag on. Franchising Nicks would give the team longer to work out a deal, or at the very least trade him and get value back, and use the freed-up cap space on someone else.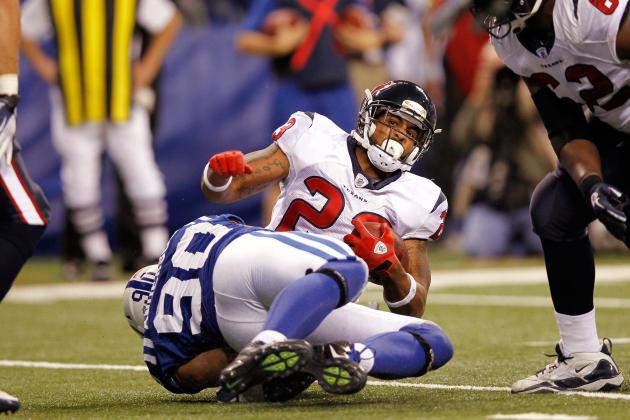 Joe Robbins/Getty Images

The Saints need quality depth at the defensive end position that can get to the passer. Their leading sacker was Roman Harper, the starting strong safety. With the addition of Steve Spagnuolo, the Saints will look to add versatility to that position. Defensive ends in Spag's defenses line up outside and on the interior off the line to utilize their pass rush against slower guards.
Theses qualities can be found in two players at that position in this year's free agent haul: Jamaal Anderson and Jason Jones.
Both players aren't the speed and finesse types. They are more bull rushers who rely more on their power and are very good against the run. Anderson has improved tremendously, and is trying to get the "bust" label off of him from his Atlanta tenure. Jones was very consistent against the run, and I think he would be used quite well in Spagnuolo's defense.
Ezra Shaw/Getty Images

The Saints' linebacking corps is lacking a quality starter on the weak side and solid depth on the inside and out. Injuries are catching up to Jonathan Vilma in the middle and he has a year or two left of quality starts in him.
Scott Shanle has merely been a stopgap on the weak side. The only position that is locked down for the foreseeable future is Martez Wilson on the strong side.
Jo-Lonn Dunbar and Nate Bussey are young, talented linebackers who could use another year to be starter quality at least. Dunbar filled in adequately, but no one knows how he would hold up for all 16 games. Jonathan Casillas and Will Herring are injury-prone rotational players who are better suited for special teams.
Spags could bring in some free agent linebackers who are familiar with his system to better ease the transition. Chris Chamberlain, 6' 1", 238 pounds, is an upcoming overachiever who has sideline-to-sideline speed and always seems to be around the ball.
There is also Jonathan Goff, who was with Spags in his rookie year with the Giants. He is 6' 4", 235 pounds, and more versatile than Chamberlain, being able to play outside or slide inside in emergency.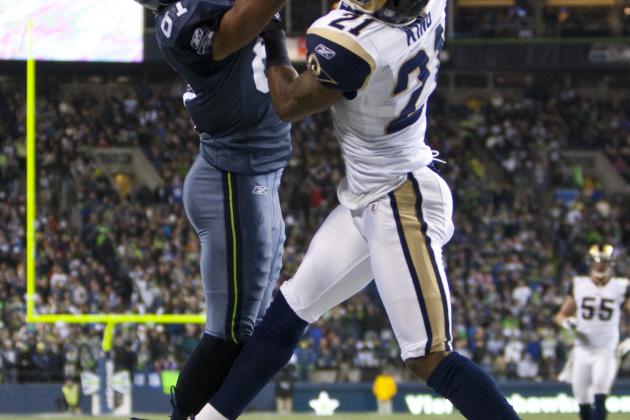 Jay Drowns/Getty Images

With the impending departure of Tracy Porter, New Orleans' cornerback depth dwindles down to Jabari Greer (last year of contract), Patrick Robinson, Johnny Patrick and Leigh Torrence. Solid, but not exactly something you want to bring in a division with Julio Jones, Roddy White and Steve Smith, amongst others.
When Gregg Williams came in town in 2009, he brought Pierson Prioleau with him to bring experience and versatility. The Saints could look at Roderick Hood in that same light. He had a ton of potential early in career and then a few bad years, but he is a solid veteran presence with size and speed. He was sought out by the Saints before the 2007 season, but turned them down in favor of the Cardinals. While with Arizona, Hood gained valuable playoff experience in the Cards' 2008 Super Bowl run.
Another way that New Orleans could improve their cornerback depth, and also raise the level of play of special teams? Go out and get a burner like Justin King who would make for a solid nickel or dime corner while also contributing his track speed to special teams.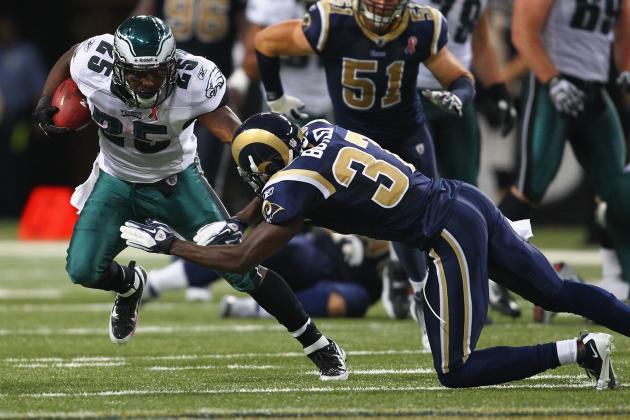 Dilip Vishwanat/Getty Images

On paper, the Saints seemed locked up in the safety department. Now, if you watched Saints games, you would know that that's only about half true.
Malcolm Jenkins is a future Pro Bowler who hits like a linebacker, but covers like a cornerback. He takes a lot of risks on big plays, but always plays aggressive. His backup is Isa Abdul-Quddus, another undrafted gem that Sean Payton again unearthed. Think of him as a more talented Usama Young.
Roman Harper is an enigmatic player. He will have fans cheering for him with sacks and big hits, but, in an instance, have you angered beyond belief at his coverage ability in crunch time—or anytime for that matter. I have always said if Harper could put on 25-30 lbs. and shift to weak side OLB then the Saints OLB problems would go away.
Versatility is the key word of this article because you have new terminology and schemes. The more versatile, the better. James Butler fits that to the tee. He has the ability to play free safety or strong safety, and is a very sure tackler. That's something this team lacks. Butler also followed Spagnuolo from the Giants to the Rams; would that mean he's bringing his veteran leadership to New Orleans?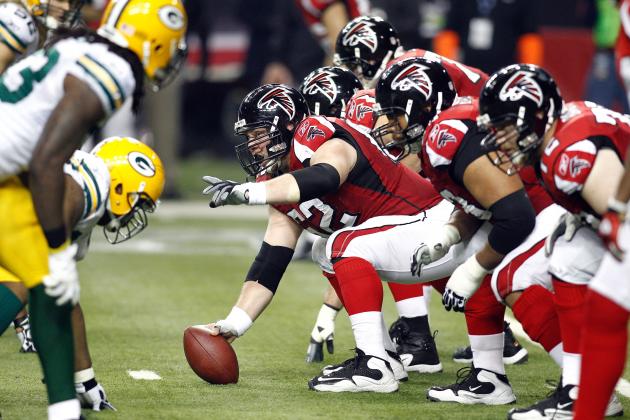 Chris Graythen/Getty Images

I know what you're saying. We signed a veteran center last year, and that didn't work out so well. Olin Kreutz quit on his team, and the Saints were left to start Brian de la Puente the rest of the way. De la Puente was an adequate starter, but he's more of a rotational guard/center that was more of a stopgap for a new player in free agency or the draft.
Todd McClure is not what he once was, but I think he still has some left in the tank to solidify the interior line between the best guard tandem in the game. He will bring veteran leadership, and more motivation to do well because he's a Baton Rouge native and LSU alum.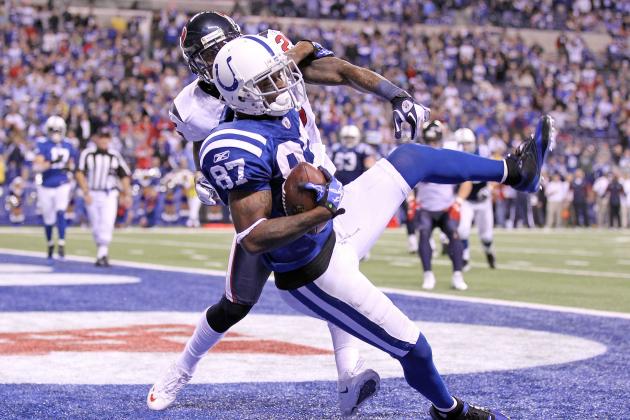 Andy Lyons/Getty Images

With Marques Colston and Robert Meachem probably heading off to other teams, it leaves the Saints' wide receiver depth a little leaner than in past years. It's true that Brees spreads the ball out so much that not one playmaker is bigger than the team, essentially.
That being said, it would leave New Orleans with Lance Moore, Devery Henderson, Adrian Arrington and Joe Morgan, last year's preseason sensation who was on injured reserve all year. Morgan could have a Victor Cruz-type impact next year, though—that is how explosive he is.
Why not bring back a local product who played his high school ball in New Orleans? Reggie Wayne would be a cheaper alternative to Colston, and give the Saints a player with a chip on his shoulder who has a few years left. Wayne played pretty well on an awful Colts team and nearly broke 1,000 yards receiving.
The Saints could be looking at a thin wide receiver crop, and could do no worse than scooping up some solid, local flavor who, at worst, is a great veteran presence for the younger receivers.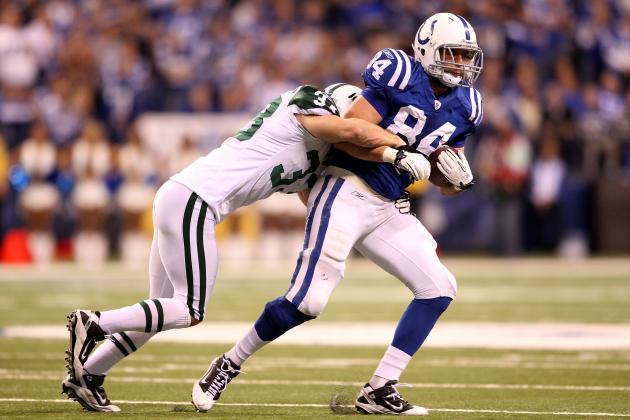 Andy Lyons/Getty Images

We all know what Jimmy Graham brings to the table. He is one of the best tight ends in the league. When Dave Thomas was lost for the year, the Saints were left with Michael Higgins and John Gilmore to back up Graham. Thomas' concussion problems leave his return in question. Whether it be in free agency or in the draft, New Orleans needs to add another tight end to the mix.
Jacob Tamme brings versatility to the position. He has good size (6' 5", 245 lbs.) and good speed (4.60 in the 40 yard dash) to bring another dimension to this offense. He has experience with working in the slot and out wide, and also learned behind an All-Pro in Dallas Clark. His numbers tailed off last year, but it was a rough year for many Colts players not named Reggie Wayne.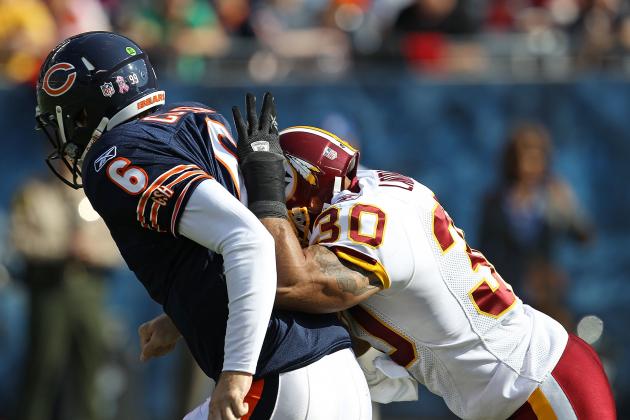 Jonathan Daniel/Getty Images

It seems like every offseason Sean Payton and Mickey Loomis pull a fast one on the Who Dat Nation. Last year it was Darren Sproles and Aubrayo Franklin. Who is it going to be this year?
Is it going to be Osi Umenyiora from the Giants? He has one year left on his contract and would be a welcome addition to Spagnuolo's very familiar defense. He has also shrugged off that one major injury and has still been a consistent performer for a World Champion team. That experience alone would be beneficial to a younger defensive team.
Will it be Mario Williams? Will the Saints make the cap space work and sign the best pure pass-rushing end on the market? It would be a very welcome addition to a team that has been declining in big plays since the 2009 season.
Lastly, could it be another homegrown talent in Laron Landry? He's more adequate in coverage, and could allow the Saints to trade Harper and free up more cap space while also getting maximum back in terms of a draft pick for Harper, who's coming off his best statistical year. Third rounder for Harper? That could help a lot to a team with no first-round pick.