NBA 2012: How the Collective Bargaining Agreement Binds the New York Knicks
May 16, 2012

Ronald Martinez/Getty Images
This offseason, the Knicks will have some tough decisions to make. The team, as currently constructed, does not appear to have the firepower to get past the elite teams in the East. Jeremy Lin has become a solid player and an amazing marketing tool for the Knicks, but re-signing him could be a challenge.
When the Knicks claimed Lin off waivers, they lost the ability to hold his bird rights. Bird rights are the ability to go over the salary cap to sign a player. This means that the Knicks will have to use their mid-level exception to sign Lin, which they are likely to do.
The problem that this creates is that the Knicks currently have over $59 million in committed salaries for next season with only seven players under contract. J.R. Smith is likely to decline his player option and either test free agency or restructure his deal.
| Player | 12-13 Salary |
| --- | --- |
| Amare Stoudemire | $19,948,799 |
| Carmelo Anthony | $19,450,000 |
| Tyson Chandler | $13,604,188 |
| Marcus Camby | $4,590,338 |
| Steve Novak | $4,054,055 |
| Raymond Felton | $4,000,000 |
| Jason Kidd | $3,090,000 |
| J.R. Smith | $2,806,452 |
| Iman Shumpert | $1,680,360 |
| Renaldo Balkman | $1,675,000 |
| Kurt Thomas | $1,352,181 |
| Rasheed Wallace | $1,352,181 |
| Ronnie Brewer | $1,069,509 |
| James White | $854,389 |
| Pablo Prigioni | $473,604 |
| Chris Copeland | $473,604 |
The Knicks own the early bird rights to Landry Fields which means that they can pay him roughly $5 million (the average player salary) or 175 percent of his previous salary. His market value is higher than the 175 percent, so it is likely that he'll get a deal closer to the $5 million figure.
Steve Novak will likely want more than the $990,000 he earned this season. A good barometer on his value would be that sharpshooting big man Matt Bonner makes over $3 million a year in San Antonio.
With an estimated salary cap around $58 million, the Knicks' hands are tied with the money that they can spend. Giving the mid-level exception to Lin would bring them to nearly $65 million in salaries, and bringing back J.R. Smith and Novak would likely bring the team into the luxury tax threshold (set at approximately $70 million).
Where this gets even trickier is that the mid-level exception is a contract that increases each year, approaching $8 million down the road. The Knicks already have $61.5 million in committed salaries for the 2014-2015 season with only four players under contract (Carmelo, Amare, Chandler, Shumpert). At that point, Chandler and Amare will both be into their early 30s. Is it worth committing nearly $70 million in salaries to Lin, Carmelo, Amare, Chandler and Shumpert?
While it is a solid lineup and the team will remain a contender in the East, New York would lack any cap flexibility. If the Knicks retain these players and start to pay the luxury tax, any player they add from there on out will have to be looked at with a salary multiplier because they'll have to pay salary plus luxury tax on that player.
The Knicks chose to amnesty Chauncey Billups last season, but one has to wonder if it wouldn't have been a better idea to amnesty Amare, let Billups' contract expire and build around Carmelo and Chandler during the 2012 offseason.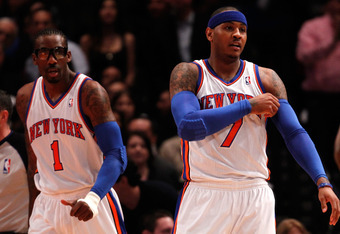 Jeff Zelevansky/Getty Images
The current team does not appear to have the firepower to compete with the powers in the East, so it will be interesting to see what GM Glen Grunwald decides to do with the direction of this team.